In a twist of fate, it appears that the Swamp has drained President Trump and other patriots after 4 years of zero arrests of criminals and more targeting of whistleblowers and patriots. The president-elect Biden had 26,000 national guardsman brought in to surround the U.S. Capitol building. One DC worker appropriately commented, pointing out the 8′ fences with razor wire and other barriers, that "If you need all this to protect your inauguration from the people, maybe the f***ing people didn't f***ing elect you!"
The President, in boycott, did not attend the inauguration, but VP Pence did after betraying the President on January 6th and skipping the President's farewell speech inauguration morning.
Antifa supporter Daniel Alan Baker was arrested for plotting to murder Trump supporters and police on Inauguration Day. He trained in Syria in 2017 with the YPG, was featured on VICE, and in 2020 participated in the CHAZ insurrection in Seattle, per DOJ documents.
Biden delivered his inaugural address standing before a virtually empty National Mall, but by far the largest crowd he had seen for any of his speeches during his ghost-townish campaign. In attendance were dozens of traitorous politicians, who turned their back on American voters by ignoring the most corrupt election ever, and leftist celebrities alongside former Presidents Barack Obama, George Bush, and Bill Clinton. Trump-hating Chief Supreme Court Justice John Roberts was pleased to administer the oath to Biden.
Globalist, democrat-loving Fox News anchor Chris Wallace praised President Joe Biden's inaugural address. Wallace said,
I thought it was a great speech. I've been listening to these inaugural addresses since 1961. John F. Kennedy, 'Ask not.' I thought this was the best inaugural address I have ever heard. Obviously, a lot of this event today, a lot of the president's speech was colored by the emotion of the fact that exactly two weeks ago, 14 days ago, there was a mob of thugs of insurrectionists, of domestic terrorists on the inaugural stand. Joe Biden was saying democracy prevailed. We were able to get through that. He was talking about how we need to get through that in the future if we are going to be a united country.
Biden's inauguration speech to the nation was a pack of lies, even surpassing what we have to normally endure each year in the State of the Union address. Biden said his inauguration was a day to "celebrate triumph, not of a candidate, but a cause – democracy…Democracy is precious, democracy is fragile," he said. "And at this hour, my friends, democracy has prevailed." Democracy did not prevail—the election was stolen!
"We'll press forward with speed and urgency for we have much to do in this winter of peril and significant possibilities, much to repair, much to restore, much to heal, much to build, and much to gain," Biden said. The inaugural address, though not formally a policy speech, offered a glimpse into Biden's priorities. After addressing the pandemic, Biden touched on the issues of racism, climate change, domestic terrorism, and white supremacy. He then called for unity.
"My whole soul is in this, bringing America together, uniting our people, uniting our nation, and I ask every American to join me in this cause," Biden said. "Uniting to fight the foes we face: anger, resentment and hatred, extremism, lawlessness, violence, disease, joblessness, and hopelessness. With unity, we can do great things, important things."
Of course, he continued by pushing the false claim that he would be the unity president, which is impossible for any president. The nation is permanently and rightly divided on principle. But Biden warned that "disagreement must not lead to disunion." "I pledge this to you – I will be a president for all Americans, and I promise you, I will fight as hard for those who did not support me as for those who did."
This lie – "unity" – would very soon reveal itself as the Biden regime quickly began targeting and labeling Trump supporters as domestic terrorists. Everyone knows Biden cannot represent both our core liberties and the socialists who want to take it away. Disagreements on the core elements of a constitution and liberty and fundamental rights when denied will always lead to disunion, and eventual civil war—if enough people wake up and realize they are being suppressed (which I doubt will happen, given people's stupidity in going along with the Covid false pandemic).
As soon as Biden was sworn in, the Chinese regime started threatening Americans and Taiwan. Day after day in the White House, Joe Biden is doing more and more to support China. In fact, he has done more to help China than help the United States.
Iranian President Hassan Rouhani celebrated the departure of outgoing American President Donald Trump by calling him a "stupid terrorist" and urging now-President Joe Biden to return to the 2015 Iran nuclear deal his former boss, President Barack Obama, negotiated.
Final pardons
The president issued 73 pardons and 70 commutations the night before the inauguration of Joe Biden. The list included pop culture figures including rapper Lil Wayne, who was pardoned, and Kodak Black, whose sentence was commuted.
The president also pardoned several Republicans, including former Deputy National Finance Chair of the Republican National Committee Elliott Broidy, former Rep. Duke Cunningham of California, and former Rep. Rick Renzi of Arizona.
He also issued a pardon for his former White House chief strategist Steve Bannon, who was charged with fraud for his work on the "We Build the Wall" crowdfunding campaign fueled by Trump supporters to build a wall on the Southern border.
Trump also commuted the sentence of wealthy Democrat donor Dr. Salomon Melgen, who was convicted on 67 felony counts of Medicaid fraud in April 2017. The White House cited support for the pardon by Sen. Bob Menendez and Rep. Mario Diaz-Balart. Melgen was sentenced to 17 years in prison in 2018.
The president also commuted the sentence of former Mayor of Detroit Kwame Malik Kilpatrick, a Democrat, citing strong support by members of the Detroit Community as well as Alveda King, Alice Johnson, and Diamond and Silk. Kilpatrick served seven years of a 28-year sentence for his role in a major corruption scandal, convicted of racketeering, mail fraud, wire fraud, and other charges.
Trump also issued a full pardon to former Google engineer Anthony Levandowski, sentenced to 18 months in prison in August 2020 for stealing a trade secret from Google related to self-driving cars before changing jobs to work at Uber.
The president also commuted the prison sentence of William Walters, a professional gambler who was convicted in 2017 for insider trading and sentenced to five years in prison.
Trump's list also included many nonviolent drug offenders sentenced to prison.
The long-awaited final list of pardons and commutations in Trump's presidency was released early Wednesday morning just hours before he planned to leave the White House to his post-presidency home in Florida.
The president did not pardon Julian Assange or Edward Snowden, two whistleblowers who illegally shared America's intelligence and national security secrets. The two individuals enjoyed bipartisan support for a pardon as their supporters had hoped that the president would ignore the intelligence community elites and prominent members of Congress in Washington who were deeply opposed to a pardon.
Trump also did not issue preemptive pardons for himself, members of his family, or even some of his staff for future crimes if they face persecution as a result of their connection to the Trump administration. He also did not issue a preemptive pardon for his personal lawyer and ally former Mayor Rudy Giuliani.
Source: Breitbart
In a continuing effort to gaslight the public that Biden's more than 80 million votes were real (they're not for anyone that is still watching mainstream media), Twitter appears to have created millions of fake accounts to follow Sleepy Joe's ho-hum tweets.
Joe's been getting 100,000 followers on twitter every day! Except they're ALL FAKE!! Share and follow! @sparkey909w @kylenabecker @catturd2 @RealMattCouch @4AllSoulKind @CoreysDigs @9NEWSNANCY @mtgreenee @thebradfordfile @IamTore @Patriot1776AR @scrowder pic.twitter.com/r9XzCzwCt2

— Bre Wylde (@hookerred6_red) January 23, 2021
"If you go to Joe Biden's followers, I'd say at least 70 percent of them all joined [Twitter] in January and have zero followers," she continues. Biden had approximately 6.3 million Twitter followers in late January when inaugurated. Prior to Twitter suspending former President Donald Trump's account, he had approximately 88.7 million followers.
New press secretary Jen Psaki held a press briefing with the leftist horde in the White House Briefing Room after the Biden Hunger Games Inaugural. After being sworn in Joe Biden signed several executive orders to open borders, shut down US energy production and punish American companies. During the White House presser, the American public was quick to downvote Psaki's nonsense. At 3 PM the video had 10,000 down votes, but by 7 PM YouTube came to the rescue and erased the downvotes by several thousand.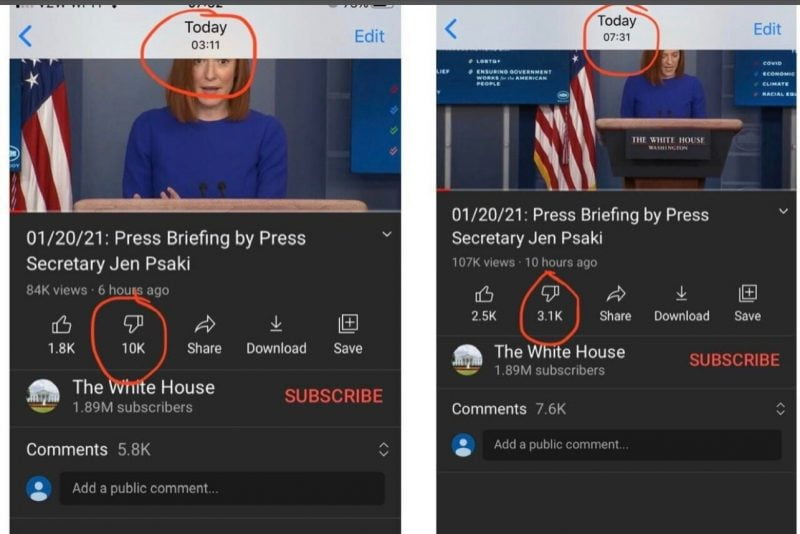 The Biden Cabinet Picks
Biden's inauguration speech to the nation was a pack of lies, even surpassing what we have to normally endure each year in the State of the Union address. Biden said his inauguration was a day to "celebrate triumph, not of a candidate, but a cause – democracy…Democracy is precious, democracy is fragile," he said. "And at this hour, my friends, democracy has prevailed."
Democracy did not prevail—the election was stolen, as I have laid out in the past issues of the WAB. Of course, he continued by pushing the false claim that he would be the unity president, which is impossible for any president. The nation is permanently and rightly divided on principle. But Biden warned that "disagreement must not lead to disunion." "I pledge this to you – I will be a president for all Americans, and I promise you, I will fight as hard for those who did not support me as for those who did."
Nonsense! Everyone knows Biden cannot represent both our core liberties and the socialists who want to take it away. Disagreements on the core elements of a constitution and liberty and fundamental rights when denied will always lead to disunion, and eventual civil war—if enough people wake up and realize they are being suppressed (which I doubt will happen, given people's stupidity in going along with the Covid false pandemic). Then he told his biggest whopper:
Day 1:
Week 1: