« Back to Glossary Index
(born Oct 20, 1964) a dirty American lawyer who launched her political career by having an adulteress affair with SF Mayor, Willie Brown, who was 30 years older than her. Harris is now the junior US Senator from California (since 2017), and was previously the 27th DA of San Francisco from 2004-11 and 32nd AG of CA from 2011-17. She was deep state promoted candidate for the Democratic nomination for US President in the 2020 election and their choice as Biden's VP, not his. The non-partisan GovTrack.us website rated Sen. Kamala Harris (D-CA) the most left-wing member of the Senate in 2019 — further left than communist Sen. Bernie Sanders (I-VT). Like her running mate Joe, she, through her hubby Doug Emhoff, has strong ties with China as he is a well connected attorney at a law firm that consults for several companies owned by the Chinese Communist Party (CCP) and that employs former CCP officials.
As California AG, Harris abused her power repeatedly by (1) imposing onerous requirements on Prime Healthcare Services efforts to purchase another healthcare company in a conspiracy to force them to unionize; (2) conducted a raid on the apartment of David Daleiden, the brave journalist who exposed Planned Parenthood's selling of aborted baby parts; (3) covering up for a pedophile ring giving zero help to the victims; (4) and more…
Extramarital Affair Kickstarts Political Career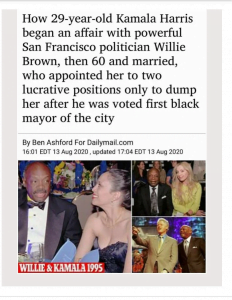 Willie Brown, the corrupt past mayor of San Francisco at 60 years of age had an ongoing affair with Kamala Harris who was 29 and unemployed at the time. Not only did it break up Brown's marriage, it was Hebert Caen who called Harris "the Speakers new steady". This lead to Harris' appointment to numerous high paying government jobs. From there, once a part of the apparatus of the Willie Brown progressive agenda, Harris had a clear path to any position available. Even journalists in California have called Harris "a show horse" and there isn't "much there-there".
A week after Sen. Harris announce that she was running for president, on a weekend when the California Democrat held a big rally in her hometown of Oakland, the former mayor of San Francisco, Willie Brown, confessed that Harris was once his mistress. Brown, 84, also stated that he used his influence to essentially launch her political career. In a weekly column Brown does for the San Francisco Chronicle that was focused on Harris' presidential run, he spoke of an extramarital affair he said he had with Harris.
Almost as an afterthought, in a segment titled "Elephant in the Room," Brown wrote:
I've been peppered with calls from the national media about my "relationship" with Kamala Harris, most of which I have not returned.

Yes, we dated. It was more than 20 years ago. Yes, I may have influenced her career by appointing her to two state commissions when I was Assembly speaker.

And I certainly helped with her first race for district attorney in San Francisco. I have also helped the careers of House Speaker Nancy Pelosi, Gov. Gavin Newsom, Sen. Dianne Feinstein and a host of other politicians.

The difference is that Harris is the only one who, after I helped her, sent word that I would be indicted if I "so much as jaywalked" while she was D.A.
Harris was found to be guilty, by the city of San Francisco's Ethics Commission, of violating campaign spending limit of $211,000 by spending more than four times more than any candidate had spent in the history of running for the office – $625,000, and defeated Halihan. The DA that was helping Joey Piscitelli bring the Catholic that covered up a pedophile ring that operated.2
Brown, following the affair with Harris, rewarded her with two lucrative appointments, earning her over $400,000 in a five year period, according to the online news source, which cited the SF Weekly. The positions were on the Unemployment Insurance Appeals Board and the California Medical Assistance Commission. Harris also received a BMW as a gift from her then-lover, The Free Beacon noted.1
Brown, 84, pointed out that he also helped the careers of other prominent California Democrats, such as U.S. House Speaker Nancy Pelosi, Gov. Gavin Newsom and U.S. Sen. Dianne Feinstein. "The difference is that Harris is the only one who, after I helped her, sent word that I would be indicted if I 'so much as jaywalked' while she was D.A.," Brown wrote. "That's politics for ya."2
Dirty Lawyer and Attorney General
There are some people that get into politics because they truly want to serve the American people, and there are others that get into politics for the fame and the power. Tom Del Beccaro actually ran against Kamala Harris in California, and he assures us that she is squarely in the latter category…
For Harris, politics is a game of ambition not something of substance.

She is not a policy person. Her convictions aren't with respect to the issues; they are with respect to power and the limelight.
And once she gets her hands on power, she is not afraid to abuse it.
In sharp contrast to the kid-glove treatment of corporations and the rich, Kamala Harris was harsh and unrelenting toward rank-and-file people accused of crimes even when there was clearly false testimony and evidence tampering used to convict. The story is a long one, studied and recounted in depth by San Francisco School of Law Professor Lara Bazelon and published January 17, 2019 in The New York Times. Bazelon concluded that Kamala Harris was not a "progressive prosecutor," writing that "time after time, when progressives urged her to embrace criminal justice reforms as a district attorney and then the state's attorney general, Ms. Harris opposed them or remained silent. Most troubling, Ms. Harris fought tooth and nail to uphold wrongful convictions that had been secured through official misconduct that included evidence tampering, false testimony and the suppression of crucial information by prosecutors." Harris even refused to investigate officer-involved shootings when called upon by the California State Legislature and appealed a ruling by a federal judge in Orange County that the death penalty was unconstitutional, bizarrely arguing that the ruling undermined defendant protections!
As Attorney General of California, Harris faced a lawsuit by Prime Healthcare, a national healthcare company in the purchase of a failing healthcare company, The Daughters of Charity Health System. The SEIU which donated to the Harris campaign for Attorney general sought to organize the workers at DCHS which would have been thwarted by the purchase of the company by Prime Healthcare. Harris attempted to expand the five year level of services required to purchase the company to ten years making the purchase "financially unviable". This was the first and only time in the history of the California Attorney General office that these requirements have been forced upon any company.
Harris turned her office as Attorney General into a bastion of unconstitutional government backed to bring the full weight of her office down on her political enemies. In a ruling by Federal District Court Judge Manual Real, Harris was stopped in her abridgment of free speech by demanding that confidential donor lists be given to her office if conservative entities like the American for Prosperity Foundation. In a blatantly political move, Harris actually identified 1,778 confidential donors posted on the Registry website.
In 2013, Harris did not prosecute Steve Mnuchin's bank OneWest despite evidence "suggestive of widespread misconduct" according to a leaked memo from the Department of Justice. In 2017, she said that her office's decision not to prosecute Mnuchin was based on "following the facts and the evidence…like any other case". In 2016, Mnuchin donated $2,000 to her campaign, making her the only 2016 Senate Democratic candidate to get cash from Mnuchin.
And then there's the Planned Parenthood scandal where in 2015, the Center for Medical Progress (CMP) began releasing footage of a 30 month undercover investigation it conducted of Planned Parenthood's harvesting and sale of tissues and organs retrieved from aborted unborn children. Harris abused her office as Attorney General to assist Planned Parenthood, a major political backer and major donor to Kamala Harris's Senate and other campaigns, in a witch hunt against David Daleiden and Sandra Merritt of the Center for Medical Progress. Daleiden gives some of the details:
"… Top-level Planned Parenthood executives were caught callously haggling and negotiating and talking about the way that they can supply tiny aborted baby hearts, and lungs, and livers, and brains, like it was just on an assembly line, and basically treating their patients — whom they claim to care about so much — treating pregnant women like they're just harvesting pods, or a cash crop to pad Planned Parenthood's profit margin and increase their bottom line."


"For decades, Planned Parenthood has been one of the major suppliers of the dismembered body parts of aborted children for various kinds of experimentation — none of it life-saving or contributing to cures, by the way, all of it just basic biological tinkering, some of it very scary Frankenstein-type stuff where they're stitching organs into lab rats and seeing how long they can keep them growing — things like that."

"Planned Parenthood said to Kamala Harris, 'We need you to seize those unreleased tapes, so that they can never be released to the public. Take them away from Daleiden, make sure he doesn't have them." Kamala Harris then "ordered a search warrant to be served on my apartment in Orange County for the unreleased video recordings."

"They came in. They took everything that I had. Fortunately, we have back-up copies in lots of different places, so they were not completely successful, but that search warrant — ordered by Kamala Harris and executed by 11 of her agents in April of 2016 — brings us to where we are today with her successor, Xavier Becerra, prosecuting this completely bogus 15-felony charge complaint against me, all under the California video recording law."

"The California video recording law, by the way, does not make it a crime to record an open conversation in a crowded public area like a restaurant or a hotel lobby, which is what we did, and what regular local journalists in California do every single day and every single week, and publish, and not a single one of them has ever had a search warrant served on them for doing undercover video in the state of California. My case is the first and the only one."

Kamala Harris is the greatest threat to civil rights [and] our constitutional natural rights … that we've seen in our country in generations…"
A California court dropped 14 of 15 charges as legally insufficient. Even the Los Angeles Times stated that "Never in the history of California has anyone been charged with a crime for an undercover investigation".
Believing that human trafficking is worsened by the internet's anonymity, the sponsors of California's Proposition 35 thought they had a simple solution to combating the problem: require convicted traffickers to register as sex offenders. Then require all individuals on California's sex offender registry to disclose their online identities and service providers. The measure passed in the November 2012 election with 81 percent voter approval, but after a corrupt and rogue Ninth Circuit Court judge blocked the new law, Harris, the state's attorney general, decided not to petition the Supreme Court to examine the ruling that block the voter-approved, common sense law.3 With her advocating for open borders and playing the race card for anyone who advocates for controlling the borders where trafficking of women and children are rampant, gives one the impression that she aiding or covering for sex traffickers. There's more…
Pedophile Ring Cover Up
In the 1970s, Joey Piscitelli, was repeatedly raped by the principal of his Catholic High School, Father Stephen Whelan. Others were also abused at the school, but the church covered it up and protected the pedophile priest. In 2004, Piscitelli was pursuing a civil case against the church that oversaw his high school and seeking help to strengthen his case.4
Piscitelli had previously gone to the District Attorney's office, when Terrance Hallinan was the D.A., and was receiving the assistance he requested. Hallinan's office provided Piscitelli with access to files it had obtained in 2002 after Hallinan directed investigators to try to build a case against the archdiocese and forced the archdiocese to turn over 75 years of its own records. The files implicated high-level church officials and how they internally handled pedophile priests. The files had been successfully used to indict a priest –– Father Austin Peter Keegan.
Piscitelli intended to use the files in a similar manner, seeking to find any information that could be helpful in his civil suit against the church that oversaw his high school. At the time, a civil trial was the only avenue for restitution available to victims following a Supreme Court decision which overturned a California law that retroactively eliminated the statute of limitations for criminal prosecution of child molestation cases. Many sexual abusers, who were facing criminal charges prior to the ruling, were set free, including Keegan. However, in 2003, California passed a state law that allowed victims to file civil lawsuits against their alleged abusers if they could prove that the employers of the abusers knew of the misconduct and did nothing to stop it. Piscitelli's civil suit was already underway when he contacted Harris, shortly after she defeated Hallinan.
Piscitelli says Harris' office did not respond to his letters or calls, and would not allow him to access the files. In response, Piscitelli and his family and friends began mounting posters across the city to force Harris to respond. He sought help from the media, which requested access to the files under California's Public Records Act, but Harris' deputy, Paul Henderson, denied the request, stating that Harris' investigative files "were not subject to California's government transparency laws." In 2005, when San Francisco Weekly writer, Ron Russell, attempted the request again, a Harris spokesperson told him:
"If we did it [granted access to files] for you, we would have to do it for everybody. Where do you stop, and where do you start?"
Repeated attempts by reporters to access the files were similarly denied over the years, with Harris' spokesperson, Erica Derryck, not responding to calls or emails from reporters. Eventually, in 2010, Harris' office released a statement:
"District Attorney Harris focuses her efforts on putting child molesters in prison. We're not interested in selling out our victims to look good in the paper. When this case was brought under Terence Hallinan, prosecutors took the utmost care to protect the identity and dignity of the victims. That was the right thing to do then and it's the right thing to do now."
Critics charged that the statement was "dangerous," as not exposing predators could endanger more children. They argued that releasing such records was not only "routine," but also cruel, in that it further burdened victims with having to resort to costly litigation if they wanted to obtain records that documented the crimes that happened against them. Critics also charged that the statement implied that the District Attorney's office was incapable of simply redacting victims' names from the released material. They speculated that Harris, considering her political future, gave deference to the Catholic Church, noted to be a major political influencer in San Francisco.
Author Peter Schweizer requested the same documents in 2019, through an attorney in California. "The San Francisco district attorney's office responded they no longer had them in their possession," he noted. "Were they destroyed? Were they moved somewhere else?" Schweizer asked. "It remains a disturbing mystery."1
In 2006, Piscitelli won his civil case, doing so without the help of Harris's office.
Survivors of clergy abuse and their attorneys say that Harris' record on fighting sex abuse within the Catholic Church is relevant as the U.S. senator from California campaigns for the presidency as a tough-on-crime ex-prosecutor who got her start prosecuting child sexual abuse cases. They complain that Harris was consistently silent on the Catholic Church's abuse scandal — first as district attorney in San Francisco and later as California's attorney general. During her seven years as District Attorney, Harris did not bring charges, or proactively assist in civil cases, against any sexual abusers in the church. Harris claims a campaign promise to make the sexual abuse of children her top issue.
Marijuana loans
While Harris effectively jailed nearly 2,000 people for marijuana-related offenses as her time as a prosecutor and California's attorney general — despite joking about smoking weed herself — she released a sweeping criminal justice reform plan last year, which promised to facilitate government loans for "socially and economically disadvantaged individuals" in the marijuana industry.