A prominent autism researcher and vaccine opponent, Dr. Jeff Bradstreet, was found dead floating in a North Carolina river with a gunshot wound to the chest shortly after a multi-agency raid (led by the FBI) on his Wellness Center. Dr. Bradstreet successfully carried out "mercury toxicity" treatments, believing the heavy metal to be a leading factor in the development of childhood autism, and miraculously treated many kids of autism whose families, along with his own, contend some conspiracy. Bradstreet and his colleagues had discovered that the immune system is being compromised by a compound called "nagalase," an enzyme/protein that's made by cancer cells and viruses causing immunodeficiency syndromes, and which has been linked to autism, as well as a "host of other problems,"
A fisherman found the body of Dr. James Jeffery Bradstreet in the Rocky Broad River in Chimney Rock, North Carolina, last Friday afternoon.
"Bradstreet had a gunshot wound to the chest, which appeared to be self inflicted, according to deputies," reported WHNS.
In a press release, the Rutherford County Sheriff's Office announced, "Divers from the Henderson County Rescue Squad responded to the scene and recovered a handgun from the river."
An investigation into the death is ongoing, and the results of an autopsy are also reportedly forthcoming.
Dr. Bradstreet ran a private practice in Buford, Georgia, which focused on "treating children with Autism Spectrum Disorder, PPD, and related neurological and developmental disorders."
Among various remedies, Dr. Bradstreet's Wellness Center reportedly carried out "mercury toxicity" treatments, believing the heavy metal to be a leading factor in the development of childhood autism.
Dr. Bradstreet undertook the effort to pinpoint the cause of the disease after his own child developed the ailment following routine vaccination.
"Autism taught me more about medicine than medical school did," the doctor once stated at a conference, according to the Epoch Times' Jake Crosby.
In addition to treating patients, Bradstreet has also offered expert testimony in federal court on behalf of vaccine-injured families and was founder and president of the International Child Development Resource Center, which at one time employed the much-scorned autism expert Dr. Andrew Wakefield as "research director."
The circumstances surrounding Bradstreet's death are made all the more curious by a recent multi-agency raid led by the FDA on his offices.
"The FDA has yet to reveal why agents searched the office of the doctor, reportedly a former pastor who has been controversial for well over a decade," reported the Gwinnett Daily Post.
Social media pages dedicated to Bradstreet's memory are filled with comments from families who say the deceased doctor impacted their lives for the better.
"Dr. Bradstreet was my son's doctor after my son was diagnosed with autism. He worked miracles," one Facebook user states. "At 16, my son is now looking at a normal life thanks to him. I thank him every day."

"I will forever be grateful and thankful for Dr. Bradstreet recovering my son… from autism," another person writes. "Treatments have changed my son's life so that he can grow up and live a normal healthy life. Dr. Bradstreet will be missed greatly!"
Despite his family requesting the public refrain from speculation, many are nevertheless concluding the doctor's death to be part of a conspiracy.
"Self-inflicted? In the chest? I'm not buying this," one person in the WHNS comments thread states. "This was a doctor who had access to pharmaceuticals of all kinds. This was a religious man with a thriving medical practice. Sorry, but this stinks of murder and cover-up."
Another commentor had a more definitive conjecture:
"He did NOT kill himself! He was murdered for who he was speaking against, what he knew, and what he was doing about it. He was brilliant kind compassionate doctor with amazing abilities to heal. He was taken. Stopped. Silenced. Why would a doctor who had access to pharmaceuticals and could die peacefully shoot himself in the chest???? And throw himself in a river?? THIS IS OBVIOUS! MURDER!!"
Funeral arrangements for Dr. Bradstreet are still pending at the Cecil M. Burton funeral home in Shelby, Georgia.
Source: InfoWars
---
Several Alternative Medicine Doctors found Dead under Mysterious Circumstances
The first death to occur was that of Dr. Jeffrey Bradstreet, a renowned physician known for his healthy skepticism of immunizations, particularly the MMR vaccine, and his progressive autism research. His body was found last summer floating in a North Carolina river, with a single gunshot wound to the chest.
Despite a self-inflicted gunshot wound to the chest being "a relatively uncommon means of suicide," his death was ruled as such; however, his family argues that Bradstreet was far from suicidal, but instead wholeheartedly dedicated to his work and the health of his patients.
Following his death, dozens more holistic doctors, the majority of whom practiced in Florida, have turned up dead or missing. Several of their deaths involved suspicious circumstances, leading some to question whether they may have been targeted for their controversial work.
For example, Bradstreet was working with a little-known molecule that occurs naturally in the human body called GcMAF (Globulin component Macrophage Activating Factor), a treatment that's believed to be effective for curing and reversing autism, cancer, HIV, diabetes and liver and kidney disease.
"GC protein is a protein in the body that's used by macrophages in the body. What it does is, macrophages in the body are the ones that kill cancer cells, they stop cytokines storms and can be involved in cytokines storms," said Dr. Ted Broer, an internationally recognized health and nutrition expert, during an interview on the Hagmann and Hagmann Report.
GcMAF is "probably the single most effective thing in the immune system to kill cancer cells," he said. One of the primary contributors to a compromised immune system is what Bradstreet discovered, which may have placed him in great danger, and could even have served as a motive for his death.
Controversial medicine
Natural News reported that Bradstreet and his colleagues had discovered that the immune system is being compromised by a compound called "nagalase," an enzyme/protein that's made by cancer cells and viruses causing immunodeficiency syndromes, and which has been linked to autism, as well as a "host of other problems," explained Broer.
"What ends up happening is when the GC protein cannot be converted to McGAF, the entire immune system is compromised."
Some of the doctors who wound up dead or missing believed the nagalase protein/enzyme was being introduced intentionally into the body either virally or directly through vaccines.
"This is such incredibly damning information to the entire medical profession and the immunological profession and those folks that [sic] are producing immunizations, that apparently they didn't want these guys around," said Broer.
Nagalese blocks the GC protein from attaching itself to vitamin D, thus preventing the immune system from doing its job and therefore causing cancer and other serious diseases. Without an active immune system, cancer and viral infections can spread rapidly.
Bradstreet and his colleagues' discovery is revolutionary enough to shake the cancer treatment industry's entire foundation. But eliminating a handful of progressive researchers is not enough to conceal the truth, as the truth always prevails. Stay tuned to Natural News as we continue following this important story.
Latest Update…
Click below for Page 2, (Russian FSB decryption of Intel that CIA Hit Team "Suicided" Bradstreet)
CIA Hit Team "Suicides" Doctor, Then "Protects" South Carolina Massacre Shooter
as reported by Sorcha Faal @ WhatDoesItMean.com
An interesting new report circulating in the Kremlin today prepared by the Federal Security Service (FSB) states that President Putin's sudden call to President Obama on Friday (26 June) was directly related to information retrieved from a captured Central Intelligence Agency (CIA) operative relating to a planned NATO attack upon the Kaliningrad Oblast should war erupt between the Federation and United States.
According to this report, on 24 June, FSB counterintelligence agents assigned to the Kaliningrad Oblast arrested Jevgenijus Mataitis charging him under Article 275 of the Criminal Code. Mataitis, who holds Russian-Lithuania citizenship, but is a permanent resident of the NATO member nation Lithuania, pleaded guilty on 26 June to this charge for his role in collecting data about Federation Armed Forces for the Lithuanian Ministry of National Defense (LMND).
As this report relates to Mataitis and his arrest, it's important to understand that under Federation law there is no specific offence of misprision [the deliberate concealment of one's knowledge of a treasonable act or a felony], but by being charged under Article 275 of the Criminal Code he was able to come forward with information by providing the FSB with a statutory defence to his acts of treason.
Specifically, Article 275 states: "A person who has committed crimes stipulated in this Article, or by Articles 276 and 278 of this Code, shall be relieved from criminal responsibility if he has facilitated the prevention of further damage to the interests of the Russian Federation by informing the governmental authorities of his own free will and in due time, or in any other way, if his actions contain no other corpus delicti."
While under the protection of Article 275, this report continues, Mataitis confessed to the FSB that he was an operative of the CIA having been recruited by them in 2007 and assigned to one of their secret prisons (black sites) in Lithuania, after which he received further training in both the United States and Germany.
Since Mataitis held both Lithuanian and Federation citizenship, this report further explains, he was also trained by the CIA on how to infiltrate Federation military bases with false documents/papers for the purpose of gathering intelligence.
But most interesting to read in this report is that when Mataitis was arrested he had in his possession a "smart phone like device" which had been provided to him by the CIA and was still activated as none of his "handlers" were yet aware of his capture.
Once the FSB gained possession of Mataitis's CIA issued "communication device", and guided by his "instructions", this report details, electronic intelligence experts were then able to decrypt it gaining immediate access to what are called "hour-week-day codes" that then enabled them to "unscramble" thousands of stored CIA communications "swept" into the Federations global intelligence network during the preceding week.
And of the most bizarre, and equally horrific, CIA communications decrypted by the FSB, this report continues, were of an American-based CIA "hit-team/kill-squad" operating in North Carolina that within a number of hours "suicided" an Obama regime dissident named Dr. Jeff Bradstreet, and then "protected" a mass murder suspect on the run from South Carolina named Dylan Roof.
According to this FSB's report on the decrypting of these CIA messages, they show that on 18 June, a "known" CIA "hit team" was operating in the western region of North Carolina between the cities of Ashville and Shelby on a "disposal operation", which Federation intelligence experts say is US "spy talk" for the suiciding of dissidents…the next day a prominent autism researcher and vaccine opponent, Dr. Jeff Bradstreet, was found dead in a Henderson, County North Carolina river having suffered what is said was a self-inflicted gun wound to his chest.
Within two hours of this CIA "hit team" completing their "disposal operation" in Henderson County, this report continues, they then traveled two counties over to Cleveland County, North Carolina, where they then "directed and effectuated" the capture of the fugitive mass murderer Dylan Roof.
And most bizarrely in these CIA communications relating to the capture Dylan Roof, this report notes, were the members of this "hit team" "directing/ordering" North Carolina police authorities not to harm him as he was labeled as "one of our assets".
These North Carolina police officials then violated all international protocols in arresting such a mass murder suspect as they not only holstered their weapons when approaching him, this report states, but none of them established the at least 35 meter blast radius around Roof's vehicle in the event he had filled it with explosives to enlargen his death toll, and as the video evidence proves.
As to why the Obama regime would on one hand order the CIA "suiciding" of a prominent doctor, while at the same time ordering the CIA to protect their mass murder "asset", this FSB report only comments on in their highly classified version.
---
Recommended Books: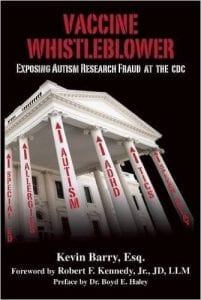 Vaccine Whistleblower is a gripping account of four legally recorded phone conversations between Dr. Brian Hooker, a scientist investigating autism and vaccine research, and Dr. William Thompson, a senior scientist in the vaccine safety division at the Centers for Disease Control and Prevention (CDC). Thompson, who is still employed at the CDC under protection of the federal Whistleblower Protection Act, discloses a pattern of data manipulation, fraud, and corruption at the highest levels of the CDC, the federal agency in charge of protecting the health of Americans. Thompson states, "Senior people just do completely unethical, vile things and no one holds them accountable."
This book nullifies the government's claims that "vaccines are safe and effective," and reveals that the government rigged research to cover up the link between vaccines and autism. Scientific truth and the health of American children have been compromised to protect the vaccine program and the pharmaceutical industry.
The financial cost of the CDC's corruption is staggering. The human cost is incalculable. Vaccine Whistleblower provides context to the implications of Thompson's revelations and directs the reader to political action.
---
Impossible Cure: The Promise of Homeopathy provides an in-depth and exciting account of the history, philosophy, and experience of homeopathic medicine. At the core of Impossible Cure is the amazing story of how the author's son was cured of autism with homeopathy. It also includes dozens of other testimonials of homeopathic cure, for a variety of physical, mental, and emotional conditions. Impossible Cure will serve as an invaluable guide to anyone interested in learning more about this intriguing form of health care. It has won endorsements from leading experts in alternative health care, including: Larry Dossey, MD (executive editor, Alternative Therapies in Health and Medicine, and author of Healing Words); Bernard Rimland, PhD (director, Autism Research Institute); Wayne Jonas, MD (director, Samueli Institute, and former director, Office of Alternative Medicine, NIH); Michael Castleman (author of The New Healing Herbs and other consumer health books); Louis Klein, RSHom (president, Luminos Homeopathic Courses); and Richard Pitt, CCH, RSHom(NA) (director, Pacific Academy of Homeopathy).
---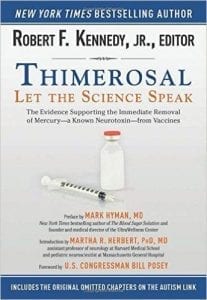 Over a decade ago, following a sharp rise in developmental disorders such as autism and ADHD, the mercury-containing preservative Thimerosal was widely believed to have been eliminated from vaccine supplies in the US and abroad. However, dangerous quantities of Thimerosal continue to be used, posing a significant threat to public health and leading to a crisis of faith in vaccine safety.
In this groundbreaking book, Robert F. Kennedy, Jr., and Dr. Mark Hyman examine the research literature on Thimerosal and make a very clear statement about its potentially dangerous effects. In the past, the CDC, FDA, NIH, and AAP, as well as the US Congress, the American Academy of Family Physicians, the US Department of Agriculture, the European Medicines Agency, and the California Environmental Protection Agency have expressed concerns over the use of Thimerosal in vaccines. But despite the many voices calling for action, the media and policy makers have repeatedly failed to adequately address the issue.
Now, with Thimerosal: Let the Science Speak, the goals are to educate parents, doctors, and health policy makers; to eliminate this toxic chemical from the world's vaccine supplies; to move toward safer alternatives; and to maintain or increase vaccination rates critical to the United States and developing nations. With safer options available, parents shouldn't have to worry about the devastating effects of vaccinating their children.