Strobel was awarded a slew of awards in 1980 for his investigative journalism and was promoted to legal affairs editor for the Chicago Tribune. His investigation to prove that their was no resurrection and that Christianity was hoax began when his wife, Leslie, became a Christian. Using his journalistic and legal training to disprove the claims of Christ soon became his full focus. Strobel's investigations led him to interview some of the leading scholars on Evangelicalism and Christianity, offering them an opportunity to defend their views.
Although his intention going into the research was to prove that God did not exist and that Christians have no proof to stand on, Strobel's efforts convinced him of Christianity's reliability. At the end of his research he determined it took more faith to be an atheist than to be a Christian because there was so much proof for life, death and resurrection of Jesus Christ.
Transcript of Lee Stroble's Testimony
For most of my life I was an atheist. I thought the idea of an all-loving, all-powerful creator of the universe–I thought it was stupid. I mean, my background is in journalism and law. I tend to be a skeptical person. I was the legal editor of the Chicago Tribune. So I needed evidence before I'd believe anything.
One day my wife came up to me–she'd been agnostic–and she said after a period of spiritual investigation she had decided to become a follower of Jesus Christ. And I thought, you know, this is the worst possible news I could get. I thought she was going to turn into some sexually repressed prude who was going to spend all her time serving the poor in skid row somewhere. I thought this was the end of our marriage.
But in the ensuing months, I saw positive changes in her values, in her character, in the way she related to me and the children. It was winsome; and it was attractive; and it made me want to check things out. So I went to church one day, ah, mainly to see if I could get her out of this cult that she had gotten involved in.
But I heard the message of Jesus articulated for the first time in a way that I could understand it. That forgiveness is a free gift, and that Jesus Christ died for our sins, that we might spend eternity with Him. And I walked out saying–I was still an atheist–but also saying, "If this is true, this has huge implications for my life." And so I used my journalism training and legal training to begin an investigation into whether there was any credibility to Christianity or to any other world faith system for that matter.
I did that for a year and nine months until November the 8th of 1991, and on that day I realized that, in light of the torrent of evidence flowing in the direction of the truth of Christianity, it would require more faith for me to maintain my atheism than to become a Christian. Because to be an atheist I would have to swim upstream against this torrent of evidence pointing toward the truth of Jesus Christ. And I couldn't do that. I was trained in journalism and law to respond to truth. And so on that day, I received Jesus Christ as my forgiver, and as my leader.
And, just like with my wife, my life began to change. Over time my values, my character, the purpose of my life began to be transformed over time in a way that, as I look back, I can't imagine staying on the path I was on compared to the adventure and the fulfillment and the joy of following Jesus Christ.
---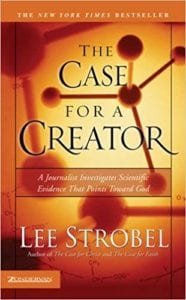 During his academic years, Lee Strobel became convinced that God was outmoded, a belief that colored his ensuing career as an award-winning journalist at the Chicago Tribune. Science had made the idea of a Creator irrelevant – or so Strobel thought. But today science is pointing in a different direction. In recent years, a diverse and impressive body of research has increasingly supported the conclusion that the universe was intelligently designed. At the same time, Darwinism has faltered in the face of concrete facts and hard reason. Has science discovered God? At the very least, it's giving faith an immense boost as new findings emerge about the incredible complexity of our universe. Join Strobel as he reexamines the theories that once led him away from God. Through his compelling account, you'll encounter the mind-stretching discoveries from cosmology, cellular biology, DNA research, astronomy, physics, and human consciousness that present astonishing evidence in The Case for a Creator.
---
Retracing his own spiritual journey from atheism to faith, Lee Strobel, former legal editor of the Chicago Tribune, cross-examines a dozen experts with doctorates from schools like Cambridge, Princeton, and Brandeis who are recognized authorities in their own fields.
Strobel challenges them with questions like, How reliable is the New Testament? Does evidence for Jesus exist outside the Bible? Is there any reason to believe the resurrection was an actual event?
Winner of the Gold Medallion Book Award and twice nominated for the Christian Book of the Year Award, Strobel's tough, point-blank questions read like a captivating, fast-paced novel. But it's not fiction. It's a riveting quest for the truth about history's most compelling figure.
The new edition includes scores of revisions and additions, including updated material on archaeological and manuscript discoveries, fresh recommendations for further study, and an interview with the author that tells dramatic stories about the book's impact, provides behind-the-scenes information, and responds to critiques of the book by skeptics. As The Case for Christ and its ancillary resources approach 10 million copies in print, this updated edition will prove even more valuable to contemporary readers
---
Recommended Reading: (See ALL of Lee Strobel's books)
Was God telling the truth when he said, "You will seek me and find me when you seek me with all your heart"?
In his #1 bestseller The Case for Christ, Lee Strobel examined the claims of Christ, reaching the hard-won verdict that Jesus is God's unique son. In The Case for Faith, Strobel turns his skills to the most persistent emotional objections to belief―the eight "heart barriers" to faith. This Gold Medallion-winning book is for those who may be feeling attracted to Jesus but who are faced with difficult questions standing squarely in their path. For Christians, it will deepen their convictions and give them fresh confidence in discussing Christianity with even their most skeptical friends.
"Everyone―seekers, doubters, fervent believers―benefits when Lee Strobel hits the road in search of answers, as he does again in The Case for Faith. In the course of his probing interviews, some of the toughest intellectual obstacles to faith fall away."