The Biden/Harris campaign is accused of sending a body double of Democrat VP candidate Kamala Harris to a campaign event in Florida on Sunday.
The claims came after journalist and congressional candidate for Florida's 21st District Laura Loomer filmed the alleged body double arriving at the Lantana Branch Library in Palm Beach for a meet and greet with voters.
"That's not Kamala Harris. Doesn't even look like her," Loomer says, describing the person who's wearing Kamala's trademark pant suit and a face mask.
Following the event, Loomer pursued the body double and two people who appeared to be fake Secret Service agents escorting her to a limo.
"Very deceptive to the voters to send body doubles out," Loomer tells the three people as they leave the location. "Very deceptive. That's a fake Kamala Harris."
Internet sleuths compared photos of Kamala Harris with the alleged body double and concluded a lookalike was indeed used.
Democrats think their base are complete morons! pic.twitter.com/5AnJH7elZZ
Why is Kamala Harris using a body double?@realDonaldTrump @dbongino #KamalaBodyDouble pic.twitter.com/eXRJFsm9Dg

— Edward Baker (@Edward_767) November 1, 2020
They're really rolling out Kamala Harris body doubles like we're not gonna notice the huge differences lol pic.twitter.com/bzTCa8Dj6K

— John D ● (@RedWingGrips) November 1, 2020
Is this a Kamala Harris Body Double ?

It sure look like it ?

What do y'all think? pic.twitter.com/fYmhrtuHNf

— Terrence K. Williams (@w_terrence) November 1, 2020
The GateWay Pundit also found a Facebook post seeking an actor to play the role of a Secret Service member "to flank me as Kamala."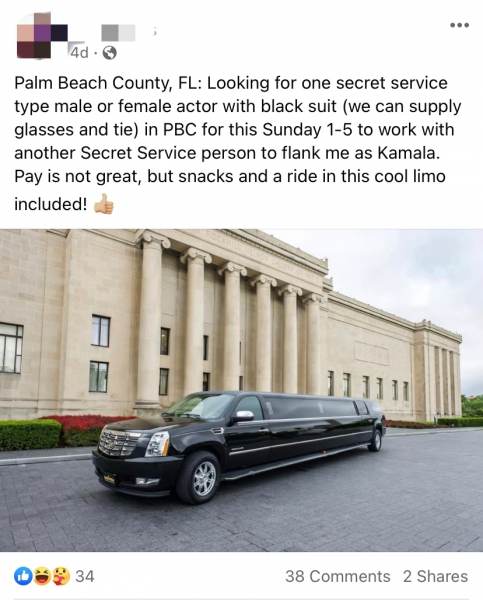 "Palm Beach County, FL: Looking for one secret service type male or female actor with black suit (we can supply glasses and tie) in PBC for this Sunday 1-5 to work with another Secret Service person to flank me as Kamala," the post states.
Loomer, who's running in the district where President Trump's Mar-a-Lago resort is located, is reportedly up in the polls against Democrat incumbent Lois Frankel.
If the Biden campaign is indeed sending out body doubles, the question remains: why?
Source: https://www.infowars.com/posts/bizarre-biden-campaign-sends-kamala-body-double-to-florida/