After Dr. Ngare of Kenya noticed that a WHO and UNICEF campaign for the tetanus vaccine was only being given to young women of childbearing age, and being required far more frequently than normal tetanus vaccination requires, sent six different samples of the vaccine to an independent laboratory in South Africa for testing. The results confirmed their worst fears: all six samples tested positive for the HCG anti-fertility antigen. On this date, the Kenya Catholic Doctors Association released a bulletin stating "that this WHO campaign is not about eradicating neonatal tetanus but a well-coordinated forceful population control mass sterilization exercise using a proven fertility regulating vaccine. This evidence was presented to the Ministry of Health before the third round of immunization but was ignored."
According to LifeSiteNews, the Kenya Catholic Doctors Association say that doctors have uncovered further evidence of a mass sterilization program sponsored by the Kenyan government and funded by Bill Gates.
Dr. Ngare told LifeSiteNews that several things alerted doctors in the Church's far-flung medical system of 54 hospitals, 83 health centers, and 17 medical and nursing schools to the possibility the anti-tetanus campaign was secretly an anti-fertility campaign.
Why, they ask does it involve an unprecedented five shots (or "jabs" as they are known, in Kenya) over more than two years, and…
Why is it applied only to women of childbearing years, and…
Why is it being conducted without the usual fanfare of government publicity?
"Usually we give a series three shots over two to three years, we give it anyone who comes into the clinic with an open wound, men, women or children." said Dr. Ngare.
But it is the five vaccination regime that is most alarming. "The only time tetanus vaccine has been given in five doses is when it is used as a carrier in fertility regulating vaccines laced with the pregnancy hormone, Human Chorionic Gonadotropin (HCG) developed by WHO in 1992."
UNICEF: A History of Taking Advantage of Disasters to Mass Vaccinate
It should be noted that UNICEF and WHO distribute these vaccines for free, and that there are financial incentives for the Kenyan government to participate in these programs. When funds from the UN are not enough to purchase yearly allotments of vaccines, an organization started and funded by the Bill and Melinda Gates Foundation, GAVI, provides extra funding for many of these vaccination programs in poor countries.
Also, there was no outbreak of tetanus in Kenya, only the perceived "threat" of tetanus due to local flood conditions.
These local disasters are a common reason UNICEF goes into poorer countries with free vaccines to begin mass vaccination programs.
Health Impact News reported last year that UNICEF began a similar mass vaccination program with 500,000 doses of live oral polio vaccine in the Philippines after a Super Typhoon devastated Tacolban and surrounding areas. This was in spite of the fact there were no reported cases of polio in the Philippines since 1993, and people who have had the live polio vaccine can "shed" the virus into sewage systems, thereby causing the actual disease it is supposed to be preventing.
A very similar mass vaccination with the live oral polio vaccine occurred among Syrian refugees in 2013, when 1.7 million doses of polio vaccine were purchased by UNICEF, in spite of the fact that no cases of polio had been seen since 1999. After the mass vaccination program started, cases of polio began to reappear in Syria.
It seems quite apparent that UNICEF and WHO use these local disasters to mass vaccinate people, mainly children and young women. Massive education and propaganda efforts are also necessary to convince the local populations that they need these vaccines. Here is a video UNICEF produced for the tetanus vaccine in Kenya. Notice how they use school teachers and local doctors to do the educating, even though the vaccines are produced by western countries.
---
Recommended Books:
If you have ever had the feeling that you're not getting the truth about the world on television, this book is for you. Hoffman delves into the key issues that the eugenicists, technocrats, and politicians would rather you didn't know about. Whether it is false flag terrorism, deceptive political paradigms, or the poisons that taint our air, water, and food, Hoffman addresses the issues with precise prose and solid documentation. This book challenges the often cozy relationship between Christianity and political power structures. Whether you are a veteran truth-seeker or ready to awake TV watcher, there is much in this book that will be of interest to you. Hoffman covers the financial and physical aspects of the power structures that pull the strings of those paraded in front of us as leaders by the media. Additionally, Hoffman explores the spiritual aspects of secret societies and the larger one-world government agenda. As readers of this book have testified, reality is far more interesting than the false reality portrayed in the mass media or the fake conspiracies exploited by establishment friendly authors like Dan Brown. While you won't hear about The New World Order and the Eugenics Wars on television, it has been reviewed and recommended by Dr. Future and Tom Bionic of Future Quake as well as the highly respected host of Radio Liberty, Dr. Stan Monteith.
---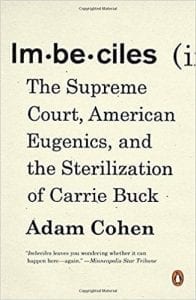 Longlisted for the 2016 National Book Award for Nonfiction
One of America's great miscarriages of justice, the Supreme Court's infamous 1927 Buck v. Bell ruling made government sterilization of "undesirable" citizens the law of the land

In 1927, the Supreme Court handed down a ruling so disturbing, ignorant, and cruel that it stands as one of the great injustices in American history. In Imbeciles, bestselling author Adam Cohen exposes the court's decision to allow the sterilization of a young woman it wrongly thought to be "feebleminded" and to champion the mass eugenic sterilization of undesirable citizens for the greater good of the country. The 8–1 ruling was signed by some of the most revered figures in American law—including Chief Justice William Howard Taft, a former U.S. president; and Louis Brandeis, a progressive icon. Oliver Wendell Holmes, considered by many the greatest Supreme Court justice in history, wrote the majority opinion, including the court's famous declaration "Three generations of imbeciles are enough."

Imbeciles is the shocking story of Buck v. Bell, a legal case that challenges our faith in American justice. A gripping courtroom drama, it pits a helpless young woman against powerful scientists, lawyers, and judges who believed that eugenic measures were necessary to save the nation from being "swamped with incompetence." At the center was Carrie Buck, who was born into a poor family in Charlottesville, Virginia, and taken in by a foster family, until she became pregnant out of wedlock. She was then declared "feebleminded" and shipped off to the Colony for Epileptics and Feeble-Minded.

Buck v. Bell unfolded against the backdrop of a nation in the thrall of eugenics, which many Americans thought would uplift the human race. Congress embraced this fervor, enacting the first laws designed to prevent immigration by Italians, Jews, and other groups charged with being genetically inferior.
Cohen shows how Buck arrived at the colony at just the wrong time, when influential scientists and politicians were looking for a "test case" to determine whether Virginia's new eugenic sterilization law could withstand a legal challenge. A cabal of powerful men lined up against her, and no one stood up for her—not even her lawyer, who, it is now clear, was in collusion with the men who wanted her sterilized.
In the end, Buck's case was heard by the Supreme Court, the institution established by the founders to ensure that justice would prevail. The court could have seen through the false claim that Buck was a threat to the gene pool, or it could have found that forced sterilization was a violation of her rights. Instead, Holmes, a scion of several prominent Boston Brahmin families, who was raised to believe in the superiority of his own bloodlines, wrote a vicious, haunting decision upholding Buck's sterilization and imploring the nation to sterilize many more.
Holmes got his wish, and before the madness ended some sixty to seventy thousand Americans were sterilized. Cohen overturns cherished myths and demolishes lauded figures in relentless pursuit of the truth. With the intellectual force of a legal brief and the passion of a front-page exposé, Imbeciles is an ardent indictment of our champions of justice and our optimistic faith in progress, as well as a triumph of American legal and social history.
---
Excerpts:
Eugenics
"There exists to-day a scheme of action, a school thought, as collective and unmistakable as any of those by whose grouping alone we can make any outline of history. . . . I know that it numbers many disciples whose intentions are entirely innocent and humane; and who would be sincerely astonished at my describing it as I do. But that is only because evil always wins through the strength of its splendid dupes; and there has in all ages been a disastrous alliance between abnormal innocence and abnormal sin. . . . But Eugenics itself does exist for those who have sense enough to see that ideas exist; and Eugenics itself, in large quantities or small, coming quickly or coming slowly, urged from good motives or bad, applied to a thousand people or applied to three, Eugenics itself is a thing no more to be bargained about than poisoning."
Institutionalizing the Unfit
"I will call it the Feeble-Minded Bill, both for brevity and because the description is strictly accurate. It is, quite simply and literally, a Bill for incarcerating as madmen those whom no doctor will consent to call mad. It is enough if some doctor or other may happen to call them weak-minded."
Forced sterilization
"Indeed one Eugenist, Mr. A. H. Huth, actually had a sense of humour, and admitted this. He thinks a great deal of good could be done with a surgical knife, if we would only turn him loose with one. And this may be true. A great deal of good could be done with a loaded revolver, in the hands of a judicious student of human nature."
The Tyranny of Science
"The thing that really is trying to tyrannise through government is Science. The thing that really does use the secular arm is Science. And the creed that really is levying tithes and capturing schools, the creed that really is enforced by fine and imprisonment, the creed that really is proclaimed not in sermons but in statutes, and spread not by pilgrims but by policemen‹that creed is the great but disputed system of thought which began with Evolution and has ended in Eugenics."
Eugenic Motives
"There is no reason in Eugenics, but there is plenty of motive. Its supporters are highly vague about its theory, but they will be painfully practical about its practice. And while I reiterate that many of its more eloquent agents are probably quite innocent instruments, there are some, even among Eugenists, who by this time know what they are doing."
The Poor Man and his Child
"There is one human thing left it is much harder to take from him. Debased by him and his betters, it is still something brought out of Eden, where God made him a demigod: it does not depend on money and but little on time. He can create in his own image. The terrible truth is in the heart of a hundred legends and mysteries. As Jupiter could be hidden from all-devouring Time, as the Christ Child could be hidden from Herod‹so the child unborn is still hidden from the omniscient oppressor. He who lives not yet, he and he alone is left; and they seek his life to take it away."
The Rich Begin To Fear the Poor
"So at least it seemed, doubtless in a great degree subconsciously, to the man who had wagered all his wealth on the usefulness of the poor to the rich and the dependence of the rich on the poor. The time came at last when the rather reckless breeding in the abyss below ceased to be a supply, and began to be something like a wastage; ceased to be something like keeping foxhounds, and began alarmingly to resemble a necessity of shooting foxes."
Scientific Regimentation
"That is the problem, and that is why there is now no protection against Eugenic or any other experiments. If the men who took away beer as an unlawful pleasure had paused for a moment to define the lawful pleasures, there might be a different situation. If the men who had denied one liberty had taken the opportunity to affirm other liberties, there might be some defence for them. But it never occurs to them to admit any liberties at all. It never so much as crosses their minds. Hence the excuse for the last oppression will always serve as well for the next oppression; and to that tyranny there can be no end."
Socialism
"In short, people decided that it was impossible to achieve any of the good of Socialism, but they comforted themselves by achieving all the bad. All that official discipline, about which the Socialists themselves were in doubt or at least on the defensive, was taken over bodily by the Capitalists. They have now added all the bureaucratic tyrannies of a Socialist state to the old plutocratic tyrannies of a Capitalist State."
The Working Classes
"The working classes have no reserves of property with which to defend their relics of religion. They have no religion with which to sanctify and dignify their property. Above all, they are under the enormous disadvantage of being right without knowing it. They hold their sound principles as if they were sullen prejudices. They almost secrete their small property as if it were stolen property. Often a poor woman will tell a magistrate that she sticks to her husband, with the defiant and desperate air of a wanton resolved to run away from her husband. Often she will cry as hopelessly, and as it were helplessly, when deprived of her child as if she were a child deprived of her doll." –This text refers to an alternate Paperback edition.