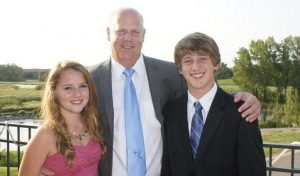 (Wayne Madsen) Retired United Airlines Captain Philip Marshall became an irritant to the Central Intelligence Agency and its favorite "kingdom," the Kingdom of Saudi Arabia, with his constant unraveling of the Saudi government's connections to the 9/11 attack and his subsequent promise to expose even more "shocking" information about the 9/11 attack.
After a multi-state investigation, WMR can now report that Philip Marshall and his two children, Alex, 17, and Macaila, 14, along with their family dog, were the victims of a hit contracted to professional assassins who specialize in turning murder scenes into murder-suicide scenes.
Marshall had been in contact with senior U.S. government officials, along with retired officials, who provided him with smoking gun evidence that current CIA director John O. Brennan was not only a key interlocutor between the CIA and Saudi government but also served as the key agency interface with Osama Bin Laden's forces of irregular combatants, given the name "Al Qaeda" by the CIA.
Marshall was in contact with former Florida Senator Bob Graham, the chairman of the Senate Intelligence Committee on 9/11 and someone who was aware of the contents of the 28-pages in the Joint Senate-House Intelligence Committee report on 9/11 that detailed the $2 billion slush fund created by the "Al Yamamah" bribe to Bandar from the British defense firm BAE.
The slush fund was used by the CIA, Saudi ambassador to the United States Prince Bandar bin Sultan bin Abdulaziz — currently the head of the Saudi General Intelligence Service, and the 9/11 hijackers, including Egyptian Air Force Lt. Col. Mohammed Atta, as well as "special project" mission sub-managers Saudi Air Force officer Omar Bayoumi and Saudi deputy defense minister Khaled bin Sultan, to carry out their Saudi-financed intelligence mission in the United States.
The mission included flight training on Boeing 757 and 767 aircraft at the CIA's longtime aviation base at Marana Airfield/Pinal Air Park, Arizona, a joint operational base of the U.S. Special Operations Command and the CIA.
The 9/11 Commission determined that Bayoumi did not "knowingly aided extremist groups," although he provided assistance to two hijackers, Nawaf al-Hazmi and Khalid al-Mihdhar.
The contractor for the flight training was Doss Aviation, a CIA proprietary whose principal was US Judge for the Middle District of Alabama Mark Fuller. The firm has since been sold to an investment firm headed by 9/11 Commission member John Lehman, a former Secretary of the Navy. Doss's subsidiary, Professional Aviation Training Service LLC, established in 2000 to support the 9/11 hijackers, was spun off the The Carlyle Group, of which the Bin Laden family, George H W Bush, Tony Blair, and George Soros are shareholders. These and other CIA "folding tent" operations disappeared after their involvement in the 9/11 attack.
Marshall had been investigating activities at Marana Airfield based on tips he received from veterans of the Iran-contra affair. Marshall, himself, was a CIA contract pilot for Marana-based Intermountain Aviation in the early 1980s, flying CIA/Drug Enforcement Administration (DEA) informant and pilot Barry Seal on missions out of Lakefront Airport, New Orleans; Mena, Arkansas; Nicaragua; and Colombia. Marana was a project headed by the late General George Doole, the CIA's secret aviation director who ran such airlines as Civil Air Transport, Air America, Air