Burundi, country in east-central Africa, south of the Equator. The landlocked country, a historic kingdom, is one of the few countries in Africa whose borders were not determined by colonial rulers. The vast majority of Burundi's population is Hutu, traditionally a farming people. Power, however, has long rested with the Tutsi minority, which historically has controlled the army and most of the economy, particularly the lucrative international export of coffee. Few real cultural differences are distinguishable between the two peoples, and both speak Rundi (Kirundi). Such linguistic homogeneity is rare in sub-Saharan Africa and emphasizes the historically close cultural and ethnic ties among the peoples in Burundi.
Even so, ethnic conflict between the Hutu and Tutsi has plagued the country since it gained independence from Belgium in 1962, at a great cost in human life and property. Few Burundians escaped the ensuing anarchy into which the country was plunged when this interethnic violence flared anew in the 1990s, a bloody conflagration that well illustrated the Rundi proverb "Do not call for lightning to strike down your enemies, for it also may strike down your friends." Neither the presence of an international peacekeeping force beginning in the late 1990s nor the ratification of an agreement to share power between Hutu and Tutsi were immediately effective in curbing interethnic violence, which also spilled into the neighbouring countries of Rwanda and the Democratic Republic of the Congo. Burundians are now faced with the task of quelling ethnic dissent, promoting unity, and rebuilding the country. (Britannica)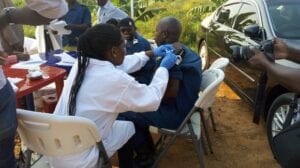 On 13th August, the Ministry of Public
Health
and AIDS Control kicked off the
vaccination
campaign for
front
-line staff against the
Ebola
virus
disease. The campaign started at the Gatumba entry point at the Border with the Democratic Republic of Congo. The
Ebola
vaccination
campaign is part of Burundi's preparation for a possible case of
Ebola
. The campaign will be implemented under leadership of the Ministry ...
Read More
Paul Kagame took power in Rwanda after an alleged "Rwandan
Genocide
." This massacre of almost 1 million Rwandans now appears to have been a C.I.A.-fabricated
eugenics
program that also served as a
false flag
pretext. This pretext provided the cover to seize control of rare earth minerals in the resource-rich neighboring Congo. Those minerals are critical for the manufacturing of computers, military
surveillance
devices, aerospace, defense, ...
Read More