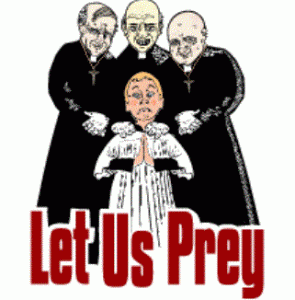 HARRISBURG, Pa. (AP) — A landmark grand jury report identifies more than 300 "predator priests" in six of Pennsylvania's Roman Catholic dioceses, the state Supreme Court said in ordering the findings released.
The justices said the report on clergy child sexual abuse going back decades and allegations of cover-up efforts will be made public but without the names or "individual specific information" of priests and others who have challenged the findings, at least in the initial version to be released.
"Today, the most comprehensive report on child sexual abuse within the church ever produced in our country was released," Attorney General Josh Shapiro said on August 14th. "Pennsylvanians can finally learn the extent of sexual abuse in these dioceses. For the first time, we can all begin to understand the systematic cover up by church leaders that followed. The abuse scarred every diocese. The cover up was sophisticated. The church protected the institution at all costs."
The report begins with the following statement:
"We, the members of this grand jury, need you to hear this. We know some of you have heard some of it before. There have been other reports about child sex abuse within the Catholic Church. But never on this scale. For many of us, those earlier stories happened someplace else, someplace away. Now we know the truth: it happened everywhere."
The grand jury said it believes the "real number" of abused children might be "in the thousands" since some records were lost and victims were afraid to come forward. The report said more than 300 clergy committed the abuse over a period decades, beginning in the mid-1950s. There are 99 in the Diocese of Pittsburgh alone. Of those 99, a group of four groomed and violently sexually assaulted young boys, said Shapiro.
"One boy was forced to stand on a bed in a rectory, strip naked and pose as Christ on the cross for the priests. They took photos of their victim, adding them to a collection of child pornography which they produced and shared on church grounds," Shapiro said.
Shapiro said the priests would mark their victims by giving them gifts.
"To make it easier to target their victims, the priests gave their favored boys gifts – gold crosses to wear as necklaces. The crosses were markings of which boys had been groomed for abuse," Shapiro said.
"We are sick over all the crimes that will go unpunished and uncompensated," the grand jury said.
Because of an on-going legal battle, more than a dozen names and identifying information have been redacted. But the report shows a consistent pattern of bishops having prior knowledge of the actions of these predatory priests, reassigning them and not alerting law enforcement.
Shapiro said his office is not satisfied with the release of the redacted report. Shapiro said each one of those redactions represents a story of abuse that deserves to be told. He went on to say that he will fight to reveal the names currently redacted in the report.
The report states:
"All victims were brushed aside, in every part of the state, by church leaders who preferred to protect the abusers and their institution above all. The main thing was not to help children, but to avoid scandal."

"Priests were raping little boys and girls and the men of God who were responsible for them not only did nothing: they hid it all."

"Diocesan administrators, including the Bishops, had knowledge of this conduct and yet priests were regularly placed in ministry after the Diocese was on notice that a complaint of child sexual abuse had been made. This conduct enabled offenders and endangered the welfare of children."
In addition, the report says administrators and Bishops "often dissuaded victims from reporting abuse to police, pressured law enforcement to terminate or avoid an investigation, or conducted their own deficient, biased investigations without reporting crimes against children to the proper authorities."
"Above all else, they protected their institution at all cost," Shapiro said.
The report includes some priests who stood trial and were convicted of sexual assault. In the Diocese of Pittsburgh, they include: Father Robert Wolk of St. Thomas More in Bethel Park; Father Richard Zula of Saints Mary and Ann in Marianna, Washington County, and Father Richard Dorsch, convicted of sexually assaulting a 13-year-old boy in North Park.
Significantly, the report faulted Cardinal Donald Wuerl, the former longtime bishop of Pittsburgh who now leads the Washington archdiocese, for what it said was his part in the concealment of clergy sexual abuse. Wuerl, one of the highest-profile cardinals in the United States, released a statement on 8/14/2018 that said he had "acted with diligence, with concern for the victims and to prevent future acts of abuse."
Until now, the Pittsburgh Diocese had been considered a leader in those reforms since now Cardinal, then bishop, Donald Wuerl defied the Vatican back in 1993 by refusing to reassign pedophile priest Anthony Cipolla. Wuerl was a leader in formulating policies to protect children, but in the report, his record here also comes under fire.
Cardinal Wuerl responded to the allegations in a statement saying:
"As I have made clear throughout my more than 30 years as a bishop, the sexual abuse of children by some members of the Catholic Church is a terrible tragedy, and the Church can never express enough our deep sorrow and contrition for the abuse, and for the failure to respond promptly and completely. While I understand this Report may be critical of some of my actions, I believe the Report confirms that I acted with diligence, with concern for the victims and to prevent future acts of abuse. I sincerely hope that a just assessment of my actions, past and present, and my continuing commitment to the protection of children will dispel any notions otherwise made by this report."
The report is the result of a two-year investigation, described by the judge who supervised the grand jury as addressing allegations of child sexual abuse, failure to report it, endangering the welfare of children and obstruction of justice by people "associated with the Roman Catholic Church, local public officials and community leaders."
The judge has said the probe involved dozens of witnesses and more than half a million pages of internal church documents. The investigation pertains to the Allentown, Erie, Greensburg, Harrisburg, Pittsburgh and Scranton dioceses, which together consist of 1.7 million people. Previous investigations found widespread sexual abuse by priests in the state's two other dioceses, Philadelphia and Altoona-Johnstown. The abuse ranged from groping and masturbation to anal, oral and vaginal rape.
"Church officials routinely and purposefully described the abuse as horseplay and wrestling and inappropriate conduct. It was none of those things. It was child sexual abuse, including rape," Shapiro said.
Attorney General Josh Shapiro described the court's decision as a victory for abuse survivors.
"Our fear throughout this process has been that the entire grand jury report would be shelved and victims' truth would be silenced," Shapiro said. "Today's order ensures that will not be the case."
Criminal charges can only be brought under the statute of limitations in effect at the time of the crime. For some people alleging abuse in the 1970s, that means two years from when the crime happened. For others, it means two years after they turned 18.
Current state law allows prosecutors to file criminal charges before the one-time child victim turns 50 and for victims to seek civil damages in court before they turn 30.
As for the Diocese of Greensburg, the grand jury named 20 priests in the report.
"One priest, Fr. Raymond Lukac, impregnated a 17-year-old girl, forged another pastor's signature on a marriage certificate then divorced the girl shortly after she gave birth. Despite having sex with a minor, fathering a child and being married and divorced, Fr. Lukac was allowed to stay in ministry while the diocese sought a benevolent bishop in another state willing to take the predator, hiding him from justice," Shapiro said.
According to Shapiro, coverups by the church were done in an attempt to run out the clock on the statute of limitations.
"The grand jury detailed that the coverups by the church served a key purpose – the longer they covered up abuses, the less chance that law enforcement could prosecute predator priests because the statute of limitations would run out," Shapiro said.
While most of the cases are old and the clergy accused are retired or deceased, just two weeks ago Shapiro announced that Father Tomas Sweeney of the Greensburg Diocese had pled guilty to indecent assault.
"There can be no doubt that Father Sweeney is a predator priest," Shapiro said.
In Erie, Fr. David Poulson was also charged with the abuse of an 8-year-old boy over the course of eight years.
Shapiro also confirmed that the Vatican knew of a cover-up of child sex abuse by priests in Pennsylvania through secret archives that bishops in the state shared with church leaders in Rome, but declined to say if that included Pope Francis.

Grand Jury Reform Recommendations
As part of the report, the grand jury recommended four changes be made to Pennsylvania law:
1. Eliminate the criminal statute of limitations for sexually abusing children
"This grand jury exists because Pennsylvania dioceses routinely hid reports of child sex crimes while the statutes of limitations for those crimes expired. We just do not understand why that should be allowed to happen. If child abusers knew they could never become immune for their crimes by outrunning the statute of limitations, maybe there would be less child abuse."
2. Create a two-year "civil window for child sex abuse victims who couldn't file lawsuits before.
"Victims don't just need sex criminals prosecuted; they need care and compensation for harm done by the abusers and the institutions that empowered them. The way you get that is by suing. We understand that civil cases are different than criminal prosecutions, and that it's appropriate to have a statute of limitation that prohibits lawsuits after a certain amount of time. We're OK with a time limit for lawsuits, as long as it's a long time limit, and Pennsylvania's is pretty good – until the victim reaches age 30, which is longer than in most other states.
The problem is that this law doesn't apply to most of our victims. It's only been in effect for about 15 years, and most of the victims from before then were under a much tighter time limit for suing – only two years. But even that two-year limit was something of a sham. Until not too long ago, the church was actively and systematically concealing clergy sex abuse. Victims didn't know if their attackers had a history of abuse, and they didn't know the diocese had been enabling that abuse. You can't very well exercise your right to sue when the people responsible are doing their best to cover up."
3. Clarify the penalties for a continuing failure to report child abuse.
"Reporting child abusers isn't just a moral obligation; it's the law. We can't pass laws telling the church how to administer its internal operations – but we can demand that it inform authorities about rapists and molesters. Unfortunately, document after document told us the same story: church officials repeatedly received word of crimes against kids, yet repeatedly refused to alert law enforcement."
4. Prohibit "non-disclosure" agreements regarding cooperation with law enforcement.
"We also think it's time to tackle an issue that hasn't been mentioned in prior grand jury investigations of clergy sex abuse. We've heard the reports over the last year about the use of confidentiality agreements to make sexual harassment suits go away. We can tell you that it doesn't just happen to women in the workplace; we've seen the same tactic used by the dioceses to hush up child sex abuse in the church. In the rare case where a child was able to report abuse within the statute of limitations for filing a lawsuit, the bishops would avoid "scandal" by paying off the family to keep quiet."
Sources: