Travis Scott's "Astroworld" festival ended up killing at least eight people. However, the show never stopped. Quite to the contrary, it was a crescendo of dark imagery which was described by some as "knocking on the gates of hell". Here's a look at the insanity that was Astroworld 2021.
Reports emerging from the Astrowold festival, which took place in Houston on November 5th, are horrifying. Travis Scott's concert, described as "dark and hellish" by people present, was the site of at least eight deaths and countless injuries. Throughout the entire time, and despite pleas from the public, the show never stopped. As Travis performed in front of a background that was described by some as "the gates of hell", lifeless bodies were being carried away by security.
Soon after the concert, social media was flooded with accounts by concertgoers who felt a "dark energy" throughout the event which prompted many to declare that the entire thing was a satanic ritual sacrifice. These suspicions were only amplified when reports emerged that several people in the crowd (and at least one security guard) were "pricked" by a needle. Not only did these people get injected with an unknown drug, but these assaults prompted panic in the crowd which lead to people fainting and getting trampled.
Here's a look at the insanity that was Astroworld 2021.
Eerie Promotion
Over four years ago, I published the article How Travis Scott Got Recruited by the Industry, where I explained how the symbolism surrounding him changed drastically after he got involved with the Kardashians. Since then, things only got darker and more satanic. Weird fact: The festival took place on Kris Jenner's 66th birthday.
Fast forward to a couple of days before the Astroworld festival 2021: Scott releases the song Escape Plan. This is the top comment on YouTube.


Indeed, those who died at Astroworld literally could not escape it.
This is the art that accompanied the song.
The promotion surrounding the Astroworld festival is all about death and portals.
People are being sucked into "another universe" under the watchful eye of the occult elite. Sadly, this is exactly what happened at the actual festival.
As you'll see, there was really "dark vibrational energy" going on at that festival.
Astroworld
The Astroworld festival took place on November 5th, which is a few days after Samhain – the ancient festival of death and sacrifice. The week around November 1st is known to be the time of the year when the "veil" between this world and the "underworld" is the thinnest. In occult circles, Samhain is still observed and it is celebrated with animal and human sacrifice.
In this article about Samhain, a druid states:
Samhain is a time when the doorway to the "other world" is open and we can commune with the dead—a time of divination.
Appropriately enough, everything about Astroworld is all about a "doorway to another world".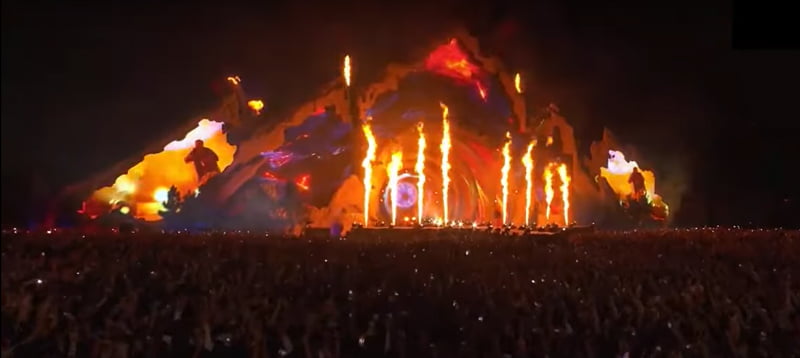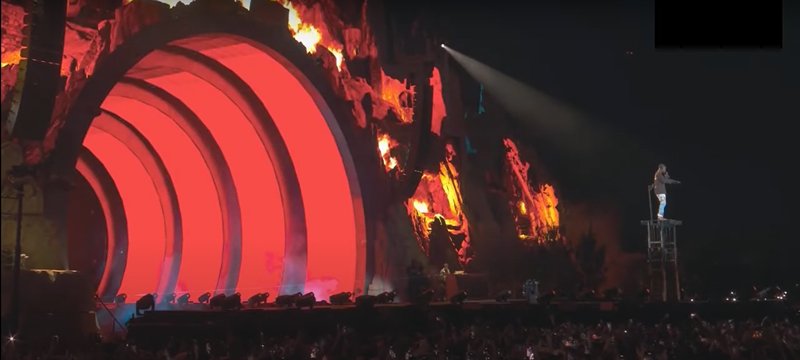 Inside that "portal" was sometimes written: "See ya on the other side". Eerie.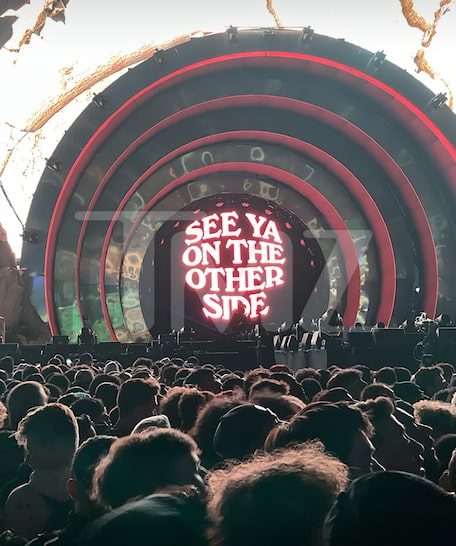 Travis Scott was wearing a shirt depicting a person entering a "portal" and emerging transformed.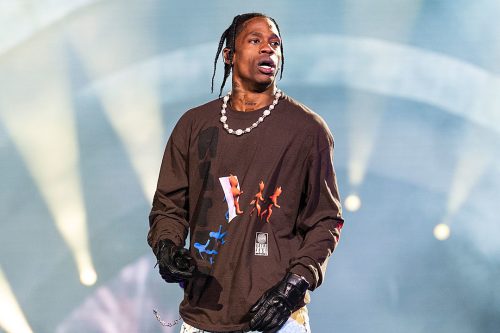 It did not take long before the show turned into chaos as crowd movement caused people to faint and get trampled.
A police vehicle transporting a dead or injured person attempts to leave the venue.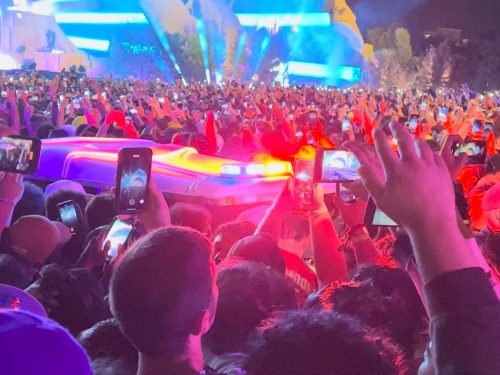 Although fainting is not uncommon during these events, Astroworld turned into carnage. As more people got hurt, people requested for the show to stop, but it never did.
In this disturbing video, people attempt to get the attention of festival staff, yelling "stop the show" because "someone is dying" … to no avail.
THE STUFF AND TRAVIS ARE SICK. #AstroWorld #ASTROWORLDFest pic.twitter.com/CgaAPHapBT

— Barb Status (@barb_status) November 6, 2021
In this other disturbing video, a possible dead body is being carried out … as Travis Scott looks over and sings eerily.
tw// dead body

travis is really singing meanwhile looking at a dead body? WHAT TF pic.twitter.com/saQ7UWx1zt

— linda (@selankasgomez) November 6, 2021
Amidst this mayhem, people in the crowd got injected with an unknown substance using a needle, including a security guard who got pricked in the neck.
The Houston PD's Chief, Troy Finner, just confirmed what we'd been told … namely, that at least one person had been injected with something via needle — and there well may have been more.

Chief Finner said a security guard working the event felt a prick in his neck by an unknown assailant while he was trying to restrain a citizen — and he quickly fell unconscious. Finner says the guard was revived by use of NARCAN … and that medical personnel did, indeed, see something on his neck that indicated he'd been stabbed with a syringe.

Finner also said some people had been trampled, so it appears there was a mix of reasons why people were injured/passing out … and perhaps why some died. The total number of people who've passed away remains at 8, and autopsies are underway to determine the causes of death for each. (…)

What many will be looking for here is whether there's any evidence to suggest the 8 people who've died thus far might've been triggered into cardiac arrest via outside influence or a third party … namely, a would-be culprit who was allegedly going around and injecting folks with a syringe.
– TMZ, ASTROWORLD SECURITY PRICKED IN NECK
At one point, people were actually chanting "stop the show". But the show never stopped. In fact, it was a crescendo of hellish, occult elite imagery.
At one point, the mountain was filled with creepy eyes watching over as people were literally dying.
Towards the end of the show, giant hands appeared over the portal. That's not right.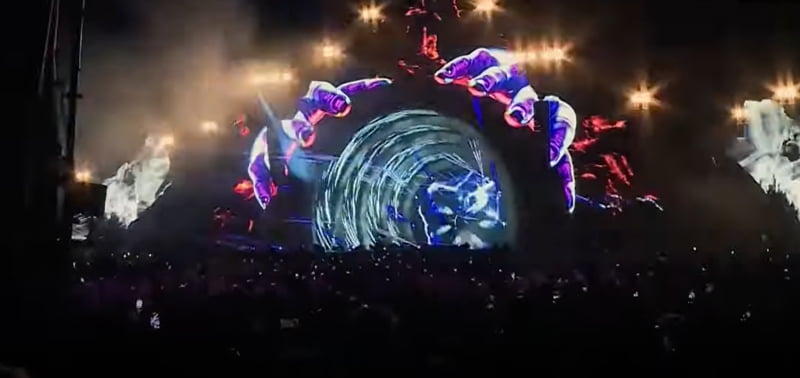 Lots of Travis Scott fans left the show traumatized and utterly convinced that they've witnessed something demonic.
Here's is an account from a fan who attended the show and witnessed several unconscious or dead people. He also mentions the fact that people VIP section – which contained celebrities and people who paid thousands of dollars for a ticket – were witnessing the mayhem in complete safety … and did not want to see injured people in their section. That's some Squid Game VIP-type stuff.
View this post on Instagram
In Conclusion
Everything surrounding Astroworld 2021 was dark, eerie and the foreboding was just disturbing to the core. Accounts from people who experienced the show live mention weird "vibrations" that could be heard throughout. Throughout the show, a loud, unsettling synth kept playing over Scott's songs which gave a chilling, horror-movie quality to the performance.
In short, the fact that the last moments of at least eight people took place in this nightmarish setting, in front of a literal portal to hell, is a thought that is difficult to fathom. However, this is exactly the type of energy sick, occult-minded individuals seek to generate and harness through mega-rituals.
Was this show purposely manufactured to turn into a human sacrifice event during the Samhain week? Difficult to say. However, one thing is for sure: When everything is done to make an event as dark and demonic as possible, dark and demonic things happen. Don't get sucked into that portal.
P.S. If you appreciated this article, please consider becoming a VC Member . For $9.95/month, a membership allows you to browse the site-ad free and download a free copy of the VC e-book. More importantly, you help support The Vigilant Citizen against big tech censorship and demonetization. Alternatively, you can support the site on Patreon (same perks as a membership) or you can make one-time donation here. Thank you for your support!
Source: VigilantCitizen
See also: https://www.thegatewaypundit.com/2021/11/demonic-astroworld-concert-goers-claim-show-killed-8-people-like-satanic-ritual-video/