From Wikipedia:
Madeleine Beth McCann (born 12 May 2003) disappeared on the evening of 3 May 2007 from her bed in a holiday apartment in Praia da Luz, a resort in the Algarve region of Portugal, sparking what one newspaper called "the most heavily reported missing-person case in modern history". Her whereabouts remain unknown.

Madeleine was on holiday from the UK with her parents, Kate and Gerry McCann, her younger twin siblings, and a group of family friends and their children. She and the twins had been left asleep at 20:30 in the ground-floor apartment, while the McCanns and friends dined in a restaurant 50 metres (160 ft) away. The parents checked on the children throughout the evening, until Madeleine's mother discovered she was missing at 22:00. At first the Portuguese police seemed to accept that it was an abduction, but after misinterpreting a British DNA analysis they came to believe that Madeleine had died in the apartment. The McCanns were declared arguidos (suspects) in September 2007 but were cleared when Portugal's attorney-general archived the case in July 2008.

The parents continued the investigation using private detectives until Scotland Yard opened its own inquiry, Operation Grange, in 2011. In 2013 Scotland Yard released e-fit images of men they wanted to trace, including one of a man seen carrying a child toward the beach that night. Shortly after this the Portuguese police reopened their inquiry. Operation Grange was scaled back in 2015.

The disappearance attracted sustained international interest and saturation coverage in the UK reminiscent of the death of Diana in 1997. The McCanns were subjected to intense scrutiny and false allegations of involvement in their daughter's death, particularly in the tabloid press and on Twitter. They received damages and front-page apologies in 2008 from Express Newspapers. In 2011 they testified before the Leveson Inquiry into British press misconduct, lending support to those arguing for tighter press regulation.
Now watch this:
(Fast forward to 2016) and from Wikileaks, we have learned that it is very likely John Podesta (Hillary's long time friend and 2016 campaign manager) and brother, Tony Podesta, are seemingly very involved in a child sex ring that is literally world wide. The leaked emails reveal numerous conversations among multiple high up politicians, elites and world figures using code names for "little girls", "young girls", "little boys", "young boys", "people of ethnicity", "sperm" and other disgusting sexual oriented words. Those things along with many other clues from Wikileaks, NYPD and the FBI point to child sex trafficking- possibly including kidnapping and murdering of children for ritualistic purposes.
The picture above is allegedly involving a child named Madeleine Beth McCann, who has been missing from Portugal since the evening of May 3, 2007, only days after her 4th birthday… and John Podesta, pictured next to the girl, who looks very similar to the progressive pictures the police have released. According to progressive police sketches, the picture below (right) is what Madeleine may have looked like in 2013.
The $1 million mansion belonging to Clement Freud (below), sits only 1/3 of a mile from where Madeleine was abducted. While searching for their daughter, the McCann's were invited to this house many times by Freud, claiming it would get them out of the glaring media.
Freud reportedly wrote the McCann's a letter, inviting them for lunch at the villa in July 2007:
"I have a house in P da L," he wrote. "Been ashamed of the intrusion into your lives by our media and if you would care to come to lunch/dinner at any time before Wednesday next, do ring and let me know. I cook decent meals."
At one of their visits to the mansion, Mrs. McCann has been quoted as saying: "He gave me one of his looks and a giant glass of brandy, and managed to get a smile out of me with his greeting: 'So Kate, which of the devout Catholic, alcoholic, depressed, nymphomaniac parts is correct?' "
Freud's mansion's location to where Madeleine was abducted is shown on the map to the right.
Later, at least 3 women began coming out with stories of Freud abusing them. The women Freud molested have horrific stories of physical molestation beginning when they were just 10, 11 and 14 years old.
One of Freud's victims, Vicky Hayes, has claimed Freud groomed her from the age of 14 and at the age of 17, he violently raped her. She said he plied her with champagne and took her virginity. Mrs Hayes gave her horrific account to a local news station, where she recalled being "paralyzed with fear" when the manipulative abuser raped her, then callously advised her to "ring me" if she found out she was pregnant.
She was very alarmed when she realized Freud's connection to the Madeleine case, after she read about it in a book Kate McCann wrote. She reported her concerns to her local police force in Suffolk, and her son wrote to the Metropolitan Police to pass on his mother's account and concerns over Freud's connection to the McCann's. They received no response, according to TheDailyMail.com.
One of the women to accuse Freud, Sylvia Woosley- who claims Freud kidnapped and began molesting her at the tender age of 10 years old, said she "would like to just return to the child I was before I was molested physically". Sylvia was later brought up as his daughter and invited into his marital bed alongside his actress wife, Jill.
Freud later also lured a 14-year-old to his home, got her drunk and molested her in the bathroom, according to one of the women.
A former British ambassador has now revealed he has been approached by several people making further claims of sexual abuse by Clement Freud, amid fears the MP could have sexually abused dozens more children, according to The Independent.
Police in Suffolk have confirmed the now-known Pedaphile, Clement Freud, was out of the country when Madeleine was abducted. However, his home had been loaned to friends of his- John and Tony Podesta.
Here is a police sketch of Madeleine's abductors: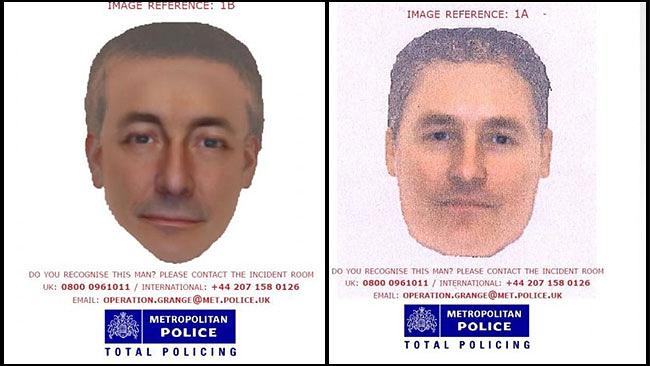 Do they look familiar?
There is even a matching mole on Tony Podesta and the police sketch, as pointed out in the above picture/sketch.
One of our FBI insiders can confirmed the Intelligence community indicates John and Tony Podesta were in Praia da Luz, Portugal on May 3rd 2007– the day Madaleine McCann vanished.
The Podesta brothers were staying at the home of a friend named "Clem" . Clement Freud, the grandson of psychopathology sex expert Dr. Sigmund Freud, who was known to be a pedophile. This is a quote from our insider: "Of greater interest is that fact that Freud owned a villa in Praia da Luz."
Now take a look once again at the first photo posted above with John Podesta, sitting with several others in what appears to be a family card game, with the girl to his right:
In 2009, CNN published a sketch of a woman who was wanted in connection to McCann's disappearance and the sketch had a striking resemblance to Ghislaine Maxwell. The woman was also described to police as having an Australian-sounding accent. Hers is British, however the 2 are commonly mistaken.