Seth Rich, a 27 year old Voter Expansion Data Director at the Democratic National Convention (DNC) and had been working on exposing the recent cases of election fraud and voter suppression during the recent primaries around the country – and may have known too much, was found murdered with bruises on his face, hands and knees, and multiple gunshot wounds.
The often rumored "Clinton body count" appears to be on the rise again, as political insiders with both close and distant political connections, continue to drop like flies.
In fact, the rumor mills have gone into overdrive, in speculating on a plethora of recent deaths.
Says the website Heatstreet, "Conspiracy theories abound."
The most recent alleged victim was Seth Rich, a DNC operative who was reportedly well-liked in the inner beltway.
Rich was shot in the back, at close range, in a posh neighborhood of DC at about 4:00am early Sunday morning. According to a story at Heatstreet:
"Rich, 27, was shot multiple times including twice in the back. His mother Mary Rich told the local NBC station that her son was found with bruises on his face, knees, and hands – signs that he fought for his life."
One ardent Bernie Sanders supporter on Reddit believes that Rich was taken out due to ongoing election fraud investigations where Rich must have known too much.
In fact, a number of websites are speculating on the fact that Rich may have known too much.
After outlining a long list of connections, the citizen journalist of the article stated the following:
"Conclusion: If anyone could have been the one to break the news on possible election fraud, it would have been Mr. Rich. If his death somehow is confirmed as part of corrupt Clinton collusion, then it is important to know that with the major players involved, Mr. Rich would have posed the least significant threat, at least in comparison to Vladimir Putin or those high up in the Washington D.C establishment.
"Many questions remain on my mind that are, and will probably forever, remain unanswered. I am just what some would dismissingly label as an "armchair activist" or "Reddit lawyer." Perhaps I have an inherent bias in an actual democracy, as you can see in my post history that I've been a staunch supporter of Senator Sanders."
The context, but mostly imminent timing of the loss of this young insider seems to go beyond "pure coincidence", despite the number of robberies in the D.C area lately. I believe that Hillary Clinton's team or the DNC could have colluded to dispose of this young man who happened to be exposed to a little too much information." Source
(May 2017 update) Just two months shy of the one-year anniversary of Rich's death, FOX 5 has learned there is new information that could prove these theorists right.
Rod Wheeler, a private investigator hired by the Rich family, suggests there is tangible evidence on Rich's laptop that confirms he was communicating with WikiLeaks prior to his death. Wheeler's services were offered to the family and paid for by a third party, according to a statement issued by the Rich family Tuesday which also includes that "the private investigator who spoke to press was offered to the Rich family and paid for by a third party, and contractually was barred from speaking to press or anyone outside of law enforcement or the family unless explicitly authorized by the family."
Now, questions have been raised on why D.C. police, the lead agency on this murder investigation for the past ten months, have insisted this was a robbery gone bad when there appears to be no evidence to suggest that.
Wheeler, a former D.C. police homicide detective, is running a parallel investigation into Rich's murder. He said he believes there is a cover-up and the police department has been told to back down from the investigation.
"The police department nor the FBI have been forthcoming," said Wheeler. "They haven't been cooperating at all. I believe that the answer to solving his death lies on that computer, which I believe is either at the police department or either at the FBI. I have been told both."
When we asked Wheeler if his sources have told him there is information that links Rich to Wikileaks, he said, "Absolutely. Yeah. That's confirmed."
Wheeler also told us, "I have a source inside the police department that has looked at me straight in the eye and said, 'Rod, we were told to stand down on this case and I can't share any information with you.' Now, that is highly unusual for a murder investigation, especially from a police department. Again, I don't think it comes from the chief's office, but I do believe there is a correlation between the mayor's office and the DNC and that is the information that will come out [Tuesday].
Instead of new information coming out Tuesday (the following day), Wheeler backtracked on his previous information from Monday. Was he threatened?
Update 12/30/17:
In a cryptic narrative released on 12/22/2017, QAnon directly suggests that the heist of DNC emails, including the emails from Hillary campaign chair John Podesta, was an inside job perpetrated by Seth Rich, an IT employee of the DNC who became disillusioned with Hillary and the DNC. Rich realized Hillary and Debbie Wasserman Schultz had rigged the Democratic primaries for his preferred candidate, Bernie Sanders, to lose.
Shockingly, QAnon claims Debbie Wasserman Schultz put out a contract to MS-13 Hispanic gang members to murder Seth Rich, both to punish him for the heist, and to prevent him from doing further damage to Hillary's campaign and the DNC.
Seth Rich's family sued Fox News for reports which have resulted in ocassional additional information being released which otherwise would be dismissed as conspiracy theories as MSM has ignored the Seth Rich story and the FBI, DOJ and Intel Communities have consistently stalled efforts to obtain any related investigative material related to the case.
But in August 2020, FOX News released information in the court case that it had a previous report that was eventually shelved related to the case. The first item of note is that a Federal Investigator claimed he had seen and read emails between Seth Rich and WikiLeaks:
Rich then reportedly called his father and his girl friend before being shot a block from his home. Rich died a few hours later but was reportedly conscious on his way to the hospital. The police reportedly refused to provide any information Rich may have provided on the ride to the hospital.
See video below where Julian Assange from WikiLeaks discusses Seth Rich:
Emails Released today related to Seth Rich Case pic.twitter.com/tkuOTIqjjG

— MaReQ🌟🌟🌟 (@Mareq16) August 13, 2020
Via TGP
For years Attorney Ty Clevenger requested this information on the case from the FBI. In July 2021 the FBI released the information without notifying Clevenger. The FBI documents included these two documents that mention Robert Mueller and Hillary Clinton from pages 134 and 135, and mentions Mueller holding the name of the hitman.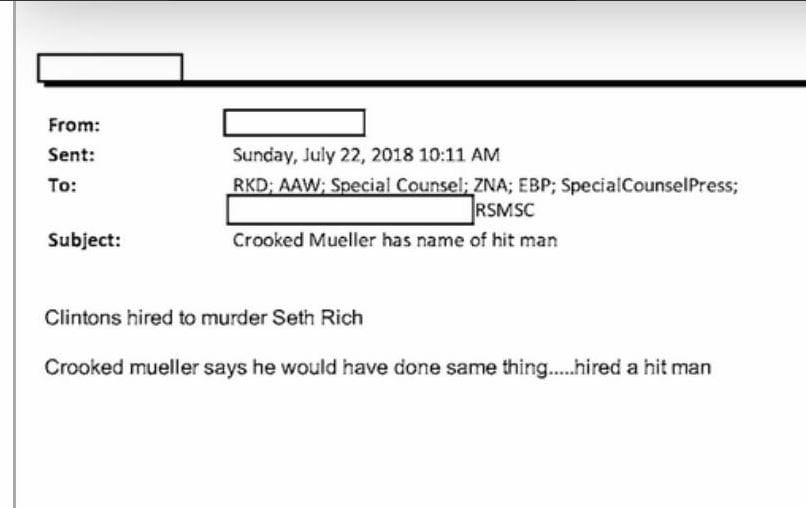 For more than four years the FBI insisted that it was never involved actively in the investigation of Seth Rich's murder and that it never opened a case. That lie was exposed in December 2020 thanks to the dogged legal work of Ty Clevenger when the FBI conceded:
FBI has completed the initial search identifying approximately 50 cross-reference serials, with attachments totaling over 20,000 pages, in which Seth Rich is mentioned. FBI has also located leads that indicate additional potential records that require further searching. . . .

FBI is also currently working on getting the files from Seth Rich's personal laptop into a format to be reviewed. As you can imagine, there are thousands of files of many types. The goal right now is to describe, generally, the types of files/personal information contained in this computer.
This was a stunning admission and raises critical questions that are still unanswered. Why did the FBI open a case on the murder of a DNC staffer that was not a Federal crime? If Rich really was the victim of a street robbery/mugging gone wrong, there is no reason for the FBI to get involved. More telling, why did the FBI's Counter Intelligence Division (i.e., Peter Strzok) get involved?
The FBI continues to stonewall producing the material it is required to produce. Ty Clevenger now represents Brian Huddleston, a Texan who sued the FBI under Freedom of Information law for the agency's refusal to promptly turn over public documents in the case. Ty's anger is focused on four key elements:
Source: https://www.thegatewaypundit.com/2022/01/latest-information-shows-fbi-continues-try-hide-facts-murder-seth-rich/
---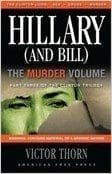 Hillary & Bill: The Murder Volume – 110: Is the Clinton 'Body Count' Real? If so, that was in 2008 before several more have been added – maybe even including Victor Thorn himself, who was found dead of an apparent suicide, but assured followers that if ever found dead that it wasn't him. He'd never kill himself. The question of mysterious deaths surrounding the Clinton's has plagued the former first couple for over 25 years, and has become such an integral part of popular culture that Hillary has been forced to sarcastically refer to it in press conferences. ("Some people even say we're involved in drug dealing and murder.") Still, is the "Clinton Body Count" real, or simply an urban legend-a product of far-flung conspiracy theory? In Part Three of the Clinton trilogy-The Murder Volume-an overwhelming amount of evidence is provided proving that the 110+ people who've died under mysterious circumstances-all tied in some way, shape, or form to the Clintons-far surpasses any chance of it merely being coincidence. The odds of such a phenomenon occurring naturally are, in fact, so miniscule that alternative explanations become necessary. Other Topics Covered: True Motive for Waco Holocaust -and the Person Who Ordered the Massacre-Revealed! Proof Positive Vince Foster Was Murdered. Now See the Killer Revealed for the First Time! Was Ron Brown Getting Ready to Spill the Beans About Bill & Hillary's Nefarious Activities? Was Bill Being Blackmailed And Was Monica Lewinsky Hillary's Unwitting Pawn?