Exclusive receipts of a USAID grant agreement from 2020 (leaked in April 2022) show that the federal government sent millions of taxpayer dollars in funding for abortion and population control propaganda disguised as overseas COVID-relief grants.
The grant, funneled to the notorious eugenics group Pathfinder International, appears not to be a one-off incident. Rather, it is part of a multi-million dollar federal scheme that stealthily used pandemic "disaster relief efforts" to advance population control abroad. A closer look reveals a corrupt, decades-long agenda at USAID whereby leftist elites have used taxpayer dollars to fund their ideological priorities at the expense of the American people.
Federal Grants: A Mask for Corruption
Funneling dark money through deliberately vague grants is a method USAID has used for decades to exploit world disasters and advance the globalist elite agenda. The federal grantmaking process is convoluted for a reason. It shuts the American people out from the truth about how their money is spent, and how the massive engine of government has gone rogue without their consent. Grants have become the mechanism of choice for bureaucrats to abuse their power, and use their "expertise" to ignore the everyday Americans who pay them. They are a Trojan Horse deployed by the Administrative State to divert funds to malicious activities, often under the auspices of justice and humanitarian concern.
One of these grants, obtained in its full form exclusively by Revolver, was authorized by a low-level USAID bureaucrat in July 2020 to send $500,000 to Pathfinder through a program surreptitiously named "Responding to COVID-19 in Hotspot Areas of Ethiopia." The vague title mirrors dozens of similarly-worded grants the government disbursed to various "humanitarian" organizations which operate as fronts for population control and other globalist priorities.
Scant details on grants like this can be found at USASpending.gov, a federal website that claims to allow users to track details about grant payments, lending an illusory sense of accountability to federal spending. But apart from USASpending's thin profiles — which include the names of receiving organizations, total dollar amounts, and one-sentence descriptions — there's nothing else to see.
Turns out, this snapshot barely scratches the surface. The real stories lie within grant agreements, legal instruments used by federal agencies to outline financial contracts with organizations they fund. These paper trails between agency bureaucrats and outside operatives explain where taxpayer money is going to and why. But unlike USASpending, grant agreements remain inaccessible to the public and even politically-appointed officials working in the Executive Branch. Those wanting to bring accountability face an arduous and incongruent bureaucratic beast. Locked in government databases that vary agency by agency, federal grants receive little to no oversight aside from nebulous profiles that often hide insidious realities.
The Globalist Scheme for "COVID" Population Control
For example, while USAID claimed money was sent to Pathfinder to "respond to COVID-19," the grant agreement outlines what the actual intent was: to increase sexual and reproductive services for 1.5 million Ethiopians. The grant glosses over this by pretending that USAID funding would support the government's efforts to "suppress" COVID-19. But the real virus Pathfinder wanted to suppress was the number of "unintended pregnancies" and "other adverse sexual and reproductive health outcomes" it argued would grow rampant during the pandemic (4-5).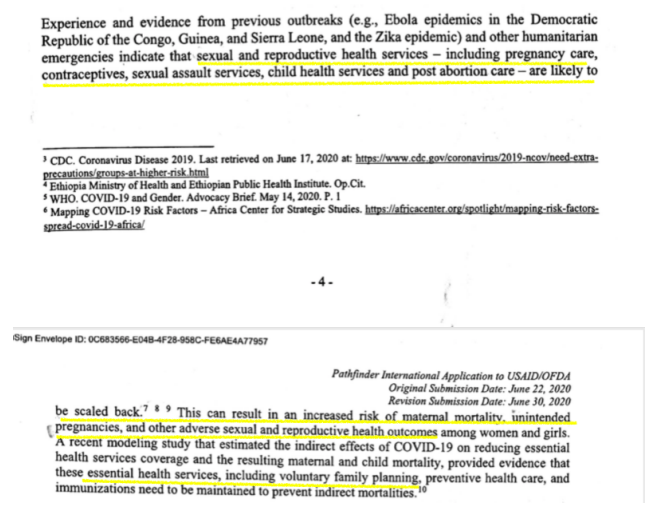 The justification is plain as day: Pathfinder would use U.S. taxpayer funding to entrench sexual health services, including abortion and birth control, in developing nations during a global crisis. How? By manipulating the public through messaging campaigns that declared these health services "essential," "orienting" staff to adopt this messaging, and ensuring that abortions and birth control were provided in "safe" health facilities (13, 22).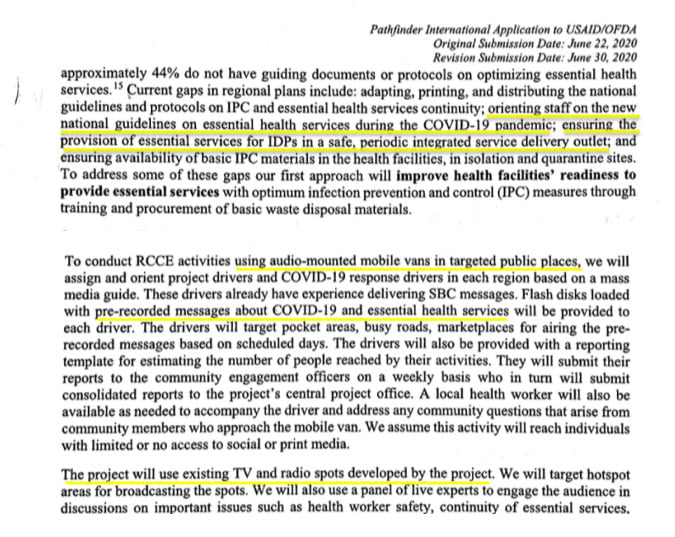 Through a program called "Transform," USAID funded mobile vans and audio-mounted vehicles to broadcast propaganda messages about birth control and COVID-19 in public spaces like mosques, TV stations and radio spots. The same project sent out over 800 health care workers to inject Ethiopian women with long-lasting and dangerous contraceptives.