Top Conservative Publisher turns on Trump!
Paul Sperry reported on 10/17:
It's official: DRUDGE has turned on Trump, is in the tank for impeachment

— Paul Sperry (@paulsperry_) October 17, 2019
For the past week The Drudge Report has posted screaming headlines pushing President Trump's impeachment!
At the same time Drudge has ignored President Trump's 50% Rasmussen approval rating — 5 points higher than Barack Obama at the same time in his presidency.
This downward spiral has been happening since 2017.
In May 2017 at his peak, the Drudge Report had over one billion views!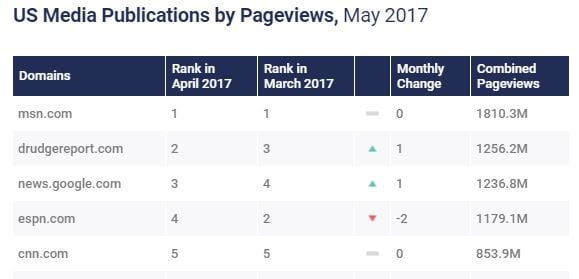 In July the Drudge Report dropped below 800,000,000 views.
Source: https://www.thegatewaypundit.com/2019/10/drudge-loses-it-goes-full-on-never-trump-loses-one-fifth-of-audience-200000000-page-views/