The day before Gray's death — April 18, 2015 — the protests began. One week into the protests, riots and looting rocked Baltimore as protesters turned violent, setting fires and throwing rocks. More rioting and looting followed Gray's funeral two days later. Before the violence died down, at least six officers were seriously injured and nine others suffered less serious injuries, two patrol cars were destroyed, a CVS pharmacy was burned down, the National Guard was called in, and a city-wide curfew was put in place.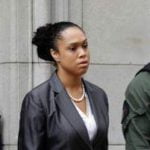 On May 1, 2015, Baltimore City State's Attorney Marilyn Mosby (shown right) announced that the medical examiner had ruled the death a homicide and that her office had charged all six officers involved in his April 12th arrest. The charges varied from officer to officer and included everything from false arrest to second-degree depraved-heart murder. A grand jury indicted the officers on all of the original charges except false arrest and illegal imprisonment. The grand jury also added charges of reckless endangerment and misconduct in office against all six officers.
The prosecution claimed that Gray's fatal injury was caused by a "rough ride" when the officers deliberately left Gray unrestrained by a seatbelt and then drove in such a way to cause him to be tossed around in the back of the van. The officers have said that while resisting arrest, Gray was so violent that they could not restrain him without risking officer safety and that the ride to the police station was not a "rough ride." What is now known for certain is that prosecutors withheld witness statements which supported the officers' claims and that at least one of the investigators in the case said that the testimony offered to the grand jury to gain the indictments was misrepresented.
All charges were eventually dropped when it was learned that exculpatory evidence about the origins of Gray's injuries was not considered by the prosecutor for political purposes.
Disgraced State's Attorney Marilyn Mosby utterly failed in her malicious prosecution of the six Baltimore Officers who were charged in connection with the death of Freddie Gray. All charges were dismissed against all of the officers who had been charged, because it was clear that the prosecution had no evidence that any of the officers committed a criminal act.
Three officers were acquitted in bench trials overseen by Judge Barry Williams; one officer's case resulted in a hung jury and was scheduled to be retried. Marilyn Mosby should never have charged these heroes. Oddly enough, one of the claims that Mosby had tried to push was that officers didn't have probable cause to arrest Gray; Mosby then had the officers arrested without probable cause that they had committed any crime.
Nationally renowned forensic criminologist, and Blue Lives Matter consultant, Ron Martinelli, Ph.D.'s explained the Freddie Gray case in his book "The Truth Behind the Black Lives Matter Movement and the War on Police":
On April 12, 2015, officers working in a high-crime, drug sales area of Baltimore observed Freddie Gray, 25, involved in the possible hand-to-hand sales of drugs. As police approached, Gray fled on foot and was pursued by the officers who captured him. When the officers searched Gray, they found him in possession of a spring-assisted knife, which they believed to be illegal. Gray was arrested, handcuffed, and placed into the rear of a transportation van but was not secured in a seat belt.

During transportation to the Western District police station, Gray became agitated and subsequently suffered a serious medical emergency. He was comatose and hospitalized for a serious spinal cord injury and later died on April 19th.

After only a 24-hour investigation by state investigators, six Baltimore officers involved in Freddie Gray's arrest and transportation were charged with several crimes, including second-degree murder in connection with Gray's death.

A leaked medical examiner's report of Freddie Gray's autopsy and toxicology reports showed that Gray suffered a devastating spinal cord injury after his head slammed into a wall in the back of the police van. The Medical Examiner who authored the report found no evidence that Gray's spinal injury was caused by any use of police force during his arrest. The forensic medical evidence indicates that Gray broke his neck and that the wound to his head matched an extended metal bolt in the back of the van. The autopsy found no other evidence of trauma that would be consistent with force-related injuries on Gray's body. No police were riding in the back of the van with Gray during his transportation.

Well-known forensic pathologist Dr. Cyril Wecht has opined that Gray's manner of death was consistent with a "rough ride" in the police transportation van. However, my colleague, the eminent forensic pathologist Dr. Vincent DiMaio, who has worked scores of high-profile death cases, has suggested that Gray's manner of death should actually be more accurately classified as "accidental or undetermined." As a Certified Medical Investigator myself, I tend to agree with Dr. DiMaio's opinion at this point.

Another prisoner in the van, identified as Donta Allen, initially told Baltimore investigators and a Washington Post reporter that Gray had been agitated, screaming, and banging around in the van during transportation. Allen told police and the media that he thought Gray was "intentionally trying to hurt himself." He later recanted this statement. A search warrant application describes Gray during transportation as "irate" and that he "continued to be combative in the police wagon."

Freddie Gray's toxicology report showed that he was under the influence of significant levels of cannabinoids and opium at the time he was hospitalized. This finding would be forensically consistent with the possibility of Gray swallowing the drugs he was attempting to sell in order to destroy evidence. The presence of drugs in Gray's system would also support his past criminal history as a drug dealer. In the past eight years, Gray had been arrested on no less than 14 occasions for felony possession of controlled substances and possession with intent to distribute. Again, Freddie Gray was only 25 at the time of his death.

The narrative presented by activists, including members of the BLM movement, is that the Baltimore officers involved in this incident murdered Freddie Gray. There are no forensic evidence or witness statements to date that support this assertion. The autopsy report detailing Gray's traumatic injuries and drug influence—and prisoner Allen's initial statements to police and the media—are far more favorable to the defendant officers than to the prosecution's theory of criminality. Therefore, the BLM movement's assertion that Baltimore police "murdered" Freddie Gray is unsubstantiated at this time. No officers have been convicted of any alleged criminal acts, and the trials for the six officers are still in progress after a mistrial in one case.
This isn't the end of the Freddie Gray story though. The affected officers have filed lawsuits for their wrongful arrests, and Mosby is facing possible disbarment. Marilyn Mosby charged these heroes in an attempt to appease Black Lives Matter rioters in Baltimore, and now that she failed, let's hope that we don't see a return to violence and destruction.
Even before the trials began, the politics of the city appeared to have already decided to sacrifice the officers by siding with the rioters and creating an environment where a fair trial would be difficult, if not impossible. In September — in an obvious attempt to discourage more riots and looting — Baltimore Mayor Stephanie Rawlings-Blake announced a payment of $6.4 million to the family of Freddie Gray, calling it a settlement for all civil claims in his death while in the custody of Baltimore police, even though no lawsuit had ever been filed.
In announcing the payoff, she said:
We must weigh the potential financial cost of defending the lawsuits in court and the potential exposure to the citizens of the city of Baltimore if we are unsuccessful in court — and for that matter if we are successful in court. In this case, faced with the prospect of significant legal expenses involved in an extended federal lawsuit as well as the potential liability that could come with an unfavorable jury verdict, our city's attorneys came to the conclusion that the six-point-four million dollars settlement is in the best interests of protecting taxpayers…. The purpose of the civil settlement is to bring an important measure of closure to the Gray family, to the community, and to this city, and to avoid years and years of protracted civil litigation and the potential harm to the community and the divisiveness which might result. [Emphasis added.]
"Settlement" is not the word to describe doling out money under circumstances where there is no lawsuit pending but there is the looming threat of more violence. The word Mayor Rawlings-Blake was searching for is "payoff." And there is no doubt that her actions influenced the jury pool.
Sources: