A women's volleyball game between BYU and Duke in Provo, UT made national headlines after a player on Duke alleged on social media that she was called racial slurs throughout the game. The teammates told Duke coach Jolene Nagel and Nagel spoke to the BYU coach about the alleged incident. BYU sent a police officer and four ushers to sit in the student section to protect the black volleyball player from the hostile fan, the Desert News reported.
Richardson told her dad about the alleged racist attacks and her dad told her aunt, Lesa Pamplin. Pamplin happens to be a far-left candidate for County Criminal Court in Texas. She just so happens to a Democratic activist who has tweeted dozens of racist things about white people, who she seems to hate. Her account is now private but here's some screenshots by TB Daily News: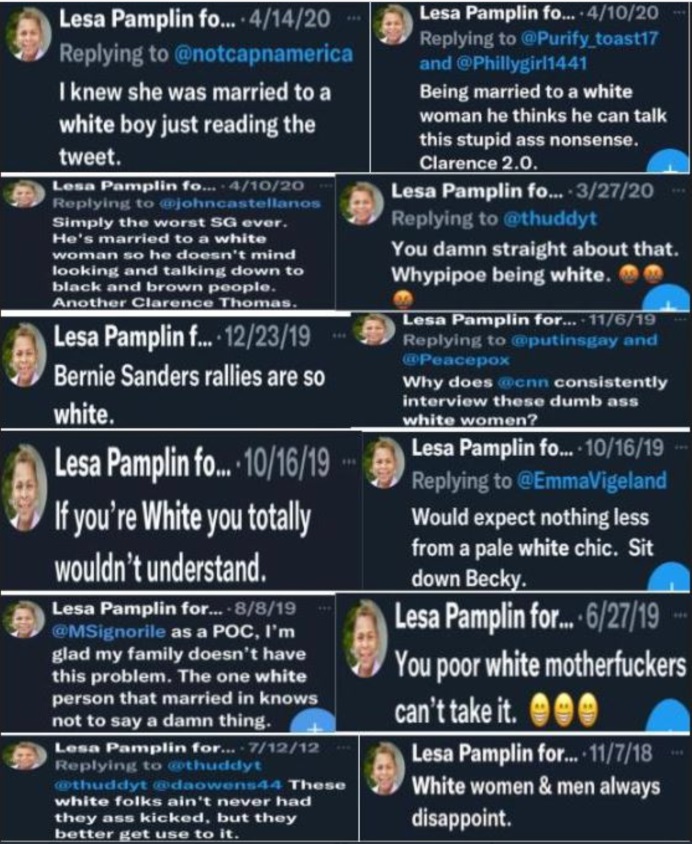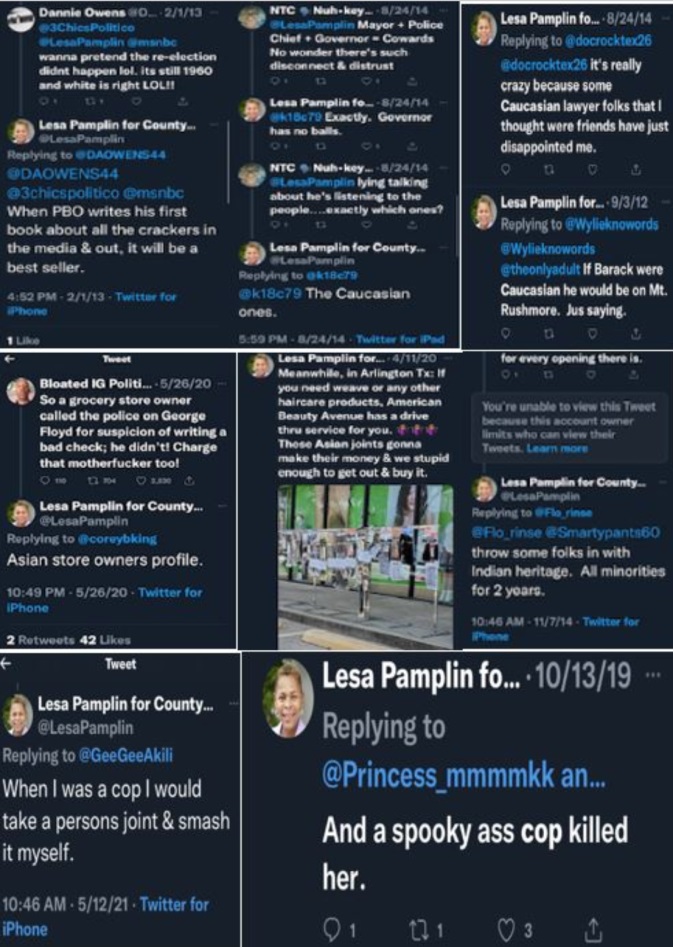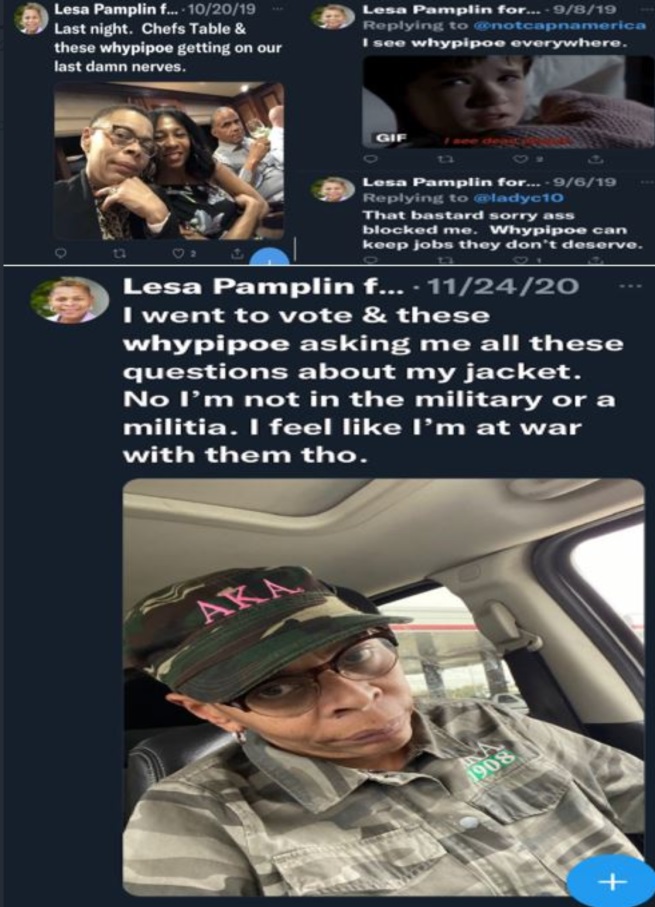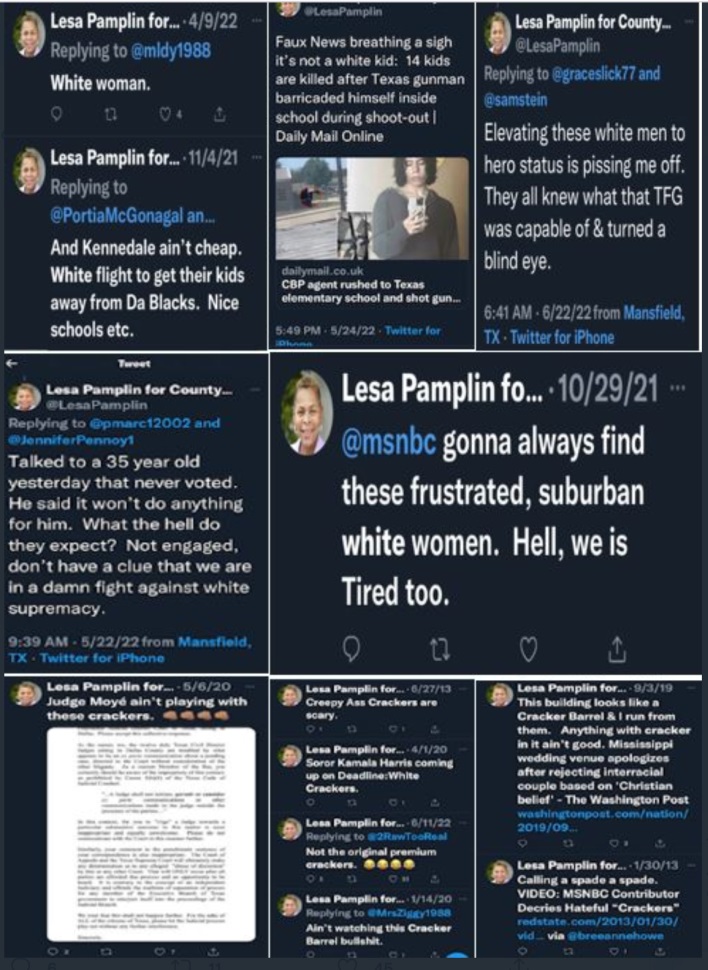 You would think that people would've learned to not blindly believe every unproven allegation of racism after the Jussie Smollett hoax, or that people would remember the Duke lacrosse racist rape hoax and how many innocent people were hurt because of a rush to judgment. But as usual this unfounded allegation of racism was retweeted millions of times.
But of course the mob, led by Lesa Pamplin, wasn't satisfied with the apology. She demanded more groveling from the white people at BYU, and threw her goddaughter's coaches under the bus for not walking off the court.
She then demanded a phone call personally from Utah's RINO governor because his Twitter apology wasn't enough.
As Lesa Pamplin pointed out, there were 5,700 people at the game (she wasn't one of them), the racial taunts got louder as the game went on, and a police officer was forced to sit on the Duke women's bench.
Lesa Pamplin alleged that Rachel was called the n word every time she served, and BYU said that the man yelling the slurs was in the student section. Well, the teams switch side every set, and Duke was on the side of the BYU student section during the 2nd and 4th sets. I watched the entire game. Rachel Richardson served a grand total of 2 times while on the BYU student section side, both of which were in the 4th set. You can find it at the 1:42:00 and 2:00:20 marks.
Oh, and the BYU men's basketball team were right there next to the student section the entire game, and despite the fact that several of them are black not one of them seem fazed by a man allegedly yelling the n word for 2 hours right next to them.
By spreading this obvious lie Rachel Richardson and her racist godmother knew they would be getting a lot of attention as the poor little victims, and they knew that people would begin to scan the crowd for racists to blame. One of those young people has down syndrome.
Rachel Richardson issued a response on Twitter and Instagram that the media was fawning over, which they are required to do since she is a young, college educated black woman making an allegation of racism without any evidence.
She immediately proved that her godmother was lying by pointing out that she's not the only black player on the team. She said the racial taunts and threats continued the entire game, and that the refs and BYU coaches (but not the Duke coaches) were made aware and did nothing.
Then came the racism-industrial complex, as she brought up how BYU could do better by doing more diversity training.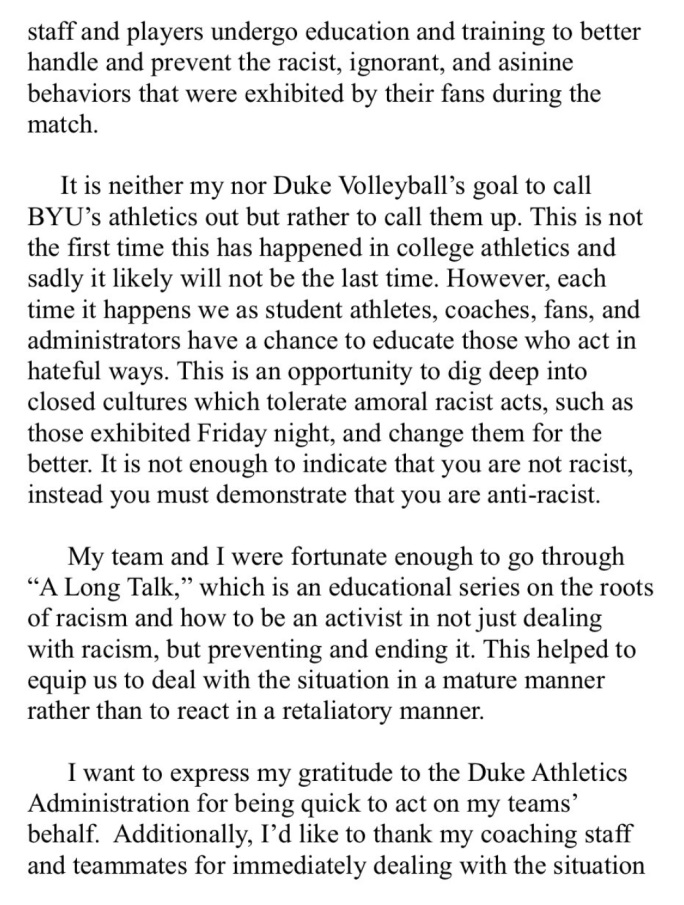 This is the screed of a narcissist. She wants you to believe that she was called the n word for 2 hours, but is so strong, and so resilient that she didn't even flinch when she heard it. She's basically Jackie Robinson. But it doesn't explain why her white teammates and coaches stood there and did nothing. Surely they would've been able to hear the slurs too.
BYU initially put out a statement denying most of what the godmother initially said, but they were too afraid to call her a liar so they danced around it with some words.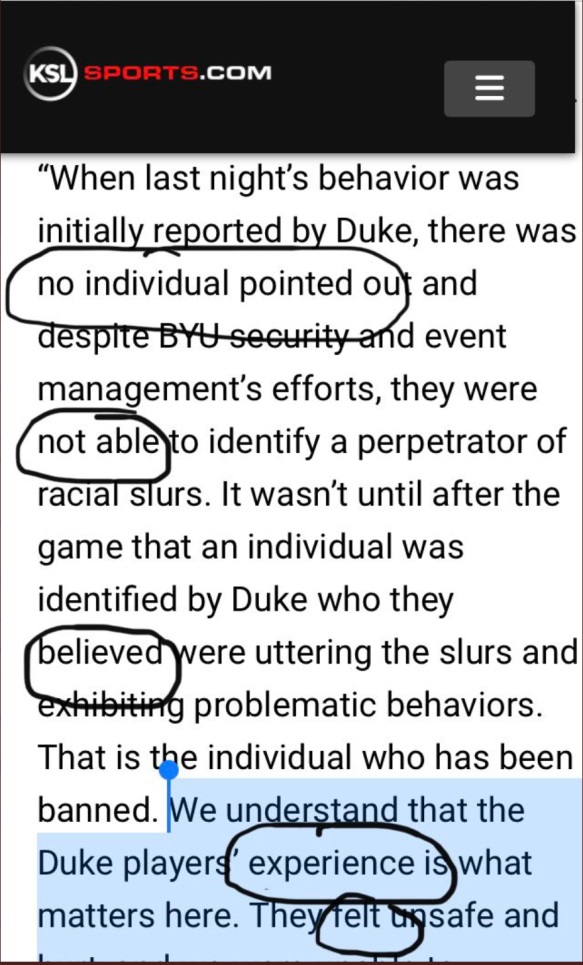 Just to review:
A race baiting democratic activist running for office who wasn't at the game repeated a story on Twitter that her goddaughter told her about being called the n word
Millions of people blindly repeated the story, including LeBron James
The Governor of Utah and the entire athletic department apologized and begged for forgiveness, which was deemed insufficient by the godmother and her online mob
The entire game was on video but at no point do you hear anyone say a racial slur, nor do you see anyone react to it
The person yelling racial slurs was identified and banned, but not named, and he was sitting in the student section despite not being a student
No one in the student section heard any of this, recorded it, or called him out for it
Rachel Richardson didn't tell her coaches about it
Duke lost a game to a nationally ranked team in front of a sellout crowd
The woke 19 year old who believes white supremacy is everywhere is now being treated like a strong and resilient victim
Neither the godmother or goddaughter is asking for the racist to be identified or arrested
Both teams recently completed DEI trainings that specifically train them how to handle racist events like this, yet both teams forgot about their training the moment it happened
No one is allowed to question any of this
Yup, this definitely happened. Or maybe, just maybe, she was mad that her team got whooped.
One thing that hasn't been reported is that the woman who started this whole affair has previously made headlines for falsely accusing a judge of sending a racist email, only to find out that she had been duped.
A black defense attorney who wanted a Tarrant County district judge taken off her cases for being "racist," withdrew her motion for recusal Thursday. The move came after nearly a full day's worth of testimony in Dallas, where a state district judge heard evidence to decide whether Tarrant County State District Judge Elizabeth Berry should be recused from hearing defense attorney Lesa Pamplin's cases. Berry was accused of sending a racist e-mail to her court reporter in which she called another court reporter a racial epithet. In testimony Thursday, everyone agreed that the e-mail was a fake, it did not come from Berry's computer, and she didn't have anything to do with the document. After hearing the result of the Tarrant County district attorney's office investigation, Pamplin agreed that the allegations against Berry were not true.

"As an African-American attorney, I had a duty to my clients to make sure that it is not true. … The e-mail is a fake, and I would like to withdraw my motion to recuse," Pamplin told the court.
Lesa Pamplin is the godmother of Rachel Richardson, and was currently running for a judgeship in Tarrant County. She was the one who first reported that her goddaughter was called racial slurs by BYU volleyball fans throughout the entire of their game with Duke. If she doesn't win the judgeship, surely it will be because of the racist white voters oppressing her. Lol
"We have her back. This is not sports," LeBron James tweeted.
I'm saying BYU – you did it!" ESPN's Stephen A. Smith bellowed.
Dozens of volleyball teams at other universities posted #StandwithRachelRichardson hashtags on their social media accounts. Some wore black armbands in matches to show solidarity.
Utah Gov. Spencer Cox tweeted how disgusting the incident was. BYU officials immediately banned a spectator they thought might be guilty.
The rush to judgment was predictable. We saw it with Jussie Smollett. We saw it when the social justice world detonated on NASCAR after a noose was supposedly found in Bubba Wallace's garage. The FBI scrambled a team to Talladega, only to find the rope was a door pull that had been there long before Wallace's team was assigned to that garage.
We saw it when a Colorado fan supposedly peppered Miami Marlins outfielder Lewis Brinson with the N-word. That triggered a media onslaught, with one columnist calling for the man to be jailed.
It turned out the guy was yelling "Dinger!" trying to get the attention of the Rockies' mascot for a photo.
The adage in journalism used to be, "If your mother says she loves you, check it out." Now it's, "If your mother's accused of racism, run with it."
It doesn't matter if the specific allegation is true. It represents a greater truth that racism exists. And to even question that proves you're a racist.
Then they began their investigation.
Investigation of Allegations
BYU found no evidence of racial heckling during the women's volleyball match against Duke after what the school called an "extensive review" of the incident.
Official statement from BYU Athletics. pic.twitter.com/5bIwXNwr7J

— BYU Cougars (@BYUCougars) August 27, 2022
The fan, who was not named, was allegedly claimed to be banned by BYU.
IT WAS ALL A LIE.
It turns out that no one else present that day, including the police officer, heard the racist language.
BYU reviewed audio and video recordings from the match and found no evidence that a fan heckled the black volleyball player or called her racial slurs.
The Desert News reported:
During the match on Aug. 26, Duke outside hitter Rachel Richardson said she heard racial slurs during the second set while she served two balls in front of the ROC student section of fans.

She told a teammate about the slurs while the teams switched sides of the court following the set, and the two players told Duke coach Jolene Nagel. Nagel spoke with BYU coach Heather Olmstead, and BYU immediately sent a police officer and four ushers into the student section.
Richardson said she heard the slurs more intensely in the fourth set, when the ushers, BYU Police Det. Sgt. Richard Laursen and a Duke assistant athletic director stood near where she served and by the student section.
"I told the (BYU) Athletic staff that I never heard one racial comment being made," Laursen said in his police report.
After the match, BYU banned a fan who Duke said had used the N-word and had made a player uncomfortable after the match. The fan is not a BYU student.
Laursen stood next to the man throughout the fourth set and said the man did not use any racist language. Laursen said he believed the man may have "(A)sperger syndrome or could have autism."
According to BYU, there is zero evidence to back up the claims and the university dropped its ban on the fan on Friday.
"We reviewed all available video and audio recordings, including security footage and raw footage from all camera angles taken by BYUtv of the match, with broadcasting audio removed (to ensure that the noise from the stands could be heard more clearly). We also reached out to more than 50 individuals who attended the event: Duke athletic department personnel and student-athletes, BYU athletic department personnel and student-athletes, event security and management and fans who were in the arena that evening, including many of the fans in the on-court student section." BYU said in a statement on Friday.
The university added: "From our extensive review, we have not found any evidence to corroborate the allegation that fans engaged in racial heckling or uttered racial slurs at the event."
BYU said they "lifted the ban on the fan" who was falsely accused of screaming the N-word.
"As a result of our investigation, we have lifted the ban on the fan who was identified as having uttered racial slurs during the match. We have not found any evidence that that individual engaged in such an activity. BYU sincerely apologizes to that fan for any hardship the ban has caused." BYU said.
Lawsuit time!
Pamplin, the racist aunt, said she did not accept BYU's findings:
BYU's statement today does not change my position. In fact, the statement and the 'findings' are in keeping with what I — and many others — anticipated.

Daily across America, the burden of proof — in instances like these involving people of color, as well as marginalized people, economically disadvantaged people, and disempowered people — is shifted unfairly and without hesitation."
In its statement on September 9th, BYU reiterated its commitment to a zero tolerance policy for racism at any of its athletic events.
There will be some who assume we are being selective in our review. To the contrary, we have tried to be as thorough as possible in our investigation, and we renew our invitation for anyone with evidence contrary to our findings to come forward and share it. Despite being unable to find supporting evidence of racial slurs in the many recordings and interviews, we hope that all those involved will understand our sincere efforts to ensure that all student-athletes competing at BYU feel safe."
The South Carolina women's basketball team canceled a home-and-home series against BYU, citing the incident at the Duke-BYU volleyball match.
Gamecocks coach Dawn Staley issued a statement later in the day of the BYU statement of no findings, saying she stands by her decision to cancel the series.
"After my personal research, I made a decision for the well-being of my team," Staley said. "I regret that my university, my athletics director Ray Tanner and others got drawn into the criticism of a choice that I made."
BYU had said it was "extremely disappointed" with South Carolina's decision and asked for patience as it reviewed the allegations.
Republican South Carolina lawmakers want Staley to justify canceling the series with BYU. Democrats say South Carolina has no business taking up the cause of a school that's "affiliated with a well-funded denomination, in a state 2,000 miles away." Red or blue, it shouldn't matter. The truth should matter.
Duke athletic director Nina King also issued a statement standing by Richardson and the rest of her team. "The 18 members of the Duke University volleyball team are exceptionally strong women who represent themselves, their families, and Duke University with the utmost integrity," she said Friday after BYU issued its statement. "We unequivocally stand with and champion them, especially when their character is called into question. Duke Athletics believes in respect, equality and inclusiveness, and we do not tolerate hate and bias."
Sources:
https://tbdailynews.com/video-shows-that-duke-volleyball-player-and-her-politician-godmother-are-lying-about-being-called-n-word-during-byu-game/
https://tbdailynews.com/godmother-who-spread-byu-duke-fake-hate-crime-hoax-falsely-accused-a-judge-of-racist-emails-before-admitting-to-being-duped/
https://www.thegatewaypundit.com/2022/02/hate-hoax-black-female-student-admits-scrawling-school-water-fountains-white-colored-video/
https://www.espn.com/college-sports/story/_/id/34555769/byu-says-found-no-evidence-racial-heckling-duke-women-volleyball-player
https://www.gainesville.com/story/more-sports/2022/09/21/south-carolinas-dawn-staley-should-reveal-racial-evidence-byu-duke/10430901002/