On August 9, 2019 more documents were unsealed with victim statements alleging they were forced to have sex with Bill Clinton, former Clinton United Nations Ambassador Bill Richardson, and Democrat Majority Leader George Mitchell among others of the global elite.[59] 24 hours later, Epstein was dead at the Metropolitan Correctional Center (MCC) in Manhattan while in the U.S. Marshall Service custody. CBS News reported "shouting and shrieking" coming from Epstein's cell.[60] Epstein suffered broken bones in his neck.
Dr. Wecht, who is a doctor and lawyer, told Kennedy a Montreal study found only 2 of 239 hanging death resulted in a broken Hyoid bone — or less than 1% of those killed.
The Federal Bureau of Prisons announced "Epstein was found unresponsive in his cell in the Special Housing Unit from an apparent suicide." According to the
Associated Press
one of Epstein's guards was not a corrections official.
[61]
Attorney General
William Barr
authorized an FBI and Inspector General investigation.
Preet Bharara
, the former U.S. Attorney for New York, claimed that "There should be—and almost certainly is—video of Epstein's suicide at MCC. One hopes it is complete, conclusive, and secured."
[62]
The warden was reassigned and two guards placed on leave.
[63]
The Southern District of New York (
SDNY
), also began its own internal investigation. Epstein's death obscured some of the important news coming out of the unsealed documents.
[64]
Within hours after Epstein's death was announced Shareblue, the brain-child of
far-Left
muckraker
David Brock
, triggered the maximum alert warning for the Shareblue community as they dispatched urgent talking points for their social media army. Shareblue had hired Allison "Avi" Girvin as the CEO for Shareblue Media. Girvin was previously the head of
NBC News
's Business, Tech, and Media unit. The "Stalwarts" are those
activists
paid to go on-line into all
social media
and broadcast platforms to defend
leftist
interests. Stalwarts were instructed, as always, to "ROLCON", or role playing as a conservative.
Joe Scarborough
immediately answered the call and blamed
Russia
without proof.
[65]
Fellow
MSNBC
collusion hoaxer
Joy Reid
claimed, also without proof, that
Bill Barr
had "goons" kill Epstein.
[66]
NBC
Saturday Night Live
Trump impersonator
Alec Baldwin
echoed Scarborough's
conspiracy theory
.
[67]
Rod Rosenstein publicly advocated for a "
suicide
" narrative two days into the investigation;
[68]
Rosenstein had at one time admonished the unprofessionalism of
James Comey
for speaking publicly about an investigation while it was ongoing or even after it is concluded. Epstein's attorney said Epstein was in fear for his life while in custody.
[69]
NBC News
reported the flag on Pedophile Island was lowered to half-staff four days after his death.
[70]
The FBI did not search the Virgin Island property until two days after his death. Had the Mann Act been charged initially, a warrant to search the Virgin Islands and New
Mexico
properties could have been secured six weeks earlier at the time of Epstein's arrest. Now that he's dead, the Eurocentric government of
Emmanuel Macron
likewise is considering opening an investigation into Epstein's activities on French territory and in his
Paris
apartment.
[71]
Manhattan U.S. Attorney Geoffrey Berman released a statement about the criminal case against Epstein saying "our investigation of the conduct charged in the Indictment—which included a
conspiracy
count—remains ongoing."
Bill Barr
said
"Let me assure you that this case will continue on against anyone who was complicit with Epstein. Any co-conspirators should not rest easy."
A John Doe filed a motion asking the judge not to release more names from the unsealed documents.
[72]
Public reaction was a virtual universal rejection of the mainstream
fake news
media and the government's account of a suicide. A
poll
just five days after the MCC announcement of an "apparent suicide" found only 29% of American Adults believe Epstein actually committed suicide while in jail. Forty-two percent (42%) think Epstein was murdered to prevent him from testifying against powerful people with whom he associated. 29% are undecided.
[74]
Trevor Noah of
The Daily Show
asked Hillary Clinton as a guest on the show how she killed Epstein.
[75]
PewDiePie
watched this clip while reviewing memes which stated, "Epstein didn't kill himself."
[76]
Paul Joseph Watson
of
InfoWars
noted that this represents the pervasion of memes into society and their widespread use to lampoon political situations.
[77]
Even
Syrian
president
Bashar al-Assad
weighed into the discussion.
[78]
(
Conservapedia
)
In a November 20, 2019 interview with Associated Press, US Attorney General William Barr put all conspiracy theories to rest once and for all by assuring the world that alleged sex trafficker and alleged billionaire Jeffrey Epstein's death was simply the result of a very, very, very long series of unfortunate coincidences.
Barr
told AP
:
"I can understand people who immediately, whose minds went to sort of the worst-case scenario because it was a perfect storm of screw-ups," "The attorney general also sought to dampen conspiracy theories by people who have questioned whether Epstein really took his own life, saying the evidence proves Epstein killed himself," AP reports. "He added that he personally reviewed security footage that confirmed that no one entered the area where Epstein was housed on the night he died."
This perfect storm of unlucky oopsies include:
So there you have it. The US government says that an intelligence asset with damning information on many powerful individuals did in fact kill himself due to an admittedly bizarre and wildly unlikely series of strange coincidences. I for one have no more questions. Checkmate, conspiracy theorists.
"Mr. Epstein's death in August at a federal detention center in Manhattan set off a rash of unfounded conspiracy theories on social media that were picked up and repeated by high-profile figures, including Mayor Bill de Blasio and former Mayor Rudolph W. Giuliani. No matter their ideology, the refrain of the theories was the same: Something did not add up," says The New York Times in its report Barr's statements.
Couldn't have said it better myself. It's a completely unfounded conspiracy theory to believe that someone with ties to powerful institutions and individuals might be murdered in a way that was made to look like a suicide. We don't live in a world where opaque organizations do evil things in secret, we live in a world where the government is always our friend and the TV would never lie to us. I'm glad these comments made by Barr (whose father in another strange coincidence gave Epstein his first job) have at long last struck a fatal blow to anyone who would doubt the beneficent hand of our beloved institutions. (Infowars) Articles of Evidence that Prove Epstein Didn't Kill Himself: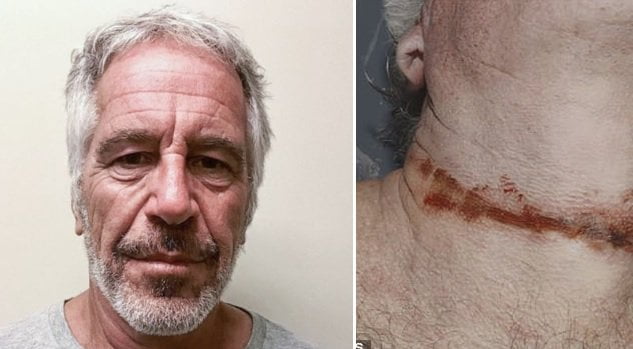 Months later, a loaded handgun was discovered in the same jail Epstein died in, prompting significant concern over the facility's security protocols. The gun was believed to be smuggled into the Metropolitan Correctional Center (MCC), located in New York City, after a lockdown that lasted a week, according to the AP news.
Federal Bureau of Prisons (BOP) records obtained by the New York Times revealed how Epstein had repeatedly denied suicidality and had been deemed "cooperative," "future-oriented," "goal-directed," and "psychologically stable" by medical staff in the days leading up to his timely demise alleged suicide.
According to the over 2,000 BOP documents, which included extensive and detailed psychological examination records, Epstein "adamantly" told prison psychologists that he had "no interest in killing himself," even adding that he "would not do that" to himself anyway because he is a "coward" who is afraid of pain. Epstein even told one psychologist that he has "lots to do for [his] legal case" and how "being alive is fun," adding that "it would be crazy" to take his own life because he "has a wonderful life." Read more HERE.