In the Federal Register, Vol. 49, No. 107, from June 1, 1984, the FDA eliminated a federal testing provision (21 CFR § 630.11) to ensure oral polio vaccines remained a profitable endeavor. The agency said:
In tort litigation involving the Federal government and private parties, questions have been raised concerning whether some of the lots of vaccine used in the 1961 and 1962 clinical trials met the test standard for neurovirulence prescribed in §630.16(6)(1). The purpose of the neurovirulence tests, which is performed in monkeys, is to assure that the live virus used in the oral poliovirus vaccine is properly attenuated (non-virulent).
But wait, it gets better:
The FDA has reviewed the data and has concluded that, although there may be a question as to whether the results of all the neurovirulence tests met the standard in the regulations, there is no doubt that the oral poliovirus vaccine used in the clinical trials involving 195,000 subjects was acceptably low in neurovirulence.
21 CFR § 630.11 read (past tense) as follows:
To qualify for license, the antigenicity of the vaccine shall have been determined by clinical trials of adequate statistical design conducted in compliance with part 56 of this chapter, unless exempted under Sec. 56.104 or granted a waiver under Sec. 56.105, and with part 50 of this chapter. Such clinical trials shall be conducted with five lots of oral poliovirus vaccine that have been manufactured by the same methods. Type specific neutralizing antibody for each type of poliovirus in the vaccine shall be induced in 90 percent or more of susceptibles after a series of doses.
The FDA concluded its official declarations with the most infamous, totalitarian verbiage that is relevant in 2021:
However, although the availability of the vaccine may not be in immediate jeopardy, any possible doubts, whether or not well founded, about the safety of the vaccine cannot be allowed to exist in view of the need to assure that the vaccine will continue to be used to the maximum extent consistent with the nation's public health objectives.
In other words, it is official FDA policy to lie about "vaccine" safety to ensure maximum sales. Here is a screenshot of the foregoing quote.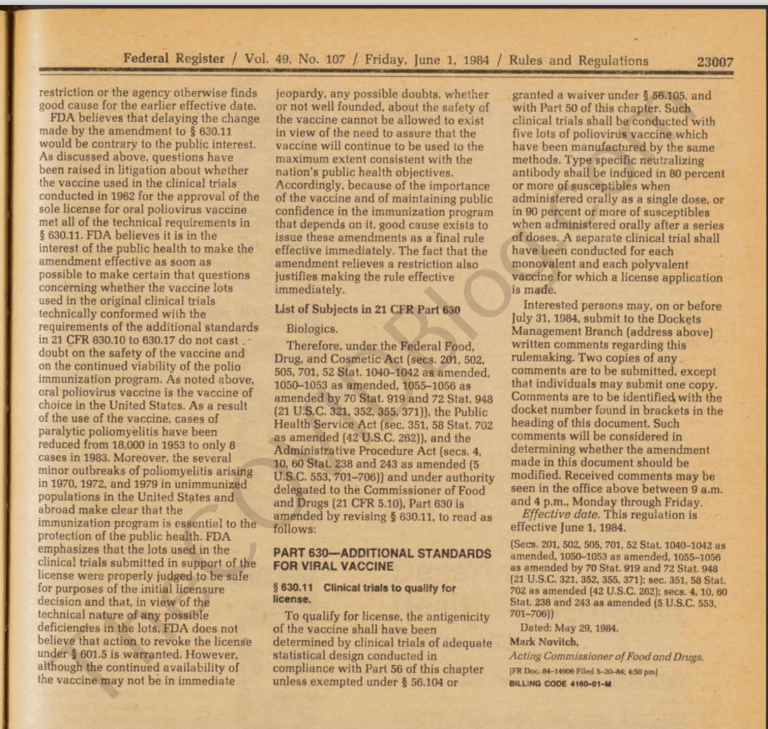 The following linked file is nearly 70 MB so it may take a couple minutes to download. But click here to read the full 1984 Federal Register yourself (it skips right to the relevant pages).
Source: https://thecovidblog.com/2021/08/23/breaking-u-s-food-and-drug-administration-grants-full-approval-for-pfizer-mrna-injections-despite-ongoing-clinical-trials-numerous-deaths/