Harold "H.L." Moody, a former Democratic Party chairman who worked as the special events coordinator for Pulaski County Youth Services at the time of his arrest, streamed live videos of children being raped, distributed child pornography to other pedophiles, and regularly smoked methamphetamine out of a glass pipe while seated at his desk during work hours, according to the testimony of a federal agent.
Jason Bennett, a special agent for Homeland Security Investigations, said an undercover agent took "screen shots" of Moody sitting at his desk and conversing with other pedophiles in the secret chatroom on "more than one occasion" between Aug. 29 and Oct. 12. According to the complaint affidavit, on August 29, 2018, Moody was present multiple times in a chat room when child pornography was being displayed. Agents observed Moody in the chat room, via his webcam. Moody's face was clearly visible and the undercover agent observed what appeared to be an office setting in the background.
According to the filed criminal complaint, the chat room, called "Application A", is described as an Internet-based video conferencing application used by persons interested in exchanging child pornography and/or sexually abusing children. On September 7, 2018, Moody was again visible on camera and observed in the chat room actually distributing child pornography.
According to the complaint, Moody then follows the video with the following chat message sent to all participants of the chatroom: "not the version i thought." Another user requests, via chat message, that Moody play more videos. Moody responds via chat message, "I've heard of White privilege but never Perv privilege – i am not the Juke Box at Waffle House…I do not play on demand…"
On September 9, 2018, and October 12, 2018, Moody was again in the chat room distributing child pornography.
According to the filed complaint, On September 10, 2018 and September 21, 2018, special agents served a subpoena of the owners of "Application A" requesting the internet protocol (IP) logs for dates August 29, September 7, 9, and 24. Investigators were informed that Moody under the username "B-Zone" was utilizing a virtual private network to mask his IP address.
However, the owners of "Application A" provided billing and subscriber data that investigators were able to match through Moody's Entergy Services. Moody was also identified through photos on Facebook, where he was seen wearing the same shirt on "Application A" and positively identified by his Arkansas driver's license photo.
Moody, 39, was fired from his job of nearly two years immediately after his arrest on the evening of Nov. 5, when agents executed a search-and-seizure warrant at his downtown Little Rock apartment. Bennett said screen shots also captured Moody using the app while he was at home.
Moody was also a political consultant. He was hired by the county after a year-and-a-half stint as communications director for the Democratic Party of Arkansas. Before that, he had been chairman of the Democratic Party in Pulaski County for two years.
Arkansas Online reports: Bennett's testimony helped convince a federal judge to order Moody to remain in federal custody until his trial on two counts of receipt of child pornography, three counts of distribution of child pornography and a single count of conspiring to advertise child pornography.
The details surrounding Moody's arrest emerged during a hearing at which his attorney, Chris Tarver of the federal public defender's office, sought to have him released pending trial. Tarver asked that Moody be allowed to return to the downtown Little Rock apartment he shares with his partner or that he be committed to an in-patient drug-treatment facility.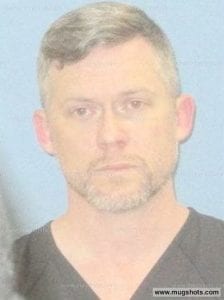 U.S. Magistrate Judge Joe Volpe said he was inclined to release Moody to an in-patient care facility until Assistant U.S. Attorney Kristin Bryant convinced him that Moody poses a risk of flight and could be a danger to the community, though it was "a close call." Bryant argued that Moody has sophisticated computer skills, is connected to shadowy figures who share child pornography across the globe and faces a minimum 15-year prison sentence if convicted on the conspiracy charge, which "ups the ante significantly" that he might flee before trial.
While Bennett testified that agents found 15 images of child pornography on one of the devices found in Moody's apartment, Bryant said federal agents haven't been able to access all of the devices because they are password-protected, so "we don't know if he's a producer of child pornography," and, "I don't think we know how much of a danger to the community he is."
Agents also found two grams of methamphetamine at Moody's home and a half-gram of the drug in his office desk drawer, Bennett said.
In asking the judge to detain Moody, Bryant also cited the nature of the photographs and videos he is accused of distributing — images of babies and young children being raped — and his apparent rapidly escalating involvement. She pointed to the agent's testimony that Moody was initially observed viewing the images, then distributing them and eventually even hosting sessions in which people in a secure chatroom stream live videos of infants being raped.
Bennett testified that the chatrooms in which an undercover officer encountered Moody are accessible through a computer application that he wouldn't identify. He said they require a room code and a password to enter, and "are solely dedicated to displaying child pornography."
The agent called Moody a "high-volume user" who logged in and out several times a day — including 26 times in a two-day span — and who was given the privilege of being a host, which indicates he did something to ingratiate himself with the person who is in charge of the rooms.
Tarver put on testimony from Moody's partner, Gabriel Womack, who said he broke off their engagement this summer after finding methamphetamine in their apartment and after Moody admitted to being addicted to the drug. Womack said Moody has made at least two attempts to stop, but can't. He said, "This is a drug issue."
This investigation was conducted by Homeland Security Investigations. It is being prosecuted by Assistant United States Attorneys Kristin Bryant and Allison Bragg.
Sources: