The mainstream media's silence over Klaus Eberwein's death is deafening. He has been found dead in Miami at the age of 50. Eberwein was a former Haitian government official who was expected to expose the extent of Clinton Foundation corruption and malpractice next week.
Eberwein was a fierce critic of the Clinton Foundation's activities in the Caribbean island, where he served as director general of the government's economic development agency, Fonds d'assistance économique et social, for three years. "The Clinton Foundation, they are criminals, they are thieves, they are liars, they are a disgrace," Eberwein said at a protest outside the Clinton Foundation headquarters in Manhattan last year. Eberwein was due to appear on Tuesday before the Haitian Senate Ethics and Anti-Corruption Commission where he was widely expected to testify that the Clinton Foundation misappropriated Haiti earthquake donations from international donors. But this "suicide" gets even more disturbing…
Eberwein was only 50-years-old and reportedly told acquaintances he feared for his life because of his fierce criticism of the Clinton Foundation. His close friends and business partners were taken aback by the idea he may have committed suicide. "It's really shocking," said friend Gilbert Bailly. "We grew up together; he was like family."
During and after his government tenure, Eberwein faced allegations of fraud and corruption on how the agency he headed administered funds. Among the issues was FAES' oversight of the shoddy construction of several schools built after Haiti's devastating Jan. 12, 2010, earthquake. But, according to Eberwein, it was the Clinton Foundation who was deeply in the wrong – and he intended to testify and prove it on Tuesday.
According to Eberwein, a paltry 0.6 percent of donations granted by international donors to the Clinton Foundation with the express purpose of directly assisting Haitians actually ended up in the hands of Haitian organizations. A further 9.6 percent ended up with the Haitian government. The remaining 89.8 percent – or $5.4 billion – was funneled to non-Haitian organizations. –WND
Eberwein was expected to testify against the Clinton Foundation in court and ends up committing suicide shortly before. Where have we heard this before?
Untimely deaths seem to follow the Clinton's around, and this one especially is probably something – considering since the mainstream media is silent about this death.
---
Recommended Books:
In Partners in Crime, two-time No. 1 New York Times bestselling author Jerome Corsi presents the detailed research and expert testimony proving beyond a shadow of a doubt that the Clinton Foundation is "a vast, criminal conspiracy," also described in these pages as "a slush fund for grifters."
Corsi exposes how the Clintons amassed hundreds of millions of dollars in personal net worth, while building a $2 billion empire in the Clinton Foundation. The victims are countless thousands of honest people who contributed their hard-earned money to what they thought were philanthropic causes. The sordid tale involves suspicion of Enron-like fraudulent accounting practices by none less than PricewaterhouseCoopers, a "Big Four" firm, as well as the several "shell corporations" and "pass-through" bank accounts Bill Clinton has established in secret to hide what amount to kickbacks from Clinton Foundation donors and sponsors.
In Partners in Crime, Corsi provides readers the names and addresses of state attorney generals throughout the country, explaining that any one state in the Union can get a temporary restraining order from a state judge to place the Clinton Foundation in receivership and launch law enforcement examinations of Clinton Family philanthropic fraud accomplished on a global scale.
It is not enough, Corsi concludes, to appeal to Hillary Clinton to withdraw from the 2016 presidential race in disgrace. A national campaign to "Shut Down the Clinton Foundation" must be launched, Corsi insists, to prevent Barack Obama and other heads of state worldwide from following the Clinton Family crime formula to create their own "charitable foundations" to enrich themselves upon leaving office.
---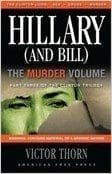 110 (in 2008): Is the Clinton 'Body Count' Real? This question has plagued the former first couple for nearly 20 years, and has become such an integral part of popular culture that Hillary has been forced to sarcastically refer to it in press conferences. ("Some people even say we're involved in drug dealing and murder.") Still, is the "Clinton Body Count" real, or simply an urban legend-a product of far-flung conspiracy theory? In Part Three of the Clinton trilogy-The Murder Volume-an overwhelming amount of evidence is provided proving that the 110+ people who've died under mysterious circumstances-all tied in some way, shape, or form to the Clintons-far surpasses any chance of it merely being coincidence. The odds of such a phenomenon occurring naturally are, in fact, so miniscule that alternative explanations become necessary. Other Topics Covered: True Motive forWaco Holocaust -and the Person Who Ordered the Massacre-Revealed! Proof Positive Vince Foster Was Murdered. Now See the Killer Revealed for the First Time! Was Ron Brown Getting Ready to Spill the Beans About Bill & Hillary's Nefarious Activities? Was Bill Being Blackmailed And Was Monica Lewinsky Hillary's Unwitting Pawn?
---
The book focuses on Aristide's political career, emphasizing his strategizing, compromising and dealing with the Clinton administration. In his presentation of the conflict, Girard carefully balances Aristide's and Clinton's needs, and the demands and moral positions the leaders make against each other – the result is that each leader and his constituency comes to life, and their maneuverings and decisions become engaging and meaningful. While Girard focuses on the conflict itself and the foreign policy dynamics at play between Haiti and the US, he also paints a compelling picture of contemporary Haiti and delineates with great clarity the tensions which led to recent violence and the deposition of Aristide.