At age 76, Colby was writing for Strategic Investment at the time of his death. This worried many insiders in the intelligence community who felt Colby had already divulged too many of the CIA's secrets in the preceding years. Indeed, he was dismissed by Ford because of his over-cooperation with Congressional investigations into CIA wrongdoing. It was Colby who had revealed to Congress the plans to kill Fidel Castro, the spying on American citizens (in direct violation of the CIA charter) and the conducting of biological tests on unsuspecting citizens. George H.W. Bush was his replacement.
In the fall of 1983, Chip Tatum, who worked for Oliver North's "Enterprise", delivered to Dan Lasater, Raymond "Buddy" Young, and Gov. Bill Clinton in person, a cooler filled with cocaine and cash at Little Rock Airport. Tatum dutifully reported the details of what transpired by phone to William Colby, who recruited Tatum into Col. North's organization, when he reached his final destination at Ft. Campbell in Kentucky.
According to the original CNN report, Colby was reported missing by neighbors who "recovered" his canoe, by one story from under the dock at Colby's house, by another report, 1/4 of a mile downstream from Colby's home.
Colby was by all report a methodical, tidy man, yet police found his home unlocked, his computer on, and a partly eaten dinner on the table. The official story is that Colby just put down his fork and decided to drop everything and go canoeing.
The newsletter he was working for, Strategic Investment, was covering the Vince Foster "suicide" in detail. Its editors hired three renowned handwriting experts to investigate Foster's "suicide note", which hadn't been found when his briefcase was first searched, but later materialized, torn into pieces, with no fingerprints on any of the pieces. Upon comparing this document with others of Foster's writings, these experts declared the note was a forgery, and a not very good one at that. Strategic Investments received a threatening letter from Charles O. Morgan, attorney for the widow of the late Vince Foster. Strategic Investments had written in its March 22, 1995, issue:
Several years ago, investigative reporter Danny Cassalario [sic] spent many months investigating the Inslaw case. He told associates that his probe had revealed an astonishing tale of corruption that he intended to reveal in a story entitled The Octopus. He was days away from completing his story when he was found dead, allegedly a 'suicide.'
Morgan wrote in his March 28, 1995 letter to Strategic Investments ' publisher,
Systematics was not in any way involved in any investigation by Danny Cassalario [sic]".
What's odd about this is, Casalaro's files and manuscript went missing at the time of Casalaro's death in 1991, and how could Charles O. Morgan know what Casolaro was investigating at the time of Casolaro's death. The question becomes, Was Charles O. Morgan an informant for Casolaro at the time of Casolaro's death, or Did Charles O. Morgan examine Casolaro's papers and notes following Casolaro's death, to determine if there were any references to Systematics?
On May 6, 1997, Colby's body was found just 20 yards from where his canoe had been recovered, in an area that had been thoroughly searched several times by helicopters and search teams.
Most notable about the body was the absence of a life jacket, which according to his wife, Colby always wore on the water.
As has since been proven, false stories were deliberately planted in the media. Citing a "source close to Mrs. Colby," the Associated Press reported that William Colby told his wife by phone that he was not feeling well, but was going canoeing anyway. Upon her return from Texas, Mrs. Colby reported that William Colby had said he was feeling fine, and made no mention of plans to go canoeing.
Former Army Intelligence Officer, Zalin Grant, has a thorough report on the mysterious death of William Colby:
William Colby, a former director of the U.S. Central Intelligence Agency, "died in a "boating accident" on the Wicomico River days before he was under Congressional subpoena to testify and scheduled to give evidence that missing P.O.W.'s were working for a dope smuggling operation orchestrated by General Colin Powell, Pentagon official Richard Armitage, and George H W Bush." – Derailing Democracy: The America the Media Don't Want You to See by Dave McGowan (2000)
Colby was alone at his weekend house across from Cobb Island, Maryland, 60 miles south of Washington, D.C. Colby, who was 76 years old, had worked all day on his sailboat at a nearby marina, putting it in shape for the coming summer.
After he got home from the marina, Colby called his wife, Sally Shelton, a high-ranking State Department official who was in Houston, Texas, visiting her mother. He told her that he had worked hard all day and was tired. He said he was going to steam some clams, take a shower, and go to bed.
Colby made the call at 7 p.m. He was seen a few minutes later by two sets of witnesses in his yard watering a willow tree. One of the witnesses was his gardener who dropped by to introduce his visiting sister. His two next-door neighbors saw him at the same time from their window. After he finished watering his trees, he went inside and had dinner.
The witnesses saw him at 7:15 p.m. The sun set at 7:57—42 minutes later.
When he was found dead in the water nine days later, it was said that he had gone out paddling his canoe at nightfall and drowned. I was in Paris when I read the story in the International Herald Tribune. I knew William Colby. And I didn't believe that for one second.
Friends & Enemies
I considered Colby a friend. Not a close friend. He didn't have any close friends that I knew about, outside his family. In my book, Facing the Phoenix, I described him as being a polite man who was open and approachable but without much of a sense of humor or an inclination to introspection. He communicated human interest, I wrote, rather than human warmth. He was not very physically impressive and at bottom was a shy man, is the way I saw him. He described himself to me as someone who couldn't easily get the attention of a waiter in a restaurant. Yet he was strong and determined in everything he did.
Colby and I went back in the Vietnam War. I met him early on but got to know him pretty well when he left his job at CIA to serve as Ambassador Robert Komer's deputy for pacification. Later, when he replaced Komer as pacification chief and I was sent to Vietnam by Time and CBS to investigate the capture of two photographers in Cambodia, Sean Flynn and Dana Stone, he backed me when I got into a dispute with CIA about my search for the two Americans.
When I began working on Facing the Phoenix he volunteered to help set up my interviews with the major intelligence players of the war, from Edward Lansdale to Lou Conein. The book was subtitled "The CIA and the Political Defeat of the United States in Vietnam." To me, Colby was the key to my being able to do the book, which got good reviews from all sides.
Edward Lansdale, who was the model for Graham Greene's Quiet American, considered Colby to be the most effective American to serve in the Vietnam War. I did too. He listened. He learned. Although Colby knew I was against the war, that didn't interfere with our working relationship in the least.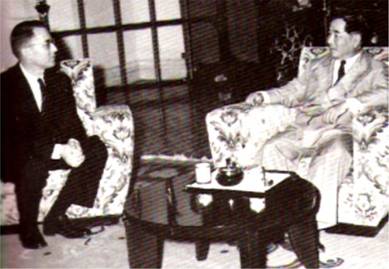 Still, the fact was that Colby had more enemies than friends. In the period between September 1973 and his dismissal in November 1975 as CIA director, Colby testified before congressional committees 56 times. When Congress asked him a question, he gave a straight answer. The Intel guys hated him for it. They thought it was his duty to lie. So did Gerald Ford and Henry Kissinger who fired him as CIA chief for revealing what were called "the family jewels"—assassination plots and other dirty deeds.
Colby had got rid of a lot of guys in the clandestine service at CIA. I'd talked to ex-CIA officers who hated his guts. Even Lou Conein, one of the best-known CIA operatives in Vietnam, told me he believed Colby had destroyed the agency. And Conein, who knew Colby for many years, liked him. Colby had enemies coming from the Right and the Left.
Colby realized, of course, that he was in danger of being killed at any time. But I was surprised when I went to his home in Georgetown for the first in a series of long interviews. I thought an ex-CIA director would have the latest locks and security cameras and top-secret protection devices.
Colby had nothing. I had a more secure lock on my door than he did. When I asked him about it he said that if anybody wanted to get him, they could do it, and he wasn't going to live his life in constant fear and worry. I admired his attitude. I knew he was right. On the night they got him both doors to his house were unlocked.
Colby liked my work on the missing journalists that had gone on for years. When I told him nothing had come of it, he said, "That doesn't matter. You do what is necessary. And you did it."
So I figured I owed it to him to look into how it happened. I didn't expect anything to come of it. I knew the guys who did it would have done it right, with a minimum of mistakes. And I knew Colby would have been a fatalist about it. He wouldn't have put up a fight when they came for him.
I was already scheduled to leave for Washington on another writing project several weeks after he disappeared. The timing would be good. The media frenzy would have died out. And I could go in quietly and see what I could make of it.
The Murder Scene
Cobb Island was sixty miles south of Washington. On the way to Colby's house, I stopped at La Plata, MD, to talk to Sheriff Fred Davis about setting up interviews. The Charles County Sheriff's department was responsible for the investigation of Colby's death.
Sheriff Davis admitted that it was not an open and shut case. "There is always that window open," he said, "because there were no witnesses."
I continued on to Colby's house. It was on Hill Road which was technically in Rock Point, Maryland, but Cobb Island, right across Neale Sound, was where Colby kept his sailboat and shopped.
Colby's home was a turn of the century oysterman's cottage. It had two bedrooms and a small kitchen with a breakfast table. The sunroom, which was glassed in, was originally the porch. Since it offered a spectacular view of the water, the sunroom also served as the dining room. Cobb Island and his home was pure Colby–unpretentious, tranquil, anonymous.
The house was surrounded on three sides by water. Sitting on a finger in Neale Sound, it looked out on Cobb Island and the Wicomico River, which turned into the Potomac farther up. You could only enter or exit his unfenced grounds by driving down a narrow dirt road.
Anyone standing on the other side of Neale Sound, using a pair of binoculars, could see practically any movement around the Colby house.
Carroll Wise: Last to Talk to Colby
As I drove up I saw a workman gassing a tractor-lawn mower–Joseph "Carroll" Wise, Colby's gardener and caretaker. Wise was the last known person to talk to Colby. Wise, who had grizzled gray hair, tattoos on both arms, and a protruding beer belly, spoke quietly.
It was about 7:15 p.m. on Saturday, April 27, 1996, when Wise drove to Colby's home with his sister. Colby was standing at the edge of his yard, near the front pier, watering a willow tree. Colby wore a red windbreaker, khaki slacks, and loafers.
When Colby saw them coming, he said, "Carroll, you've got a new car."
"No, that's my sister's van," Wise said. "That's why I've dropped by. I'd like to introduce you."
They exchanged pleasantries for several minutes, then Wise and his sister left. Colby continued to work in the yard. He didn't mention to Wise that he planned to go canoeing later, something that might have come up in their small talk.
Based on what he knew about gardening at Colby's house, Wise told me that Colby probably wouldn't have got to his canoe before 8 p.m., even if he had not stopped to have dinner. He was watering his trees and that took a long time. He was scheduled to return to Washington the next day, Sunday.
Next-Door Neighbors
Colby's next-door neighbors, Clyde Stokes and his wife Alice, saw Colby through their window when Wise and his sister were visiting. So Colby was firmly pegged for this time: 7:15 p.m., Saturday, April 27, 1996.
Sunset: 7:57 p.m. Moon: First Quarter

8:10 p.m. – Twilight

8:15 p.m. – Street Lights

8:30 p.m. – Dark

8:35 p.m. – Pitch Black
Bill Colby: A Meticulous Man
Carroll Wise and Clyde Stokes remarked on Bill Colby's meticulous routine. He always collected his yellow hose after watering the lawn. He took it to a box where it was stored and neatly arranged it in a lasso-like circle. When Colby went boating, he took an aluminum ladder out of a shed and leaned the ladder in the water against the pier to reach the canoe. When he returned from canoeing, he removed the ladder and put it back in the shed. Colby was raised in a military family where everything had its place.
Clyde Stokes was skeptical that Colby had gone out canoeing that late. "Colby was brave but prudent," he said. Stokes remembered that the wind was up and the water was choppy the night Colby supposedly went out. Stokes and his wife heard nothing because they were looking at TV.
Stokes was an ex-navy man with tattoos, and I was struck by his use of the word "prudent." There was no contradiction between taking chances and being prudent. Colby was very brave, he'd parachuted into Europe during World War II for the OSS, and in Vietnam he was always ready to put it on the line.
But I believed Colby was prudent, too. Above all, he was not an impulsive man, someone who would tell his wife he was tired and headed to bed–and then decide to go canoeing an hour later at nightfall.
He Worked Hard That Day
Mark Davis worked at the Portside Marina on Cobb Island, almost directly across Neale Sound from Colby's house. Colby kept his 37-foot sloop, Eagle Wing II, at the marina. Davis was impressed by how hard Colby worked on his boat that Saturday. He was at the marina from 11 a.m. until 5:30 p.m., Davis said. Others did not agree on the time, maybe there was a half-hour's difference either way.
But all of them agreed on one point. For a 76-year-old man, Colby really worked, he did not putter around. He replaced a sail that had been shredded in a windstorm the summer before and did a spiffy clean-up job on the boat.
Sunday April 28 1996
Kevin Akers lived near Rock Point, not far across the water from William Colby, although he did not know him. Akers was a wiry five-foot-two and 29 years old. An unemployed carpenter, he was the kind of guy found in fishing villages around the world—a handyman who could do most anything connected with the sea. He wasn't getting rich but he loved the water and the freedom that came with it.
Around noon on Sunday Kevin Akers took his boat out, with his wife and two kids. He hadn't gone far when he spotted a green canoe beached near the point where Neale Sound turned into the Wicomico River. Akers wasn't surprised. Small boats often broke their mooring during wind storms and wound up beached somewhere on the Sound.
Akers routinely towed the boats to a nearby marina where the word would eventually reach the owners. Then he would go back to look for paddles or life jackets, anything that would float, so he could return those to the owner. Kevin Akers was known as a helpful guy in Rock Point and Cobb Island.
But on this Sunday Akers immediately spotted something out of the ordinary. The canoe was turned on its side and filled with so much sand that it took him and his wife nearly an hour to empty it before he could tow it to the marina.
Akers was out on the water the day before and had not seen the canoe. That meant it probably had been beached for only two cycles of the tide. And there was no way, he thought, that two tide cycles could have put that much sand in the canoe. It looked to him like somebody wanted the canoe to stay put right there.
Something else didn't seem right. Lots of people left their life jackets in their boats and it was easy to find a floating jacket. But when Akers searched the area he couldn't find a life jacket or paddles anywhere.
Akers didn't tell anyone about his suspicions. Maybe it was just a coincidence, he thought. He had never heard of William Colby. He dropped the boat off at the marina and left.
But next day when the media frenzy began and the TV satellite trucks arrived, Akers believed he might be in personal danger. The first thing he had told the police when they started investigating was about the extraordinary amount of sand in the canoe. Something was wrong, he said. Too much sand. No life jacket. No paddles. It didn't fit.
Now the media wanted to talk to him. But Kevin Akers didn't want to talk to reporters. He thought it might get him killed. So he made himself scarce. When he learned that a former CIA director was the owner of the canoe, Akers was hit by one thought.
Colby got whacked.
Alice Stokes Calls 911
On Sunday afternoon Alice Stokes, Colby's next-door neighbor, kept peering out the window. Colby's red Fiat was parked near the house. The boat was gone. The ladder was still in the water. And she hadn't seen Colby all day long. It was the ladder that finally pushed Alice Stokes to call 911. Colby would never leave his ladder in the water if he had returned.
Policewoman Sharon Walsh arrived at 8:18 p.m. She and Alice checked the house. Both doors were closed but unlocked. The computer was on, so was the radio. A search was made of the surrounding area. Sharon Walsh saw no signs of foul play and reported it that way.
It looked to her like an old guy had got himself drowned. That had happened times before on Cobb Island. Colby had been a practicing lawyer for the past few years. He lived a quiet, almost anonymous life. Neither Sharon Walsh nor anybody else connected with the police realized he was a former CIA director—and one with lots of enemies.
In a big city a mobile crime unit would have arrived, taken photos, dusted for fingerprints, looked for hairs and other small stuff that could be helpful during a later detailed investigation. This didn't happen.
Sharon Walsh reported: "The scene was preserved as well as possible." Later, Detective Joseph Goldsmith, the assigned investigator, corrected several errors Walsh made in her report.
If they had been aware of who Colby was and talked to someone who really knew him, their suspicions may have been aroused. Colby didn't finish his clams, his favorite dish, and he had worked hard, must have been hungry. It looked like he stopped somewhere near the beginning or middle of the meal. And the cleanup was sloppy. There was a dish on the counter and on the stove. A glass of wine, unfinished, was also on the counter.
An opened wine bottle, with not much missing, was found on the table in the sunroom. Colby was the kind of guy who would have capped the bottle before leaving and put it in the fridge.
There was another suspicious point. On the kitchen table was his black leather wallet. It contained $296 (14 twenties and 16 ones), a comb, a file, and various membership and credit cards, a driver's license. There was also a silver key ring with five keys. When Colby was found, his pockets were empty, no identification at all.
Alice Stokes phoned Sally Shelton Colby in Houston. Policewoman Sharon Walsh asked to speak to her. Walsh reported: "Ms. Shelton was inquisitive yet calm. She stated she was 'numb.'"
Sally Shelton described two possible canoe routes Colby might have taken. He was known to go canoeing for a few minutes sometimes around twilight. But on both routes he hugged the shoreline and stayed in shallow water.
Local rescue workers and divers arrived, then Coast Guard representatives. They found nothing. This was Sunday night. Nothing would really start until the next morning.
Continued on next page…