Google Chrome was first publicly released on September 2, 2008 for Windows XP and later, with 43 supported languages, officially a beta version, and as a stable public release on December 11, 2008. On the same day, a CNET news item drew attention to a passage in the Terms of Service statement for the initial beta release, which seemed to grant to Google a license to all content transferred via the Chrome browser. This passage was inherited from the general Google terms of service, and Google would quickly remove the controversial passage from their Terms of Service.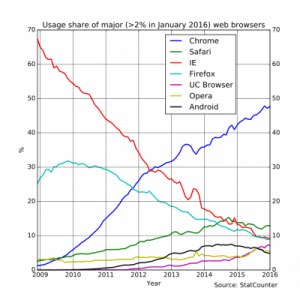 As of September 2016, StatCounter estimates that Google Chrome has a 62% worldwide usage share of web browsers as a desktop browser and 50% market share across all platforms combined, because it's also the most popular browser for smartphones.
Google is one of the biggest spending lobbyists every year in Washington and spends more time at the White House by far than any of the other top-lobbying companies. According to an analysis of White House data, Google lobbyist Johanna Shelton visited 128 times, and showed that Google representatives visited the White House more than once a week during the Obama Administration.
Google and Youtube, a Google subsidiary, have been guilty of modifying search results to censor information related to elections and other websites and videos deemed damaging to the establishment. This would suggest that they are in cahoots, but is that true?
INSURGE INTELLIGENCE, a new crowd-funded investigative journalism project, breaks the exclusive story of how the United States intelligence community funded, nurtured and incubated Google as part of a drive to dominate the world through control of information. Seed-funded by the NSA and CIA, Google was merely the first among a plethora of private sector start-ups co-opted by US intelligence to retain 'information superiority.'
The origins of this ingenious strategy trace back to a secret Pentagon-sponsored group, that for the last two decades has functioned as a bridge between the US government and elites across the business, industry, finance, corporate, and media sectors. The group has allowed some of the most powerful special interests in corporate America to systematically circumvent democratic accountability and the rule of law to influence government policies, as well as public opinion in the US and around the world. The results have been catastrophic: NSA mass surveillance, a permanent state of global