On June 3rd, 2019, it was discovered that Google had scrubbed their search results clean of natural health sites (such as Mercola.com), resulting in some losing as much as 99% of their traffic. Soon after, it was discovered that Google also manipulates users with their autocomplete function into thinking that natural approaches to health are fraudulent and even harmful.
Google manipulates your search results in a very specific way. For instance, if you start your search out with "supplements are," Google will autocomplete your search field with the following suggestions:
"SUPPLEMENTS ARE BAD, USELESS, NOT REGULATED, DANGEORUS, SCAMS"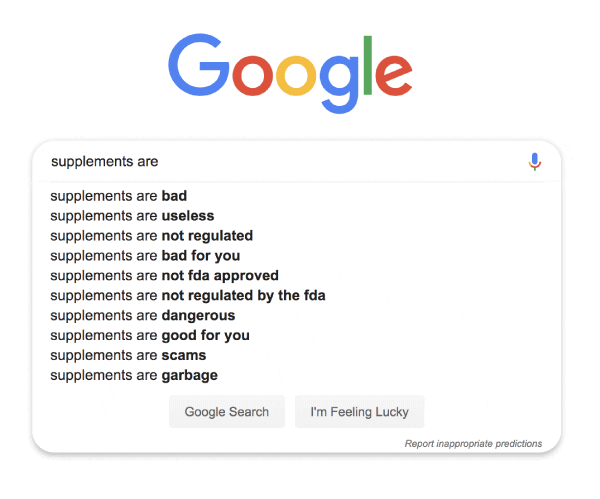 Google is now censoring all content about organics, homeopathy, naturopathy, chiropractic, herbs, nutrition and supplements.
Sayer Ji, founder of GreenMedInfo, has put together a damning collecting of evidence proving that Google is maliciously altering search suggestions to try to destroy natural health and naturopathy. It's all part of Google's total collapse into pure evil that has also seen Google censoring all conservative, Christian or pro-Trump content.
Make no mistake: Google is pro-pharma, pro-Monsanto, pro-glyphosate, pro-pesticides, pro-chemotherapy, pro-fluoride, pro-