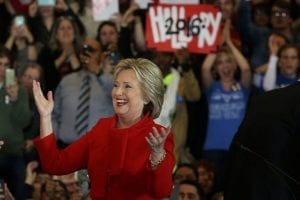 In what could likely be the use of a weighted coin, knowing Hillary Clinton's past record of lying and cheating, she does the improbable to win six delegates and ultimately wins the important state of Iowa.
DES MOINES, Iowa — One of the most bizarre details to emerge from Monday's Iowa caucuses was that in six Democratic counties, the ownership of six delegates was decided by a coin flip.
A single delegate remained unassigned at the end of caucusing in two precincts in Des Moines, one precinct in Ames, one in Newton, one in West Branch and one in Davenport, The Des Moines Register reported.
In all six instances, the coin toss was won by former Secretary of State Hillary Clinton over Vermont Sen. Bernie Sanders.
There may have been more coin tosses, but those are the ones we know about for now.
Now, get ready to do some math.
In a single coin toss, the probability of calling the toss correctly is 50 percent, or one in two. Heads or tails.
But the probably of winning every flip out of six flips is one in 64, or 1.56 percent.
The online study tool "Coin Toss Probability Calculator" has a really intense formula that explains why, but the bottom line is, the probabilities stack on each other.
You're 50 percent likely to win one coin flip. But you're only 25 percent likely to win two consecutive coin flips, because there are now twice as many possible outcomes. So bump that up to six coin flips, and your chances of winning them all are slim. (source)
---
Recommended Books:
If elections are the lifeblood of democracy, then the United States is a sorely ailing body politic. From ballot stuffing and intimidating voters to suppressing turnout, buying votes, and manipulating returns, Deliver the Vote is an intensive examination of the corrupt underbelly of American politics. Drawing on records of hundreds of elections from the pre-colonial era through the 2004 election, historian Tracy Campbell reveals how a persistent culture of corruption has long thrived in local, state, and national elections. Among the public figures whose stories are central to his chronicle are Boss Tweed, William Randolph Hearst, Huey Long, Harry Truman, Lyndon Johnson, Jimmy Carter, and George W. Bush, as well as countless local and state politicians of all parties. Our elections are often held up as the model for the world's budding democracies to emulate. But after two of the most bitterly contested presidential elections in American history, this book shows how our democratic house has never been in proper order. Using a candid appraisal of our history as a guide, Deliver the Vote offers some surprising suggestions for a demoralized electorate to reclaim its democratic birthright.