Another year is in the books, and for investors 2019 was quite the turnaround story.
Despite an early backdrop of heightened volatility, escalating trade tensions, Brexit uncertainty, and calls for a recession, the year progressed in an unexpectedly pleasant fashion. The Fed used its limited arsenal to provide additional stimulus, and global markets soaked it up to extend the decade-long bull run.
By the end of 2019, every major asset class was in the black — and the S&P 500 surged to finish with its best annual return since 2013.
Markets Roundup for 2019
Let's take a look at major asset classes in 2019, to see how they fared: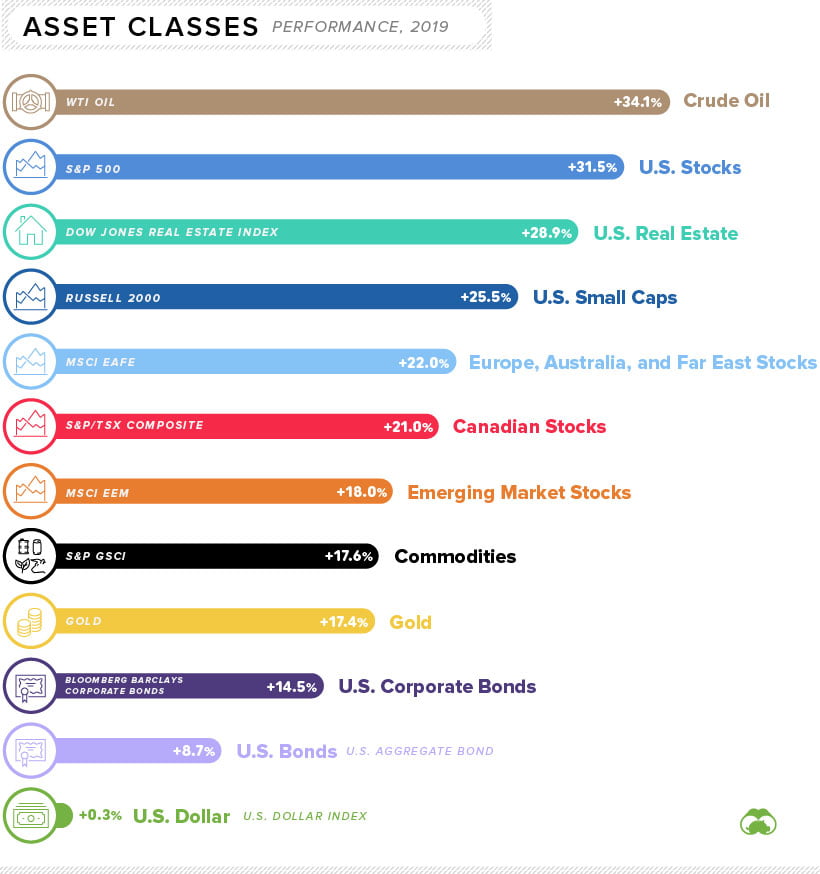 The first thing you'll notice when looking at the above data is that every major asset class had a positive return for the year. The only real difference lies in the magnitude of that positive return.
Even though stocks experienced some of the best gains on the year, the winning asset may be a surprising one: crude oil.
The oil price (WTI) started the year at about $46/bbl and it closed the year at over $61/bbl, good for a 34% gain. And with escalating tensions between the U.S. and As Iran's economy teeters on the brink of collapse under the tough sanctions regime imposed by the Trump administration, the Islamic Republic's authoritarian leadership has spent its limited cash reserves to bolster terror groups such as Hezbollah and Hamas, as well as militant terrorists in Syria, Iraq, and Yemen. Iran has spent more than $16 billion during the past several years to fund militant terrorists across the Middle East, cash that was repatriated to the Islamic Republic under(...)