In 1953, Hugh Hefner setup Playboy, which was eventually revealed to be banked by the CIA and the fist issue was realeased on December 1st of that year with actress Marilyn Monroe, an MK-Ultra Controlled sex slave, featured on the cover and as the centerfold and "Sweetheart of the Month", which was thereafter termed the "Playmates of the Month".
According to Ex CIA operative Laurel Aston, in his book Fighting Child and Human Trafficking and Slavery: "I knew Hugh Hefner. He is connected to the CIA.
"Hefner is a CIA programmer, CIA sex slave handler and pimp."
"Hefner was also a part of running MK ULTRA super assassins and ops."
Laurel Aston Ex. C.I.A. Whistle Blower
"The "White Rabbit" in Disney's primary MK Programmimg film "Alice In Wonderland" reinforces MK Programming (ALTERS) or mind files as does Playboy bunny logo for Hugh Hefner's MK factory, Playboy Enterprises …"
Hefner's Sex Kittens are raised in communal type environments to centralize programmers/handlers' supervision of individuals, group sessions and rituals. It also provides a centralized location for sex trade– twinning- among the women, and a place for clients of Hefner's inner circle orgies that reinforce Sex Kitten/Slave programming and training. As a survivor of the 60s and 70s Deep State. I was a 4 yr old Honey Pot at Deep Creek Lodge under MKUltra (yes, where Frank Olson was slipped LSD too). It was their Blackmail Emporium back then, like Playboy Mansion, et al… I Stand With You @GenFlynn! GOD STANDS WITH YOU TOO!The #Secret #Playboy Mansion #Tunnels That Led To #Hollywood #Celebrities: https://t.co/yF1KvGkSwB via @JonExArmy's
The above image of Hefner as the Greek God Pan is a mural made for Playboy's annual Dionysian orgy. According to the forbidden knowledge, Pan is "man himself" who falls as LUCIFER from the heavens onto the world of matter. According to Anton LeVay's Satanic Bible, Pan is one of the infernal names of SATAN."
https://www.youtube.com/watch?v=gh8UP0-lABo
Marilyn Monroe never actually signed an agreement to be in Playboy. Before Monroe hit it big, she was in need of cash. In 1949, she posed nude for photographer Tom Kelley in exchange for fifty dollars. Kelley sold his photos of Monroe to Western Lithograph Company, which made calendars. Four years later, Monroe's images resurfaced when Hefner purchased Kelley's photos of Monroe with "nothing but the radio on" from the Chicago calendar maker for $500, according to the LA Times. After the publication, Monroe made the decision to do an interview in which she explained that she had been desperate for money when she posed for the nude photos. And it didn't seem to negatively affect her career at all. She also developed a close relationship with Hefner.
Having been influenced by scientific fraud and pedophile (this is now established fact. Read here) Alfred Kinsey. As I wrote in 2009, "Hefner founded Playboy magazine … the same year that Kinsey published Sexual Behavior in the Human Female. Was this a coincidence? Well, Hefner read Sexual Behavior in the Human Male when he was young and wrote about it in a college publication, and the work convinced him that he had been lied to by the wider society.… [Hefner said] 'I refer to it [Kinsey's Human Female book] in the introduction to the first [Playboy] issue; I called it 'the other great book that was coming out in 1953.'"
In that first run, Hefner sold 54,175 copies of Playboy magazine at 50 cents each. This first edition of the magazine is also the only Playboy that does not have Hugh Hefner's name inside. On the first page, Hefner humorously wrote, "We want to make it clear from the very start, we aren't a 'family magazine.' If you're somebody's sister, wife or mother-in-law and picked us up by mistake, please pass us along to the man in your life and get back to your Ladies Home Companion." Copies of the first issue in mint to near mint condition can sell for over $5,000 today. The magazine played an important role in the 'sexual revolution' that has led to the moral destruction of America's formerly strong Christian heritage. Theremains one of the world's best-known brands. 64 years later the magazine has grown into Playboy Enterprises, Inc., with a presence in nearly every medium. In addition to the flagship magazine in the United States, special nation-specific versions of Playboy are published worldwide.
"MK-Ultra Monarch Programmer/Handler … Hugh Hefner enriched himself as America's # 1 MK Pimp for over 50 years, supplying Global Mgt. Team and whoever else had codes "triggers" and enough money to afford "state of the art" Oz-Dorothy, Jewel programmed DID (MPD) lovelies. This NSA-CIA asset w/his degree in psychology (read Mind Control Programmer) controlled an army of BETA-trained Sex Slaves available for blackmail, espionage (honeypots), underground porn and whatever else their "ALTERS" (mind files) were programmed for. Hefner worked closely with MK Programmer/handler Heinz (Henry) Kissinger, and operated under full protection of NSA/CIA military-apparatus."
The 1974 death of 1968 Playmate of the Month, Paige Young, is linked to Hugh Hefner and Bill Cosby who used her as a personal "Sex Toy." When Paige took her life on a Palm Sunday, she wanted to make a statement and stir an investigation into Hefner's Satanic Playboy Circle, she left pictures of Hefner labeled the DEVIL, and a large pentagram that had nothing to do with the five wounds of Christ on the floor of her Hollywood apartment. Undoubtedly, she was trying to tell us about repressed memories of a PENTAGRAM being a central part of a Ritual to indoctrinate her into the Cult.
Nested in the hills overlooking HollyWeird, Lookout Mountain Laboratory was originally envisioned as a U.S. Air Defense Department center. Built in 1941 and nestled in two-and-a-half secluded acres off what is now Wonderland Park Avenue, the installation was hidden from view and surrounded by an electrified fence.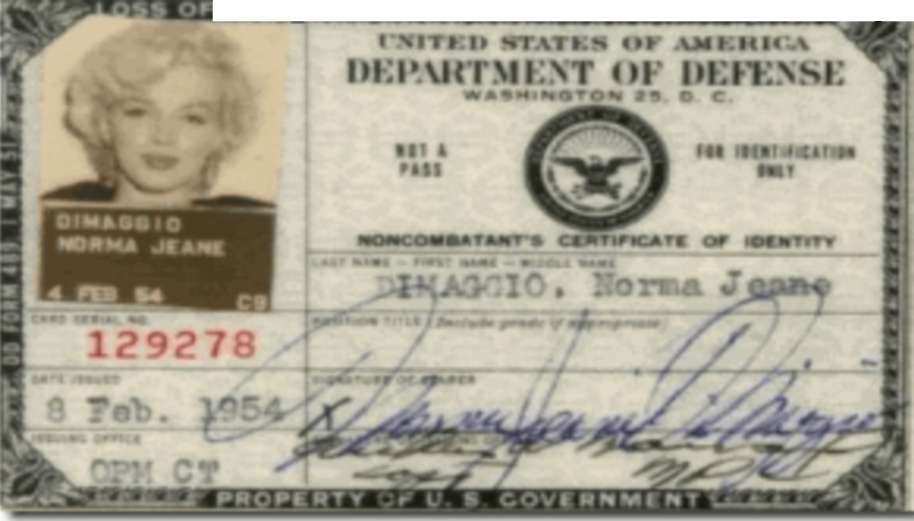 Marilyn Monroe's February 8, 1953 Secret Pentagon ID to Lookout Mountain Lab Picture Squadron) secured a 21/2 acre house on Wonderland Park Avenue and turned it into a top-secret electrical fenced movie production house identified as the Lookout Mountain Laboratory. It is claimed that it was perhaps the world's only completely self-contained movie studio. With 100,000 square feet of floor space, the covert studio included sound stages, screening rooms, film processing labs, editing facilities, an animation department, and seventeen climate-controlled film vaults. It also had underground parking, a helicopter pad and a bomb shelter. [19]
Lookout Mountain Laboratory had something to do with the Cold War developing secret weapon testing films for the U.S. Department of Defense (DoD) and Atomic Energy Commission (AEC). The existence of this facility wasn't acknowledged until the early 90's even though it had produced some 19,000 government propaganda films, and had the likes of John Ford, Jimmy Stewart, Howard Hawks, Ronald Reagan, Bing Crosby, Walt Disney and Marilyn Monroe working there with top-secret clearances on (MK ULTRA) "undisclosed projects"[20]. Hollywood civilian studio staff from Warner Brothers, Metro-Goldwyn Mayer and RKO also worked alongside its military staff as producers, cameramen and directors.[21]
The lab conducted secret experiments and shot military training films and documentaries here until the clandestine studio was decommissioned in 1969 [22] most likely after or just prior to the August 8 Tate-LaBianca Massacre, (hippie/race war psyop). The savage, grizzly and cold blood murders of 6 white people at 10050 Cielo Drive in Benedict Canyon, just a couple miles to the west of Laurel Canyon, had been originally blamed on Black Nationalist, the Black Panther Party for Self Defense (Helter Skelter)[23]
The road to the U.S. Military Top-Secret Lookup Mountain Laboratory should almost face Rubin's studio mansion on Laurel Canyon Blvd. When fascist rock star David Bowie wanted to delve into Kabalism (the religious mystical and magical system of Judaism), he just happened to seek out Rick Rubin and Houdini's Mansion.
In 2009, the lonely and desperate cry of Sheri Denise Allred was briefly heard. She made a hopeless attempt to expose Hugh Hefner's ultra secret and elite CIA/MK ULTRA pedophile ring and Dionysian Cult by filing a badly drafted pro se complaint for damages in the Los Angeles Superior Court.[15] She claimed that she had been ritually sexually abused by Hefner's Luciferian Circle since 5 years old. According to MK ULTRA usual practices, age 5 and below is the idea impressionate period to begin slitting off alternative personalities from the original personality to create multiple personality disordered mind control subjects.
Sheri talked about having a hat covering her head where everyone in the world can hear her thoughts and transfer thoughts to her hat from god. She may be talking about EEG Skull Caps that are able to read your brain waves for MK ULTRA projects, or implant brain electrodes and microchip brain implants. The technology to read your thoughts have existed for quite sometime.[16] However most interestingly, she talked wildly and extensively about things inside Hefner's Dionysian Cult and pedophile ring that may have included John Gotti's Mob, and billionaire J. Paul Getty.[17] She talked about Darren Elliott being involved. Darren Joseph Eliot is a Canadian sports broadcaster and a former professional Los Angeles Kings goaltender.[18]
She said that Hefner was supposed to be a "centaur of the greek gods." She was programmed to be a "reincarnation" of "Venus Aphrodite Demilo."[19] Aphrodite of Milos better known as the Venus de Milo, is an ancient Greek statue. Created sometime between 130 and 100 BC, it is believed to depict Aphrodite, the Greek goddess of love and beauty (Venus to the Romans).[20]
Sheri's complaint as filed is filled with grammatical errors, misspellings and what appears by first impressions to be off the wall references, but her spelling and references to Hefner's Dionysian Cult and Greek Mythology are for the most part downright fairly consistently actuate. Similar, but going well beyond Bill Cosby's allegations of rape and sexual abuses, Sheri's case also involves drugs, Walt Disney mind control program themes, recovery of repressed memories, amnesia blocks, and Luciferian layers. It is also interesting that she identified herself as "Allred", like Attorney Gloria Allred, the Bill Cosby Gatekeeper.
Naomi Wolf has written,
The onslaught of porn is responsible for deadening male libido in relation to real women, and leading men to see fewer and fewer women as "porn-worthy." Far from having to fend off porn-crazed young men, young women are worrying that as mere flesh and blood, they can scarcely get, let alone hold, their attention.
Jill Filipovic takes a different view:
What Hefner and Playboy never did was present women as human, or consider us anything like men. Hefner made female sex objects more relatable and accessible — the Playboy centerfold was the girl next door, not the famous movie actress —but this wasn't so much an elevation as a downward shift: social permission for men to look at all women through the zipper in their jeans, and not even bother to pretend it was otherwise.
The CIA's attempt to sexualize "the girl next door," in a way that demeans her, leads young boys and men to feel uncomfortable expressing desire toward girls / women, while seeking refuge in masturbation. Pornography is an addictive behavior that is as powerful or moreso than heroin or cocaine. This has certainly been a huge tool for Satan in his plan to destroy the family and Christian values.
As early Playboy contributor Jules Feiffer put it, referencing the '50s, "You couldn't talk politically [not sure what that even means]…. You couldn't use obscenities. What Playboy represented was the beginning of a break from all that."
Like Disney World, the Mansion has a secret underground complex. At least it used to. There were tunnels to the homes of Warren Beatty, James Caan, Kirk Douglas, and Jack Nicholson. People came and went in secret.
Playmates Miki Garcia and Brenda MacKillop testified to the Meese Commission on Pornography that women were pressured into doing drugs and orgies. Hefner would rape new "recruits." Naive teenagers thought they were networking in their modeling careers, or that Hefner would take no for answer. Wide-eyed girls, understandably distracted by surroundings and celebrities, were easy prey. It was simple to slip a Playmate the Micky Finn, so, after she passed out, her body could be violated.
Speaking to The New York Post, Stefan Tetenbaum remembers his time as Hefner's personal valet from 1978 through 1979. Tetenbaum says all the encounters at Hefner orgies were filmed partly for blackmail purposes and that Hefner was 'brutal'. He also said that there were plenty of drugs at the Playboy Mansion, especially cocaine.
Hugh Hefner was also gay
or at least had experimented with it. Hefner girls, including Carrie Leigh, were disturbed by Hefner's liking for sex with men. Leigh says she came across Hefner's liaisons with men more than once. Carrie Leigh thought that Hefner's only true interest in women was exploitive. Hefner admitted to having sex with men, and claimed to be bisexual, like Carrie Leigh. Hefner had gay sex at his Beverly Hills mansion.
Sources: