Igor Danchenko was found not guilty of providing false statements to federal officials in the course of their "investigation" into the Steele Dossier. After count 1 was dismissed (the Charles Dolan count), these charges remained:
Count 2. March 16, 2017: Danchenko told FBI agents he received a call in late July 2016 from a person he thought was Sergei Millian, when Danchenko knew he had never received a call from Millian.
Count 3. May 18, 2017: Danchenko gave a false statement to FBI agents that he "was under the impression" that the late July 2016 call was from Millian.
Count 4. October 24, 2017: Danchenko falsely stated to FBI agents that he believed he spoke to Millian on the phone on more than one occasion.
Count 5. November 16, 2017: Danchenko lied that he "believed he has spoken to [Millian] on the telephone," when Danchenko well knew he had never spoken to Millian.
That's the difficulty of proving a false statements case when the FBI and the Mueller Special Counsel were uninterested in pursuing the truth.
As we've seen from the course of this trial, the most important takeaways from this trial have never been the alleged lies. Danchenko himself has long been known as a fabricator, with his deceptions revealed as soon as information on his involvement in the Steele Dossier, his background, and his FBI interviews was released. Cue observations from 2020 from ourselves and many others:
Did Steele's primary sub-source lie to the FBI?

Sub-source told FBI "to his knowledge he has not had any contacts w/ the Russian intelligence."

FBI files reveal repeated contacts & familiarity w/ Russian intelligence officials. 🤔

HT @FOOL_NELSON https://t.co/0NYuScxQed pic.twitter.com/eZ4SoV2YYZ

— Techno Fog (@Techno_Fog) September 24, 2020
What is more important is that which informs our understanding of the Trump/Russia investigation and the FBI/DOJ/Mueller misconduct that sparked Crossfire Hurricane and continued through the Mueller investigation. That information was revelatory. The institutions were on trial alongside Danchenko, with Durham recognizing in closing arguments that "the FBI mishandled the investigation at issue." And the institutions rightly suffered. Danchenko might have been spared, but is there any reasonable doubt as to the FBI's incompetence – and guilt?
TechnoFog provided some of the most comprehensive coverage of the Danchenko trial that you'll find. Their goal is always provide the most relevant information, preferably through transcript excerpts where you, the reader, can see the testimony for yourself and reach your own conclusions. At the same time, they also aim for concision.
Here are some of the most important highlights from the trial:
Steele was offered "up to a million dollars" to corroborate the Dossier.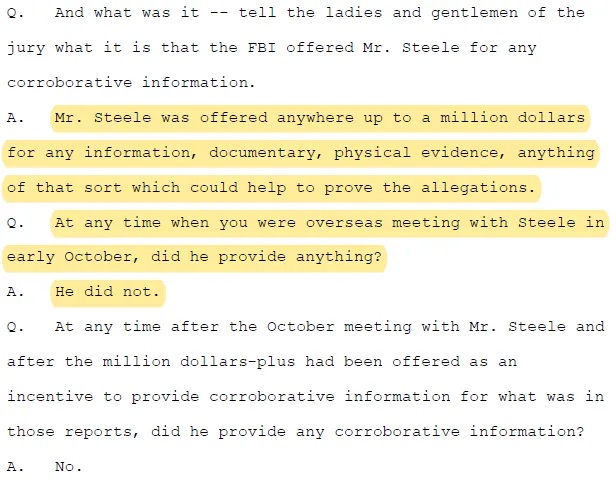 Danchenko was a confidential human source for the FBI from March 2017 through October 2020. He was accused of giving a number of false statements during that time period. He was paid over $200,000 as an informant, and his status as a CHS buried him as a witness. "Sources and methods."
The Mueller Special Counsel had FBI Agents and Analysts investigating the Steele Dossier – but purposefully limited the scope of that inquiry, making sure any information damning to their investigation would not be uncovered. Former FBI Intelligence Analyst Brittany Hertzog testified she learned of Charles Dolan's connections to Danchenko during her time with the Mueller Special Counsel. She requested to interview Dolan; others opposed that request. The opposition won out.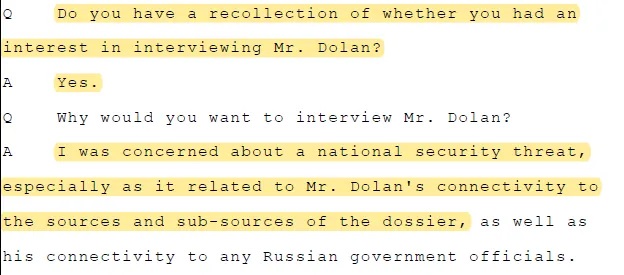 FBI Special Agent Amy Anderson, also part of the Mueller Special Counsel, requested to interview Dolan. Her request was shut down by superiors.