Obama assigned National Intelligence Director James Clapper, who had falsely testified to Congress that the NSA was not collecting information on U.S. citizens, to establish an "independent" investigation of NSA surveillance.
This is the same James Clapper who gave false information to Congress when asked whether the NSA was collecting data on Americans.
He later apologized.
Perhaps most interesting in Clapper's statement on Monday is the absence of wording used on Friday: independent, and outside. In an expanded statement, the White House said the group would present their interim findings to his office, and the final report would go "through the Director of National Intelligence."
"In practice — not theory — Clapper gets to chop the draft of the interim and final reports, and the Office of the Director of National Intelligence would — again, in practice — assist in selecting the members of the review group," Robert Caruso, a former assistant command security manager in the Navy and consultant, said in an email.
This arrangement is sure to arouse suspicions, with many Americans showing distrust after leaks of previously unknown spying programs. Even Sen. John McCain (R-Ariz.), a veteran politician and national security hawk, admitted as much to Fox News Sunday:
"Right now there's kind of a generational change. Young Americans do not trust this government," McCain said. "Without trusting government you can't do a lot of things."
Still, Caruso believes there can be good to come from such a review. "I trust [Clapper] has the best intentions at heart." But on whether that final report would be transparent or heavily redacted, he told me, "we'll have to wait and see."
(Source)
---
Recommended Books:
No Place to Hide: Edward Snowden, the NSA, and the U.S. Surveillance State – In May 2013, Glenn Greenwald set out for Hong Kong to meet an anonymous source who claimed to have astonishing evidence of pervasive government spying and insisted on communicating only through heavily encrypted channels. That source turned out to be the twenty-nine-year-old NSA contractor Edward Snowden, and his revelations about the agency's widespread, systemic overreach proved to be some of the most explosive and consequential news in recent history, triggering a fierce debate over national security and information privacy.
Now Greenwald fits all the pieces together, recounting his high-intensity eleven-day trip to Hong Kong, examining the broader implications of the surveillance detailed in his reporting for The Guardian, and revealing fresh information on the NSA's unprecedented abuse of power with documents from the Snowden archive. Fearless and incisive, No Place to Hide has already sparked outrage around the globe and been hailed by voices across the political spectrum as an essential contribution to our understanding of the U.S. surveillance state.
---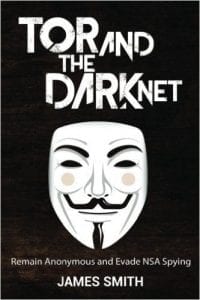 TOR and the Dark Net: So many people take their privacy on the internet for granted. Some may know and choose to ignore the fact, but every single thing you do online is being tracked and guess what? For better or for worse it is there forever. Whether you're simply browsing websites or you are accessing confidential information that you would rather no one know about there are ways to remain anonymous. Imagine this scenario, you create an account on a forum with your name and decide to do some political freedom fighting with it. Years down the road a future employer of yours does a simple google search of your name and finds everything you've ever done. They don't hire you.
This is a very simple scenario that just scratches the surface of reasons to stay anonymous but the point remains the same. Knowing when and how to remain anonymous is very important. Many people already realize this but have no clue where to start. This book has step by step instructions and techniques involving Tor, VPN's, Proxies, and more that will take you to the deepest levels of anonymity in which not even the all seeing NSA will be able to track you.
---
Big Brother: The Orwellian Nightmare Come True – In Big Brother: The Orwellian Nightmare Come True, Mark Dice details actual NSA high-tech spy systems, mind-reading machines, secret government projects, and emerging artificial intelligence programs that seem as if they came right out of George Orwell's novel Nineteen Eighty-Four.
Orwell's famous book was written in 1948 and first published in 1949. It tells the story of a nightmarish future where citizens have lost all privacy and are continuously monitored by the omniscient Big Brother surveillance system which keeps them obedient to a totalitarian government.
The novel is eerily prophetic as many of the fictional systems of surveillance described have now become a reality. Mark Dice shows you the scary documentation that Big Brother is watching you, and is more powerful than you could imagine.
---
George Orwell's classic, 1984: Written in 1948, 1984 was George Orwell's chilling prophecy about the future. And while 1984 has come and gone, Orwell's narrative is timelier than ever.1984 presents a startling and haunting vision of the world, so powerful that it is completely convincing from start to finish. No one can deny the power of this novel, its hold on the imaginations of multiple generations of readers, or the resiliency of its admonitions—a legacy that seems only to grow with the passage of time.