On July 9th, 2018 President Donald Trump nominated Brett Kavanaugh to the Supreme Court:
BREAKING: "Tonight, it is my honor and privilege to announce that I will nominate Judge Brett Kavanaugh to the United States Supreme Court." https://t.co/5RVZrIaUdm pic.twitter.com/5KTY5lO2Mc

— ABC News (@ABC) July 10, 2018
"I'm going to fight this nomination with everything I've got," Senate Minority Leader Chuck Schumer, D-N.Y., said, flanked by 10 Democratic members of the Senate Judiciary Committee. Schumer made it clear that his party will do everything to keep Kavanaugh from taking the high court seat of retiring Justice Anthony Kennedy. The dems did just that beginning with a coordinated effort to interrupt Kavanaugh's confirmation hearing in September 2018.
Three doctors said they personally witnessed protesters being paid off before the Brett Kavanaugh confirmation hearing, which was disrupted by unruly demonstrators. A total of 70 people were arrested during the hearing after many of them began screeching incoherently in an effort to derail the event. Activist Adam Schindler interviewed three doctors from Texas who suggested that the entire protest was far from organic. "One thing was there were people who had come along… who had a bag of money, and people would hand them a piece of paper, and then they would give them money. So we know money was exchanged for some of the people to be here, just to protest," said Dr. Tom Schlueter.
"The most telling thing was listening to them giving names and addresses, so when they were arrested, they were keeping a record and celebrating who got arrested, without any regard for any open discussion or even the possibility of being convinced of anything, it was just for the purpose of disruption and to have some kind of disruption of the process," said Dr. Morton Purvis.
Laying out how Democrats coordinated an outrage campaign over the committee withholding "hundreds of thousands" of documents related to Kavanaugh as "committee confidential," Sen. Dick Durbin (D-IL) defended the outbursts and described them as "the noise of democracy."
In addition, the man who was caught on camera paying off protesters who disrupted the Judge Brett Kavanaugh hearings was identified as working for a Soros-funded organization.
The democrats desperate attempt to keep Kavanaugh off of the US Supreme Court, an appointment that would give conservatives the deciding majority, led many to believe that the desperate attempts were to keep Roe v. Wade alive.
Four witnesses came out of the woodworks to accuse the nominee of rape, none of which were credible.
1. Christine Blasey-Ford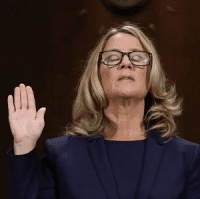 Judge Brett Kavanaugh first accuser Christine Blasey Ford is an anti-Trump leftist who participated in the Women's March and donated to the DNC, was an executive for the company behind the RU486 abortion pill, is the daughter and grandaughter of a CIA Operative and VP of Security, and is involved in a mind control operation that implants false memories and removes memories. One of her research articles in 2008 included a study in which participants were TAUGHT SELF-HYPNOSIS & noted hypnosis is used to retrieve important memories "AND CREATE ARTIFICIAL SITUATIONS."
Diane Feinstein, the committee's ranking Democrat, was made aware of Ford's accusations in July, weeks before the Senate Judiciary Committee convened for Kavanaugh's hearing. She notably withheld information from her Senate colleagues until before the committee was scheduled to vote on Kavanaugh's nomination to the Supreme Court. After releasing the information on Sept. 14th 2018, Feinstein also called for a delay in the proceedings and a full FBI investigation. Feinstein advised Blasey-Ford on who she should hire as a lawyer. (DC) During the weeks leading up to Blasey-Ford's testimony, all photos except one of Blasey-Ford were scrubbed from the internet, her Facebook, Twitter, and other social media accounts deleted, and and her promiscuous high school yearbook details also scrubbed from history… almost!
Researchers did find some of these details and Alex Jones breaks down some of the findings in the video below:
As reported by Red State, Ford was less than forthcoming with anything that approached a verifiable detail of her experience. She didn't know what year it happened. She didn't know what month it happened. She didn't know where the house was or whose parents it belonged to. She didn't know how she got home. Those are huge, gaping holes in any account of anything and yet, Ford's supporters shamelessly contend that this is a natural reaction to this simulacrum of a trauma. One bit of information she did provide, oddly enough, were the names of the other three teens in the house at the time.
Two of them were male. Mark Judge and Patrick Smyth both provided letters, via their attorneys, to the Senate Judiciary Committee denying any knowledge of any party such as the one Ford describes. There was a third witness, the young woman that Ford alleges accompanied her to the alleged party and who the young Christine Blasey abandoned in a house filled with drunk males who, according to Ford, had rape on their minds. The woman, Leland Ingham Keyser, still a friend of Blasey-Ford and former spouse of liberal Bob Beckel, provided a statement by way of her attorney:
The Cable News Network (aka: the Communist News Network, CIA News Network, Clinton News Network, Concocted News Network, etc.) is simply fake news. According to CNN's own three-time Emmy award winning journalist, Amber Lyon, CNN is routinely paid by the US government to make up fake news and also to selectively report on certain events in ways that fit their narrative. Plus, the Obama administration even paid CNN for editorial control over their content, badly distorting the news in their(...)