What are the chances that the individual responsible for authenticating Barack Hussein Obama's long form birth certificate, Loretta Fuddy, just happened to be the sole fatality out of nine on board a small plane that was forced to make an emergency water landing off the coast of Hawaii?
What are the chances that the other passengers either walked away virtually unscathed (according to eyewitness reports) or had only minor injuries while Loretta Fuddy died?
What are the chances that the engine failure just happened to occur over the Alenuihaha channel, recognized as one of the most treacherous channels in the world because of strong winds and high seas?
What are the chances that the only incident to mar the otherwise stellar record of Makani Kai Air just happened to be the flight carrying Loretta Fuddy, a most controversial figure in the most controversial issue relating to Barack Hussein Obama's Constitutional eligibility to hold office?
What are the chances that the National Transportation Safety Board (NTSB), the federal agency in charge of investigating even the slightest incidents involving civil transportation, would not conduct a thorough, on-site investigation that involved a fatality, especially a fatality of a high-profile state employee?
What are the chances that a passenger seated in the rear of the plane, publicly identified as Ferdinand Puentes (seen wearing a United States Federal Marshal cap) would not only have a GoPro video at the ready, but have the mental composure and clarity to record the "crash" and aftermath considering the unexpected, life-threatening circumstances?
What are the chances that this video, or at least portions of it, is suddenly released from nowhere, nearly a month to the day after the "crash" when its existence was never before referenced or acknowledged by crash investigators or survivors? In my 25-plus years of experience as a career investigator, I've seen a lot of strange things that would give one pause and cry out for explanation. Odd things that at first blush seem to defy logical explanation, only to be answered through investigation as mere coincidence (yes, 'stuff' does happen) or indicative of something more nefarious. In my professional opinion, the strange death of Loretta Fuddy falls squarely into the latter category.
Loretta Fuddy's place in history was forever memorialized when she authorized the release of Barack Obama's Certificate of Live Birth (COLB) – [not to be confused with an official birth certificate which would include extras like foot prints] at his request. On April 25, 2011, the month following her appointment as Hawaii's Director of Health, she certified that she witnessed the copying of the original COLB. The document that was certified as a true copy by Ms. Fuddy was handed to Judith Corely, Barack Obama's personal attorney, when Corely made a special trip to personally pick up the document instead of sending the document by a private courier, such as Federal Express.
Given her role in the authentication of the controversial document, Ms. Fuddy was named in two affidavits (one public, one sealed) filed in the U.S. District Court, Western District of Washington on October 18, 2013, by Douglas Vogt, citing twenty points of forgery that comprise misprision of treason and misprision of felony. Vogt, with researcher and document expert Paul Irey, investigated the intricacies of the forgery. Mr. Vogt's affidavit and Ms. Fuddy's involvement gained national attention when he was interviewed on The Hagmann & Hagmann Report on December 4, 2013, exactly one week to the day before her tragic death on December 11, 2013. The detailed three-hour audio testimony of Douglas Vogt can be heard here, and the report detailing Ms. Fuddy's possible role here.
Follow the money
Since her death, portions related to Loretta Fuddy in the sealed affidavit filed in U.S. Federal Court have been made public. Of particular interest are her financial reports detailing her income and expenses in 2011 and 2012. Each report is filed in January for the previous year. According to Mr. Vogt, a large and as yet unanswered income disparity was found between the two reports. In short, during her first year as Hawaii's Director of Health, which is also the time she authenticated Obama's COLB, Ms. Fuddy's gross income was reportedly less than $100,000. Nonetheless, her financials show that she apparently paid down her mortgage and decreased her liabilities by at least $50,000 and perhaps as much as $75,000 more than what she grossed that year. Where did that money come from? While there may well be a legitimate explanation for this disparity, it was not disclosed on the financial forms she filed with the Hawaii State Ethics Commission.
The crash & NTSB
Loretta Fuddy was one of nine people aboard the Cessna 208B traveling between the islands of Hawaii on December 11, 2013. She was making a much publicized, well known, annual trip to Kalaupapa, where the state exiled leprosy patients until 1969. That area is accessible only by plane or mule. By plane, the travel would require travel over the Alenuihaha channel, also known as the "I'll-end-you, ha-ha" channel. Out of all the places around the Hawaiian Islands for a water landing, it is the worst of all possible locations due to the "wind funnel" effect in the channel. The channel is more than a mile in depth at its deepest point and is generally regarded as one of the most treacherous channels in the world by the United States Coast Guard.
Were it not for another aircraft flying in the vicinity of the water landing, it is possible that the passengers of the plane would not have been found until they failed to arrive at their destination. Josh Lang and Jaimee Thomson witnessed the Cessna making the water landing and were able to call for help. Within 90 minutes, a C130, two U.S. Coastguard rescue helicopters, one U.S. navy rescue helicopter, and one fire department rescue helicopter were on the scene.
Still photos that were meticulously retrieved by a blogger, from the Ferdinand Puentes GoCam videos that he took of the plane crash on December 11, 2013 in which Loretta Fuddy died, shown below perhps tell us the real story: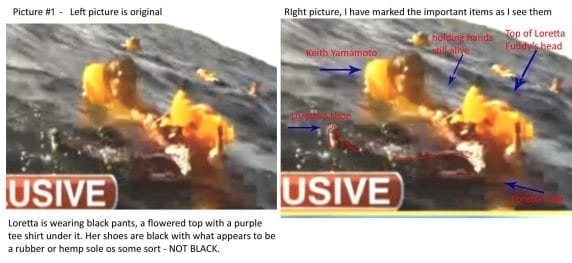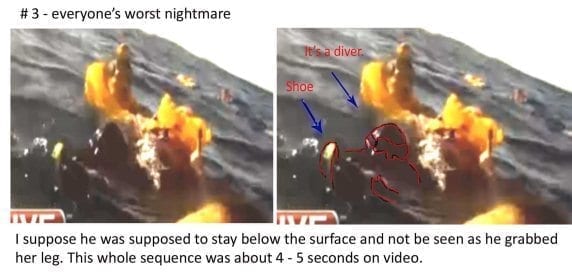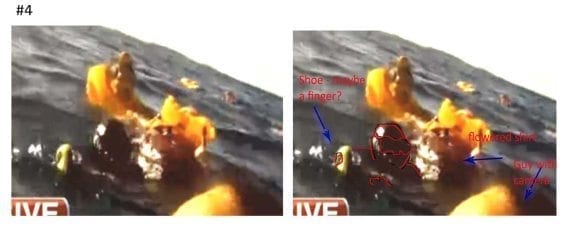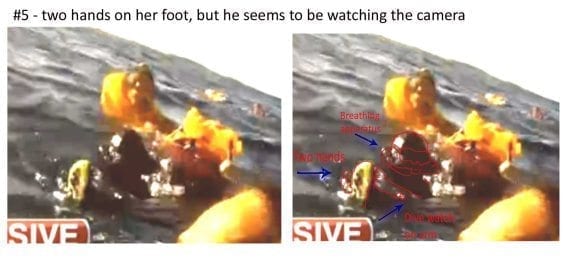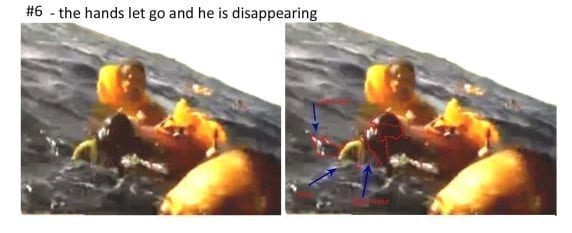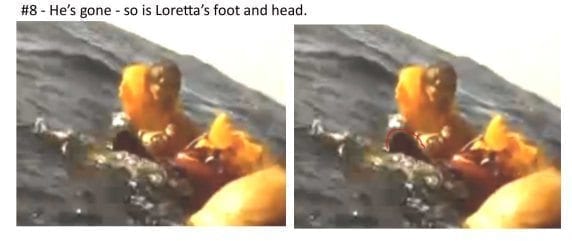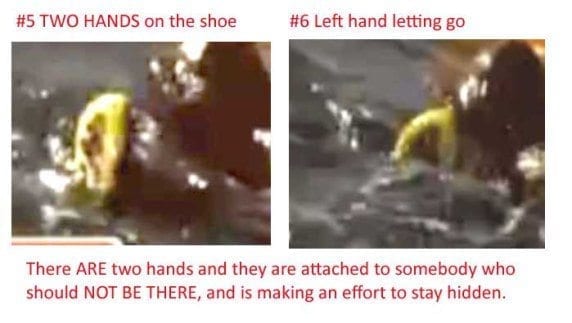 Initial accounts of the crash were conflicting and inconsistent.
On Dec. 12, 2013, the Los Angeles Times reported that Honolulu Fire Captain Terry Seelig said Fuddy didn't get out of the plane but had "remained in the fuselage of the plane." Lt. William Juan with the Maui Police Department also said that Fuddy's body had been recovered from the wreckage.
On Dec. 14, 2013, the Associated Press had a very different account. According to a priest, Rev. Patrick Killilea, who consoled Keith Yamamoto after the crash, Yamamoto told him [Killilea] he had helped Fuddy get out of the plane wreck and into her life jacket, then held her hand to help her relax. The priest said, "They were all floating together, and she [Fuddy] let go and there was no response from her." KITV reported that other eye witnesses also said Fuddy had made it out of the plane just fine and was floating in the water, in her lifejacket, with fellow passengers. Another local news source reported that Coast Guard rescue swimmers said that they had found Fuddy, dead, floating in the water after the plane sank.
Linda Jordan reported on inconsistencies regarding the cause of death:
On January 6, 2014, a press release from the Maui County Police Department stated that Loretta Fuddy had died from cardiac arrhythmia after the small plane she was in had to make an emergency ocean landing due to a failed engine.
Nine months later in September 2014, a report by Maui police detective Jamie Winfrey stated that "On December 13, 2013, an autopsy on the body of Loretta Fuddy was performed by medical examiner Dr. Lindsey Harle within the morgue at Molokai General Hospital. The preliminary cause of death is drowning," pending final autopsy report and toxicology results.
Then in November 2014, Jordan found a debriefing report by a commander of the United States Coast Guard (USCG) who was part of the rescue effort in the waters of Molokai. The report says Loretta Fuddy died from "severe internal injuries".
Here's the relevant part of the debriefing report, USCG Case Report Case #665884:
Note that:
A/C Commander = the USCG commander, whose name is LT (the name after LT is blacked out)
CG1720 = Coast Guard 1720
1720 = a

plane

identifier number for the Coast Guard's Hercules plane
" CG1720 arrived O/S at 0220Z …..A/C Commander did not notice if a 121.5 distress signal was radiating. He relayed that the pilot of the downed A/C stated that he lost engine power shortly after take-off as he was making the left turn to head towards Honolulu, after his second attempt to restart the engine failed he prepped passengers and crew for a water landing and had them don PFD's. He was able to execute a good water landing and disembark passengers prior to the A/C sinking. Mrs. Fuddy was alive but had sustained severe internal injuries during the ditching. She succumbed to those injuries while awaiting rescue resources to arrive."
To complicate matters, Fuddy's entire autopsy report, in spite of it being a public record, was blacked out. No medical findings were revealed other than the official cause of death of drowning.
Jordan points out that Hawaii Revised Statute HRS 841-3 requires a full investigation into accidental and unusual deaths. HRS 841-3 states:
"As soon as any coroner or deputy coroner has notice of the death of any person within the coroner's or deputy coroner's jurisdiction as the result of violence, or as the result of any accident, or by suicide, or suddenly when in apparent health, or when unattended by a physician, or in prison, or in a suspicious or unusual manner, or within twenty-four hours after admission to a hospital or institution, the coroner or deputy coroner shall forthwith inquire into and make a complete investigation of the cause of the death.
On October 29, 2014, Maui Police Chief Janice Okubo told Jordan that they have complied with HRS 841-3 by conducting an autopsy on Loretta Fuddy. The problem is "a complete investigation" into a "suspicious or unusual" death involves more than just an autopsy. It includes interviewing witnesses and first responders, under sworn oath, and collecting evidence. The investigation also must be conducted in a manner where said interviews and evidence can be used in a court of law.
Jordan explains why we should be concerned about the death of Loretta Fuddy:
I'll tell you why. [In his autobiography] Obama said his father was a citizen of Kenya. For 16 years he told people that he himself was born in Kenya and was raised in Indonesia and Hawaii. This was in his biography on his publisher's website. [In the] biography he wrote about himself [which] he updated…several times during those 16 years…he always left in the part about being born in Kenya. And people believed him. This was before he had proven himself to be a consummate liar so why shouldn't they have believed him? Those familiar with the Constitution pointed out that if he was born in Kenya and if his father was a citizen of Kenya, he was not eligible to be President of the United States.

Realizing the error of his ways, Obama immediately began insisting that he was a citizen of this country. He announced his bid for the presidency in February 2007 and on April 21, 2007, he changed his biography to say that he was born in Hawaii.

That's about the same time people began demanding that he produce his original birth certificate.

Fours years later, and in re-election mode, Obama announced he was tired of all the "silliness" surrounding his citizenship status and asked Loretta Fuddy for a photocopy of his original birth certificate. What Obama actually posted, however, on the White House website, was an image of a forged Hawaiian birth certificate. A month before Fuddy died she had been named in an affidavit requesting that a Grand Jury launch an investigation into Obama's forged birth certificate and Fuddy's role, if any, in the production of it. There were nine souls on board the plane that day on December 11, 2013, and Fuddy was the only fatality. So you can see why those of us who are convinced that Obama's birth certificate was forged, suspected foul play.

Of course we could be completely wrong. But the recent discovery that there were three extremely different causes of death listed for Fuddy, first, severe internal injuries, second, drowning and third, cardiac arrhythmia, bolsters that original suspicion. When stories change red flags should go up.

At the very least I am convinced that someone is trying to hide something about the way she died. Are they hiding incompetence, confusion at the scene of rescue, murder or something else? I don't know. But I do know this, an official investigation into the demise of Loretta Fuddy is long overdue and I don't care if it proves me wrong or proves me right. I just want to get this story straight.
Such inconsistencies remain, despite the investigation conducted by the NTSB. Based on a review of the NTSB report (ID #WPR14FA068), no on-scene investigation was performed. The NTSB report pertaining to this incident was one of the most incomplete and un-sourced reports published when compared to other reports. Why?
The NTSB admits as much by a disclaimer that prefaces the narrative. This begs the question why, given that the crash resulted in a fatality, especially the fatality of a person at the center of a significant national controversy, investigators didn't conduct a more thorough, on-site investigation? The NTSB narrative also conflicts with eyewitness accounts. According to the NTSB investigative report, "[T]he airline transport pilot and two passengers were seriously injured, one passenger was fatally injured, and five passengers received minor injuries." [Emphasis mine]. This is inconsistent with initial and subsequent eyewitness and passenger reports, and now, the video.
During my investigation into this incident, I interviewed a veteran pilot familiar with the flight paths of the Hawaiian Islands. Speaking off the record, this source stated that he has flown this area for years and knows it well. He commended the pilot for the remarkable water landing, and confirmed that the Alenuihaha channel is indeed treacherous. He added that "(I)f I was going to cause a plane like that to go down [into the ocean] in all of Hawaii, that's exactly where I'd want it to go down. Recovery would be very difficult if attempted at all."What are the chances?
Sources:
Hagmann & Hagmann report (Doug Hagmann)