From The Guardian:
One of the largest container ships in the world has been partially refloated after it ran aground in the Suez canal, causing a huge jam of vessels at either end of the vital international trade artery.

The 220,000-ton, 400-metre-long Ever Given – a so-called megaship operated by the Taiwan-based firm Evergreen – became stuck near the southern end of the canal on Tuesday. The Suez Canal Authority (SCA) said it had lost the ability to steer amid high winds and a dust storm.

Eight tugboats were working to free the vessel, blocking a lane key to Asia-Europe trade through which about 50 ships a day passed in 2019, according to Egyptian government statistics.

GAC, a Dubai-based marine services company, said the Ever Given had been partially refloated and moved alongside the canal bank, citing information from the SCA.

"Convoys and traffic are expected to resume as soon as the vessel is towed to another position," GAC said on its website.

Bernhard Schulte Shipmanagement (BSM), the ship's technical manager, said it ran aground in the canal at about 0540 GMT on Tuesday.

BSM said all crew were safe and accounted for, and there had been no reports of injuries or pollution.

A growing number of tankers were gathering near the entrance to the canal on Wednesday morning waiting to pass through. Seven vessels carrying 6.3m barrels of crude oil were among those unable to pass, the research firm Kpler said, with another three carrying an additional 2.5m barrels scheduled to try to make the passage by the end of the week.
Ever Given is one of the largest container ships in the world. It is owned by a Japanese subsidiary but operated by Taiwanese container and shipping company Evergreen Marine. The Evergreen name is actually emblazoned in gigantic all-caps letters across the green hull of the ship. The whole world is seeing EVERGREEN today.
Now it just so happens that human traffickers have been known to sometimes use shipping containers to smuggle their slave cargo.
The shipping containers were lined with sound-proofing material and heat-insulating foil with handcuffs dangling from the ceiling and attached to the floor. Each was equipped with a camera mounted in one of its corners encompassing a clear view of the entire cell.
The container the suspects called "the treatment room" contained a dental chair with straps to lash one's arms to its armrests and handcuffs at its footrest. Bags were also found in the so-called torture chamber, the statement said, containing "pruning shears, loppers, branch saws, scalpels, pliers, extra handcuffs, finger cuffs, tape, balaclavas and black cotton bags that can be pulled over the head."
Where have we heard about dentist chairs? If you recall, when police entered Jeffrey Epstein's home they were initially puzzled when they noticed the chair. The dentist chairs can be used for torture, rape, and dental implants to track and listen to the victims.
Ghislaine Maxwell's husband, Scott Borgerson, is the CEO of a maritime analytics company called CargoMetrics Technologies. Evergreen is the name of one of the largest integrated shipping infrastructure companies in the world.
EVA Air is the international airline of Evergreen Group, operating regular flights to over 40 destinations worldwide. EVA Air features full passenger and dedicated cargo operations to North America, Asia, Europe, and Oceania. The parent company of EVA Air, EVA Airways Corporation, has links with the Evergreen Aviation Technologies Corporation, Evergreen Air Services Corporation, and Evergreen Air Cargo Services Corporation. Evergreen Aviation has a history of human trafficking and a deep connection to the CIA. Evergreen, despite recent financial problems, still keeps one Boeing 747 in Columbus OH and still maintains regular service to Hong Kong. The only terminal that can serve that aircraft is owned by Landmark Aviation.
The plane crash was flight 666 so many coinkidinks.. someone wants the world watching this company thats for sure
Landmark Aviation was alleged to have been the company of choice for the CIA's program, known as the "torture taxi". Under that program, people were kidnapped, flown to black sites around the globe and tortured for months or years. European governments were aware of this program and some even issued arrest warrants for CIA officers involved.
The logistics of getting a minor across a border for such purposes would be much less complicated with the help of a Customs facility located in a friendly private facility operated by a company (think Evergreen' shipping containers and private planes) familiar with covert operations and making people disappear. Epstein, Maxwell and her associates like Bill and Killary, are clearly no stranger to navigating these circles.
When Epstein news started to break, somebody tweeted to CNN's Jake Tapper: "This is all going to get so much worse."
Tapper's reply: "Evergreen"
Given that "Evergreen" is the well known Secret Service code word for former First Lady and Secretary of State, Hillary Clinton, Tapper's reference, was an immediate shockwave of confirmation that Jeffrey Epstein and Maxwell's role as procurers, fixers and organizers of the North American chapter of this occultic sex magick practice is about to reveal the full truth about the most powerful, most visible, successful and most wealthy in the upper echelons of the world elite.
The Showtime series Dexter is the story of a man who is himself a victim of child abuse rescued by a police officer. The boy-Dexter was kept inside an Evergreen shipping container. Dexter grows up and becomes a serial killer who hunts down criminals and other serial killers.
Looking at each situation from a singular point of view, it may pass the smell test but when you step back and look at everything, how it all interconnects, it becomes painfully obvious what's happening.
Interestingly, two of the world's most evil globalists live on Evergreen Point Rd.
Also interesting, Q may have predicted the event in 2018: "Define Evergreen. When Do You Call A Plumber?"
Presidents, First Ladies and anyone else entitled to Secret Service protection gets to choose a code-name for themselves. Suspected child-sex-trafficker and then-First Lady Hillary Rodham Clinton (always referred to by Q as "HRC") chose the name EVERGREEN. Coincidence?
Now, for the kicker. All of these container ships (and all ships and boats in general) have what is referred to as a "maritime call sign" — which serves as a unique identifier. All radio transmissions are individually identified by the vessel's call sign. And the call sign for the grounded Ever Given of the EVERGREEN fleet? — It's H3RC
https://twitter.com/kshadyacct4/status/1374533136718127105?ref_src=twsrc%5Etfw%7Ctwcamp%5Etweetembed%7Ctwterm%5E1374533136718127105%7Ctwgr%5E%7Ctwcon%5Es1_&ref_url=https%3A%2F%2Fthetruedefender.com%2Fthe-truth-behind-evergreen-and-ever-given%2F
Before entering the canal, the Evergiven draws a massive penis!
Saved by Barack and Mossad
The ship that tried to free the H3RC is "BARAKA."
And the three boats around Mosaed (Mossad) 1, 2, and 3.
https://twitter.com/Sportsf08980142/status/1375123536344449032?ref_src=twsrc%5Etfw%7Ctwcamp%5Etweetembed%7Ctwterm%5E1375123536344449032%7Ctwgr%5E%7Ctwcon%5Es1_&ref_url=https%3A%2F%2Fthetruedefender.com%2Fthe-truth-behind-evergreen-and-ever-given%2F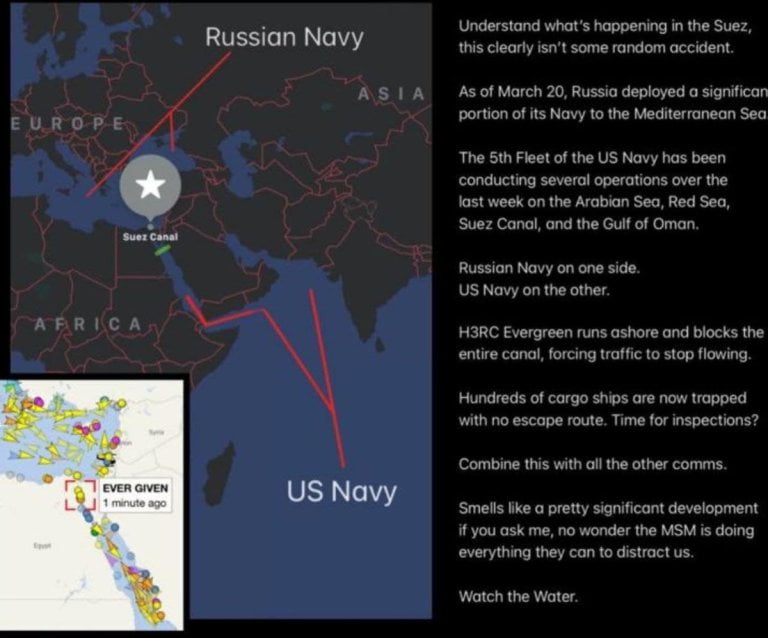 What if the captain if this ship was told to turn it around, cause they knew they were being waited for? Are we about to find out what that ship is carrying, that they can't afford for us to find out? Watch the Water, we've been told, Watch the Water! pic.twitter.com/dDUV1NawXH

— Aging Healthy.Ca (@AgingCa) March 25, 2021
https://www.youtube.com/watch?v=_trJYP7E7ds
Sources: