Judge Jaime Eduardo Verdugo has ordered Mexico's SAGARPA, which is Mexico's Secretary of Agriculture, and SEMARNAT, which is equivalent of the EPA, to immediately "suspend all activities involving the planting of transgenic corn in the country and end the granting of permission for experimental and pilot commercial plantings". He cited "the risk of imminent harm to the environment" as the basis for the decision. Source
---
Recommended Books:
This book uncovers the biggest scientific fraud of our age. It tells the fascinating and frequently astounding story of how the massive enterprise to restructure the genetic core of the world's food supply came into being, how it advanced by consistently violating the protocols of science, and how for more than three decades, hundreds of eminent biologists and esteemed institutions have systematically contorted the truth in order to conceal the unique risks of its products–and get them onto our dinner plates.
Altered Genes, Twisted Truth provides a graphic account of how this elaborate fraud was crafted and how it not only deceived the general public, but Bill Clinton, Bill Gates, Barack Obama and a host of other astute and influential individuals as well. The book also exposes how the U.S. Food and Drug Administration (FDA) was induced to become a key accomplice–and how it has broken the law and repeatedly lied in order to usher genetically engineered foods onto the market without the safety testing that's required by federal statute. As a result, for fifteen years America's families have been regularly ingesting a group of novel products that the FDA's own scientific staff had previously determined to be unduly hazardous to human health.
By the time this gripping story comes to a close, it will be clear that the degradation of science it documents has not only been unsavory but unprecedented–and that in no other instance have so many scientists so seriously subverted the standards they were trained to uphold, misled so many people, and imposed such magnitude of risk on both human health and the health of the environment.
---
Recommended: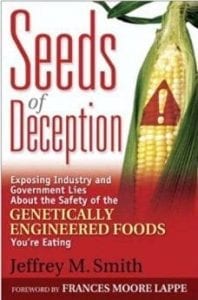 This explosive exposé reveals what the biotech industry doesn't want you to know—how industry manipulation and political collusion, not sound science, allow dangerous genetically engineered food into your daily diet. Company research is rigged, alarming evidence of health dangers is covered up, and intense political pressure applied. Chapters read like adventure stories and are hard to put down:
– Scientists were offered bribes or threatened. Evidence was stolen. Data was omitted or distorted.
– Government employees who complained were harassed, stripped of responsibilities, or fired.
– Laboratory rats fed a GM crop developed stomach lesions and seven of the forty died within two weeks. The crop was approved without further tests.
– The only independent in-depth feeding study ever conducted showed evidence of alarming health dangers. When the scientist tried to alert the public, he lost his job and was silenced with threats of a lawsuit.
Read the actual internal memos by FDA scientists, warning of toxins, allergies, and new diseases—all ignored by their superiors, including a former attorney for Monsanto. Learn why the FDA withheld information from Congress after a genetically modified supplement killed nearly a hundred people and disabled thousands.
Jeffrey Smith has worked in the field of GM foods for nearly a decade—with nonprofit and political groups and at a GMO detection laboratory. His masterful writing style captivates and charms, while his meticulously documented facts leave no doubt about a massive injustice. Eating such experimental food is gambling with your health. Find out how you can protect yourself and your family.