A key witness in the investigation into President Donald Trump's alleged collusion with Russia flees the country, DailyMail.com disclosed. Convicted pedophile George Nader was allegedly both a paid adviser for the United Arab Emirates and had close ties to the Trump administration. Nader was thrust into the limelight after being interviewed twice by special counsel Robert Mueller as part of his probe into Russian meddling in the US election and collusion with the Trump campaign team. Now DailyMail.com can reveal he has flown back to the UAE, according to two sources close to the country's de-facto ruler Mohammed bin Zayed, who is known by his initials 'MBZ. The revelation comes just days after Nader was revealed to be a convicted pedophile.
Nader had partied with President Bill Clinton during Trump's transition period after his election to the White House, defeating Bill's wife, Hillary in the 2016 election. Special counsel Robert Mueller was getting the cooperation of a Lebanese-American businessman with ties to Arab royalty in his probe of foreign influence on the Trump presidential campaign, including the possibility of a back channel between the Kremlin and the Trump transition team.
Nader had been interviewed twice by special counsel Robert Mueller as part of his probe into Russian meddling and possible collusion with the Trump campaign when it emerged he is a convicted pedophile who had been found guilty in both the U.S. and Europe. A Czech Republic court sentenced him to a year in prison in 2003 for ten cases of sexually abusing minors between 1999 and 2002.
In one case, Nader asked for oral sex from a 14-year-old boy in a hotel room at the Hilton in Prague. When the boy refused, Nader masturbated in front of him and paid him 2,000 koruna, equivalent to around $100 today, a court official told the Associated Press.
Politico then revealed he was convicted in 1986 in a federal court in Northern Virginia in 1991 on a felony charge of transporting sexually explicit materials in foreign commerce – importing child pornography from overseas. He also had a 1986 charge of importing from magazines depicting nude boys from the Netherlands dismissed on a technicality.
Axios reported that he frequently visited Bannon in his White House office. During Trump's transition to the White House, Bill Clinton was at a lavish resort in Punta Cana in the Dominican Republic with Nader. That was BEFORE the Mueller investigation. You do the math.
Clinton is seen here kicking back at a beach day in Jan. 2017 in Palmilla, Bayahibe, an exclusive haven of warm waters and refuge, near the so-called Paso de Catuano, very close to Isla Saona. This resort is only in accessible by private boat.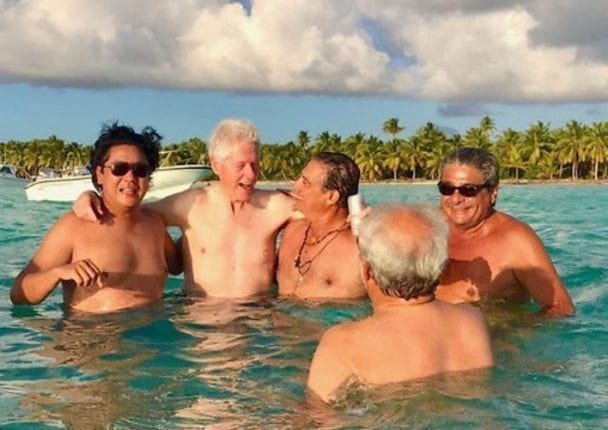 Mueller was investigating whether Nader helped steer money to help Trump politically, the New York Times reported earlier this month. No evidence was found, apparently, as the Mueller report that was released in 2019 concluded there was no evidence of collusion. But a source close to Zayed said that Nader fled to the UAE after the Emirati prince pulled strings with US officials to secure his freedom to move. 'George Nader left the US. Where is he now? He fled,' said the source.
A second source close to the Emirati royal family said Zayed is keen to know what Mueller asked his top adviser. 'George is back in the UAE, though I thought he'd be too scared to go there,' said the source. 'The fact that he's gone back there means he's obviously not worried. But MBZ is going to want to see him and know what he told the special counsel.'
Sources: TruePundit; DailyMail