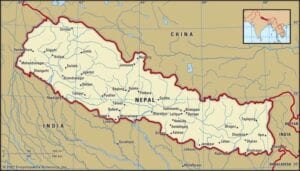 Nepal, long under the rule of hereditary prime ministers favoring a policy of isolation, remained closed to the outside world until a palace revolt in 1950 restored the crown's authority in 1951; the country gained admission to the United Nations in 1955. In 1991 the kingdom established a multiparty parliamentary system. In 2008, however, after a decade-long period of violence and turbulent negotiation with a strong Maoist insurgency, the monarchy was dissolved, and Nepal was declared a democratic republic.
Wedged between two giants, India and China, Nepal seeks to keep a balance between the two countries in its foreign policy—and thus to remain independent. A factor that contributes immensely to the geopolitical importance of the country is the fact that a strong Nepal can deny China access to the rich Gangetic Plain; Nepal thus marks the southern boundary of the Chinese sphere north of the Himalayas in Asia.
As a result of its years of geographic and self-imposed isolation, Nepal is one of the least developed nations of the world. In recent years many countries, including India, China, the United States, the United Kingdom, Japan, Denmark, Germany, Canada, and Switzerland, have provided economic assistance to Nepal. The extent of foreign aid to Nepal has been influenced to a considerable degree by the strategic position of the country between India and China.
Last year, Christians were persecuted more than ever before in the modern era — and this year is expected to be worse: "4,136 Christians were killed for faith-related reasons," according to Open Doors
USA
in its recently published World Watch List 2019 (WWL) of the top 50 nations where Christians are persecuted. "On average, that's 11 Christians killed every day for their faith." Additionally, "2,625 Christians ...
Read More
In October of 1941, before Pearl Harbor, Philadelphia clock-maker Maurice Gomberg completed a
communist
world map of future regional unions, including a continental North American Union. The name
Canada
is not on that map. However, the former provinces are depicted as states, re-federated into a vast "
United States of America
" stretching to Greenland. Maurice Gomberg sympathized with the
Communist
Party of America (CPA). Interestingly,
Canada
's recent ...
Read More