The results of a pilot study by the Univ. of Pittsburgh were published as a Research Paper in Acta Neurobiological Experimentals in 2010 and titled "Influence of pediatric vaccines on amydgala growth and opioid ligand binding in rhesus macaque infants: A pilot study." The results showed that monkeys get autism-like reaction to MMR and other vaccines.
An April 2012 VacTruth Article writes:
"Lead investigator Laura Hewitson, PhD, probably dropped a bombshell when she and her colleagues completed a macaque monkey (primates) study of the very same vaccines given to children during 1994-1999, i.e., the Measles-Mumps-Rubella (MMR) vaccine and several Thimerosal mercury-containing vaccines injected into children during that time frame when the autism spectrum disorder skyrocketed.

The results of that pilot study were published as a Research Paper in Acta Neurobiological Experimentals in 2010 and titled "Influence of pediatric vaccines on amydgala growth and opioid ligand binding in rhesus macaque infants: A pilot study." [1] Even though there was alleged controversy revolving around Hewitson's monkey studies, e.g., charges of conflicts of interest since she filed a claim with the vaccine court on behalf of her child, [2] the information generated needs to be revisited and duplicate studies need to be undertaken. Why haven't they? Is there too much influence from vaccine makers not to do them? Parents need to make demands on the U.S. Congress to require such safety studies on monkeys be duplicated immediately, plus suspend all mandates on vaccinations until the study results are in. Did Dr Hewitson become another professional persona non-grata because she may have been on the right track?
Dr Hewitson reports on the findings of the study, saying,
"Vaccine-exposed and saline-injected control infants [monkeys] underwent MRI and PET imaging at approximately 4 and 6 months of age, representing two specific timeframes within the vaccination schedule. …

"These results suggest that maturational changes in amygdala volume and the binding capacity of [11C]DPN in the amygdala was significantly altered in infant macaques receiving the vaccine schedule."
The VacTruth Article continues:
According to the Hewitson, et al. research study, biological changes and altered behaviors did occur in vaccinated monkeys, which resembled and were similar to those observed in ASD diagnosed children. However, there were no such symptoms showing or present in unvaccinated monkeys.

Don't you just gotta love those little monkeys! Guess what else the ASD monkeys came up with, and Dr Wakefield is gonna like this one: Gastrointestinal problems manifested in vaccinated macaques such as "many significant differences in the GI tissue gene expression profiles between vaccinated and unvaccinated animals." [3] It's been a deeply debated topic within medicine that vaccinated children who contract ASD also have GI tract issues. Personally, I gotta wonder how the British Medical Journal is going to deal with encrusted dried egg on its face when duplicate studies confirm the Hewitson monkey results. Perhaps the infamous BMJ retraction of the Wakefield article and Doctor's professional evisceration, commonly referred to as the "Wakefield Syndrome," euphemistically speaking is medicine protecting its vested interests.

Those little monkeys, however, came up with some other significant information that led former National Institutes of Health director Dr Bernadine Healy to voice some bon mots like:

"I think public health officials have been too quick to dismiss the hypothesis as 'irrational,' without sufficient studies of causation…without studying the population that got sick."

"I have not seen major studies that focus on 300 kids who got autistic symptoms within a period of a few weeks of the vaccines." [4]

Perhaps the most on-point quote regarding the monkey study came from Scott Bono, the National Autism Association chairman, i.e., something those who are accused of being against vaccinations have been questioning and demanding:

"To date, the CDC has conducted no safety testing on the possible harmful effects of simultaneously administering multiple vaccines to infants, and has steadfastly refused to state a preference for mercury-free vaccines to be given to children and pregnant women. It's time for HHS and Congress to step in and take vaccine safety away from the CDC." [4]

This author's retort to Mr. Bono's remark is that vaccine safety should be taken away from the Food and Drug Administration too! I'd like to remind readers that Congress is more at fault than anyone in this vaccine debacle. Congress has oversight and it has dropped the ball big time, probably due to all the lobbyists from Big Pharma who prowl the halls of Congress with deep pockets and nice expensive luncheon dates.

One of the issues I feel Congress has been remiss about is that it has not demanded safety studies and interaction of multiple vaccines studies BEFORE being placed into the marketplace. According to common and accepted knowledge, no such safety research or studies have been done on the current childhood vaccination regimen, except until the Hewitson 'monkey business' that was funded by independent, private money, for which everyone, I think, should be eternally grateful. However, the study had to be shot down since it was not favorable to vaccine makers. Why isn't someone else duplicating the monkey studies? Are they afraid of becoming another victim of science? Why, when isn't that what medical science should be all about: investigating problems and theories, publishing results, and interacting with other sciences, NOT excommunication as if they were breaking some religious dogma. Or, do they, in some vested interests minds?
Autism rates in the 80's was 1 in 10,000, which is too high, but is now (in 2016) has exploded to 1 in 45. Vaccines continued to be linked to autism, but continue to be pushed, highly recommended as safe, and even attempts to mandate them.
---
Recommended Books/DVD's: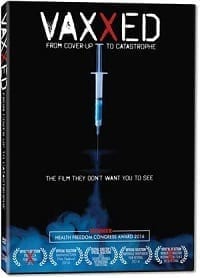 DVD: In 2013, biologist Dr. Brian Hooker received a call from a Senior Scientist at the U.S. Centers for Disease Control and Prevention (CDC) who led the agency s 2004 study on the Measles-Mumps-Rubella (MMR) vaccine and its link to autism. The scientist, Dr. William Thompson, confessed that the CDC had omitted crucial data in their final report that revealed a causal relationship between the MMR vaccine and autism. Over several months, Dr. Hooker records the phone calls made to him by Dr. Thompson who provides the confidential data destroyed by his colleagues at the CDC. Dr. Hooker enlists the help of Dr. Andrew Wakefield, the British gastroenterologist falsely accused of starting the anti-vax movement when he first reported in 1998 that the MMR vaccine may cause autism. In his ongoing effort to advocate for children s health, Wakefield directs this documentary examining the evidence behind an appalling cover-up committed by the government agency charged with protecting the health of American citizens. Interviews with pharmaceutical insiders, doctors, politicians, and parents of vaccine-injured children reveal an alarming deception that has contributed to the skyrocketing increase of autism and potentially the most catastrophic epidemic of our lifetime.
---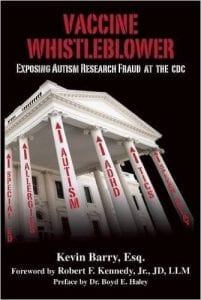 Vaccine Whistleblower is a gripping account of four legally recorded phone conversations between Dr. Brian Hooker, a scientist investigating autism and vaccine research, and Dr. William Thompson, a senior scientist in the vaccine safety division at the Centers for Disease Control and Prevention (CDC). Thompson, who is still employed at the CDC under protection of the federal Whistleblower Protection Act, discloses a pattern of data manipulation, fraud, and corruption at the highest levels of the CDC, the federal agency in charge of protecting the health of Americans. Thompson states, "Senior people just do completely unethical, vile things and no one holds them accountable."
This book nullifies the government's claims that "vaccines are safe and effective," and reveals that the government rigged research to cover up the link between vaccines and autism. Scientific truth and the health of American children have been compromised to protect the vaccine program and the pharmaceutical industry.
The financial cost of the CDC's corruption is staggering. The human cost is incalculable. Vaccine Whistleblower provides context to the implications of Thompson's revelations and directs the reader to political action.
---
A hard look at the National Vaccine Injury Compensation Program and the families desperately trying to navigate their way through it.
The Vaccine Court looks at the mysterious and often unknown world of the National Vaccine Injury Compensation Program (NVICP), the only recourse for seeking compensation for those who have been injured by a vaccine. The NVICP, better known as the "Vaccine Court," however, is not without controversy.
Established by Congress as a direct result of the passage of the National Childhood Vaccine Injury Act of 1986, the NVICP was supposed to offer a no-fault alternative to the traditional injury claims filed in state or federal courts and was to provide quick, efficient, and fair compensation for those who have been injured by vaccines. The reality, however, is that many cases take several years or longer to complete and require tremendous commitment from families already pushed to the brink of bankruptcy caring for the vaccine-injured family member, only to discover that the end result is manipulated by the government in defense of the US vaccine policy.
Mr. Rohde looks into the inner workings of the US Federal Claims Court and the NVICP. He interviews families who have filed petitions and won compensation, families who have been denied compensation, and families still waiting for a decision. By highlighting the journeys of these families—their efforts to find attorneys willing to represent them, the filing of their petitions, and the subsequent mountain of paperwork, medical records, and other documents that span years—Mr. Rohde exposes the bitter truth behind the NVICP. Through his thoughtful interviews and fact-finding research, The Vaccine Court sheds light on how the NVICP has evolved into something far more treacherous than what Congress envisioned with the National Childhood Vaccine Injury Act in 1986.
---
Public health officials state that vaccines are safe and effective, but the truth is far more complicated. Vaccination is a serious medical intervention that always carries the potential to injure and cause death as well as to prevent disease. Coercive vaccination policies deprive people of free and informed consent—the hallmark of ethical medicine. Americans are increasingly concerned about vaccine safety and the right to make individual, informed choices together with their healthcare practitioners. Vaccine Epidemic focuses on the searing debate surrounding individual and parental vaccination choice in the United States.
Habakus, Holland, and Rosenberg edit and introduce a diverse array of interrelated topics concerning the explosive vaccine controversy, including the ethics of vaccination mandates, corrupting conflicts of interest in the national vaccine program, and personal narratives of parents, children, and soldiers who have suffered vaccine injury.
Newly updated with additional chapters focusing on institutional scientific misconduct, mandates for healthcare workers, concerns about HPV vaccine development, and the story behind the Supreme Court's recent vaccine decision, Vaccine Epidemic remains the essential handbook for the vaccination choice movement and required reading for all people contemplating vaccination for themselves and their children.
---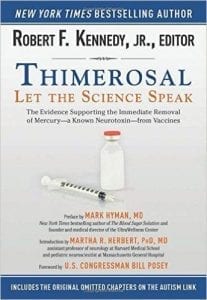 Over a decade ago, following a sharp rise in developmental disorders such as autism and ADHD, the mercury-containing preservative Thimerosal was widely believed to have been eliminated from vaccine supplies in the US and abroad. However, dangerous quantities of Thimerosal continue to be used, posing a significant threat to public health and leading to a crisis of faith in vaccine safety.
In this groundbreaking book, Robert F. Kennedy, Jr., and Dr. Mark Hyman examine the research literature on Thimerosal and make a very clear statement about its potentially dangerous effects. In the past, the CDC, FDA, NIH, and AAP, as well as the US Congress, the American Academy of Family Physicians, the US Department of Agriculture, the European Medicines Agency, and the California Environmental Protection Agency have expressed concerns over the use of Thimerosal in vaccines. But despite the many voices calling for action, the media and policy makers have repeatedly failed to adequately address the issue.
Now, with Thimerosal: Let the Science Speak, the goals are to educate parents, doctors, and health policy makers; to eliminate this toxic chemical from the world's vaccine supplies; to move toward safer alternatives; and to maintain or increase vaccination rates critical to the United States and developing nations. With safer options available, parents shouldn't have to worry about the devastating effects of vaccinating their children.