Voters in Wyoming decided the fate of former House GOP conference chairwoman Rep. Liz Cheney (R-WY) as she faced off against challenger Harriet Hageman after her decision to abandon Wyoming values to pursue a crusade against former President Donald Trump in the wake of the events of Jan. 6, 2021.
Cheney aggressively attacked Trump for over a year from her perch on the January 6 Committee in the House, a post to which she was appointed by House Speaker Nancy Pelosi–a Democrat–in an unheard of arrangement that Pelosi engaged in when she kicked actual Republicans off the committee and then House GOP leader Kevin McCarthy withdrew his Party from it altogether. Cheney, who was one of the 10 Republicans to vote to impeach Trump in early 2021 in his second impeachment, made her crusade against the former president the centerpiece of her time in office and even lost her conference chair position in the process. Trump, meanwhile, moved to settle the score with her by endorsing Hageman, a rock-solid conservative who handily defeated the RINO Cheney.
Cheney came nowhere near striking distance of beating Hageman, with the race being called within 30 minutes of the vote tally, per predictions. Needless to say, President Trump, who enthusiastically endorsed Hageman at the outset, cheered Cheney's loss on his social media site, hoping it marks the beginning of the end to the "Unselect Committee of political Hacks and Thugs," meaning the January 6 committee.
"Congratulations to Harriet Hageman on her great and very decisive (nearly 40 points difference) WIN in Wyoming," he said. "This is a wonderful result for America, and a complete rebuke of the Unselect Committee of political Hacks and Thugs." He continued:
Liz Cheney should be ashamed of herself, the way she acted, and her spiteful, sanctimonious words and actions towards others. Now she can finally disappear into the depths of political oblivion where, I am sure, she will be much happier than she is right now. Thank you WYOMING!
During her concession speech, Liz Cheney compared herself to former President Abraham Lincoln and General Ulysses S. Grant. Cheney said:
The great and original champion of our party, Abraham Lincoln, was defeated in elections for the Senate and House before he won the most important election of all. Lincoln ultimately prevailed. He saved our Union. And he defined our obligations as Americans for all of history.
"It has been said that the long arc of history bends toward justice and freedom. That's true, but only if we make it bend," Cheney later added. "Today, our highest duty is to bend the arc of history to preserve our nation and its blessings to ensure that freedom will not perish to protect the very foundations of this constitutional republic."
Alaska
Kelly Tshibaka, the former commissioner of the Alaska Department of Administration, and Sen. Lisa Murkowski (R-AK) advanced from Alaska's open primary Tuesday, setting up a Republican Party proxy war in the ranked-choice general election contest. Murkowski, who voted to convict former President Donald J. Trump on impeachment charges, is backed by establishment Republican Sen. Mitch McConnell. With 69 percent of the votes reported on Wednesday morning, she secured 66,288 votes, or 43.7 percent, according to the Associated Press election results compiled by the New York Times. Trump-backed Tshibaka was right behind Murkowski, with 61,225 votes, or 40.4 percent.
Republicans in Alaska passed rank choice voting in 2020. This confusing system is only being pushed by RINOS and radicals in conservative red states. It allows Democrats to even the playing field when they have no chance of winning. Republicans also passed mail-in voting.
Sarah Palin ran in two races in Alaska. The former governor ran in the 2022 primary race for US House of Representatives. She also ran in the special election to finish out Rep. Don Young's term in the current US House of Representatives. Young died earlier in 2022. Republicans also just passed mail-in voting!
TPM attempted to explain the confusion in the Alaska elections:
This is all a little confusing: There are two elections in play — both held Tuesday — along with a host of changes, implemented this year, to how Alaska conducts its elections, including a shift to ranked-choice. Here's what you need to know.

Palin — along with Nicholas Begich, Republican scion of a major Alaskan Democratic family, and former state Rep. Mary Peltola, a Democrat who would be the first Alaska Native in the state's congressional delegation — is competing to finish out the Young's term in a special election. Independent Al Gross, who ran for Senate in 2020, also qualified for the general election but dropped out.

Voters have ranked their choices, but the winner won't be clear until at least the end of August as mail-in ballots trickle in and officials tally the votes.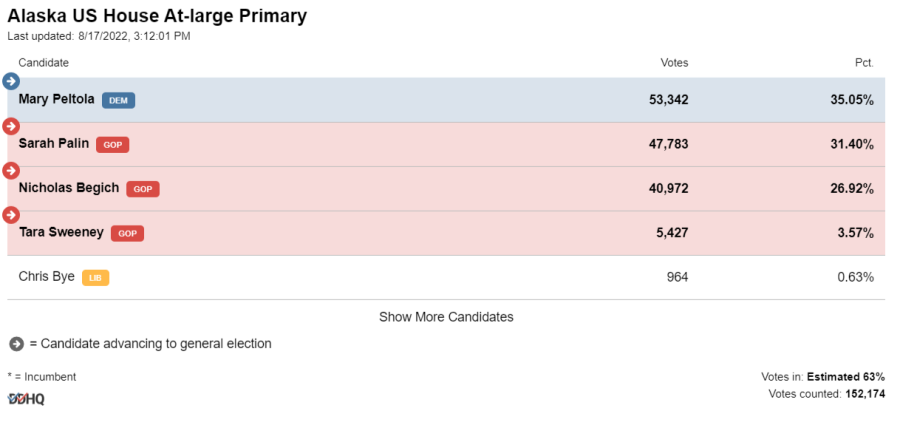 In March 2022, Alaska chose to move to mail-in voting and at the same time they dropped signature verification on ballots. Republicans basically gave the state away then.
Tshibaka highlighted the process of the ranked-choice election system in an interview on Sirius XM's Breitbart News Saturday over the weekend.
"In November, what happens is everyone gets to go in and vote for their top candidate first – if you want, you get to vote for a backup candidate or two back-up candidates or three – so you rank your second, third, and fourth choice," she explained. "If the candidate that comes in first doesn't cross the 50% line – get at least half the votes in the election – then the fourth candidate drops off. Their second, third, and fourth place votes get reallocated. The third candidate drops off, their second, third, and fourth place votes get reallocated."
She also took a swipe at Murkowski.
"She doesn't tell us the truth. She says one thing here in Alaska and then does the exact opposite in D.C.," Tshibaka said. "She'll talk about writing the infrastructure bill with Bernie Sanders, but she won't tell us that the radical extremists in the Biden administration are piling up all these new regulations on us [in the bill].
Murkowski has been a vocal critic of Trump, and her vote to convict him on impeachment charges resulted in the Alaska Republican Party censuring her in March 2021, as the Associated Press noted at the time:
"The party does not want Lisa Murkowski to be a Republican candidate," said Tuckerman Babcock, immediate past chairman of the state party.

The vote to censure Murkowski was 53-17 at a Saturday meeting in Anchorage, he said. The decision has not been publicly announced by the party.

"It went further than censure, which was strong," Babcock said. "But it also directed the party officials to recruit an opponent in the election and to the extent legally permissible, prevent Lisa Murkowski from running as a

Republican

in any election," he said.
In June 2021, Trump announced his endorsement of Tshibaka, stating that "Murkowski has got to go!"
According to Joel Davidson at Alaska Watch:
Alaska's Division of Elections will not verify the authenticity of voter signatures on the ballots cast in the upcoming June 11 special statewide primary to replace Rep. Don Young.

"There is no statutory authority to verify signatures, but voters will have to provide witness signatures," a March 25 email from Alaska's Division of Elections stated.

Since this will be the first time Alaska has ever conducted a statewide mail-in election, concerns have been raised about how the state will ensure that voters are who they claim to be.

Nationally, the most common way of verifying mail-in ballots is to have elections officials verify that a voter's signature matches the signature on file with the division of elections.
The state won't pass bills that prevent voter fraud through the verification of signatures.
Multiple bills have been introduced in the current legislative session to address voter integrity issues, including voter signature verification, but they have languished in various House and Senate committee assignments. Lt. Gov. Kevin Meyer submitted legislation to the current Legislature to address this issue, but his Senate Bill 167 has languished in the Senate State Affairs Committee since Jan. 18th with no movement. Several other bills dealing with voter signature verification have been introduced, including House Bill 96 by Gov. Mike Dunleavy. That bill has stalled in the House State Affairs Committee.
But there's more…
The Republican lawmakers managed to pass several new rules that ensure the state will be lost forever.
Seth Keshel reported:
Allow me to account for the most severe symptoms plaguing Alaska's elections:

1) Permanent Fund Dividend (PFD) automatic registration – On November 8, 2016, the same night Donald Trump was elected, Alaska's voters approved Ballot Measure 1 (15PFVR), which automatically registers applicants for the PFD. The damage will be unveiled later in this article.

2) Ranked Choice Voting (RCV) – approved in 2020, and the first election using it will be run later in 2022 for the vacant U.S. House seat left behind by the deceased Don Young. Ranked Choice Voting allows a pathway for extreme candidates to supplant candidates who are most likely to be elected with strong pluralities, and practically entrenches incumbents in Democrat strongholds.

3) Experimentation with mail-in voting – as with RCV, mail-in voting will be the method for the U.S. House race coming later in 2022. With Alaska's hostile climate and influence from west coast neighbors, it is only a matter of time until a full-on blitz begins to entrench mail-in voting.
And, once again, the national Republican Party was AWOL. They don't really care. They did nothing. At what point do we all agree that the RNC is a subsidiary of the DNC?
Sources: