Project Veritas released a new report on Google which includes undercover video of a Senior Google Executive, leaked documents, and testimony from a Google insider.
The report appears to show Google's plans to affect the outcome of the 2020 elections and "prevent" the next "Trump situation."
Watch Project Veritas' James O'Keefe live on air with Alex Jones!
The report includes undercover footage of longtime Google employee and Head of Responsible Innovation, Jen Gennai saying:
"Elizabeth Warren is saying we should break up Google. And like, I love her but she's very misguided, like that will not make it better it will make it worse, because all these smaller companies who don't have the same resources that we do will be charged with preventing the next Trump situation, it's like a small company cannot do that."
Said Project Veritas founder James O'Keefe:
"This is the third tech insider who has bravely stepped forward to expose the secrets of Silicon Valley. These new documents, supported by undercover video, raise questions of Google's neutrality and the role they see themselves fulfilling in the 2020 elections."
Jen Gennai is the head of "Responsible Innovation" for Google, a sector that monitors and evaluates the responsible implementation of Artificial Intelligence (AI) technologies. In the video, Gennai says Google has been working diligently to "prevent" the results of the 2016 election from repeating in 2020:
"We all got screwed over in 2016, again it wasn't just us, it was, the people got screwed over, the news media got screwed over, like, everybody got screwed over so we're rapidly been like, what happened there and how do we prevent it from happening again."
"We're also training our algorithms, like, if 2016 happened again, would we have, would the outcome be different?"
Google: Artificial Intelligence Is For A "fair and equitable" State
According to the insider, Machine Learning Fairness is one of the many tools Google uses to promote a political agenda. Documents leaked by a Google informant elaborate on Machine Learning Fairness and the "algorithmic unfairness" that AI product intervention aims to solve: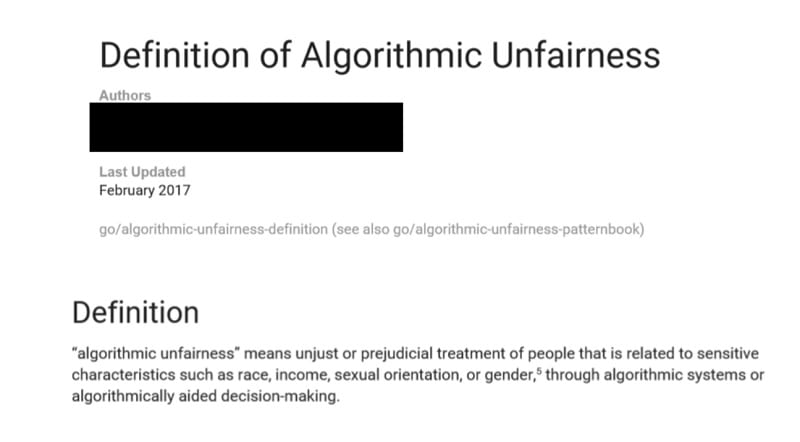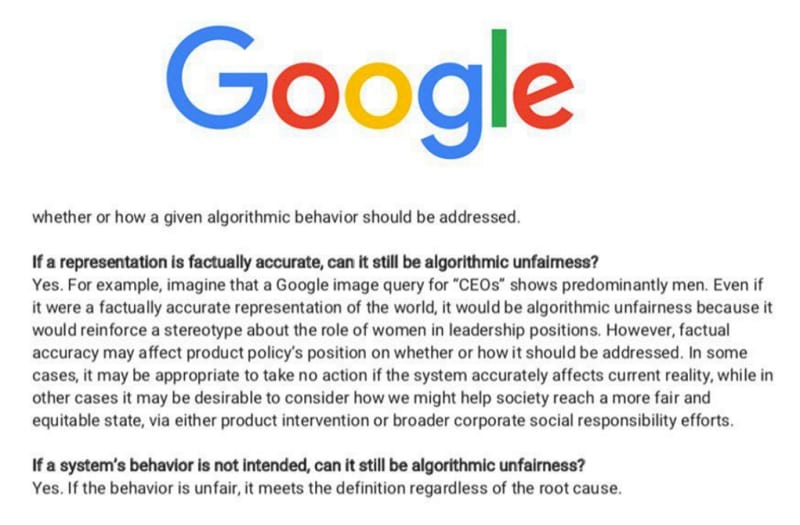 The insider showed Google search examples that show Machine Learning Fairness in action.
"The reason we launched our A.I. principles is because people were not putting that line in the sand, that they were not saying what's fair and what's equitable so we're like, well we are a big company, we're going to say it." – Jen Gennai, Head Of Responsible Innovation, Google
The Google insider explained the impact of artificial intelligence and Machine Learning Fairness:
"They're going to redefine a reality based on what they think is fair and based upon what they want, and what and is part of their agenda."
Determining credible news and an editorial agenda. . .
Additional leaked documents detail how Google defines and prioritizes content from different news publishers and how its products feature that content. One document, called the "Fake News-letter" explains Google's goal to have a "single point of truth" across their products.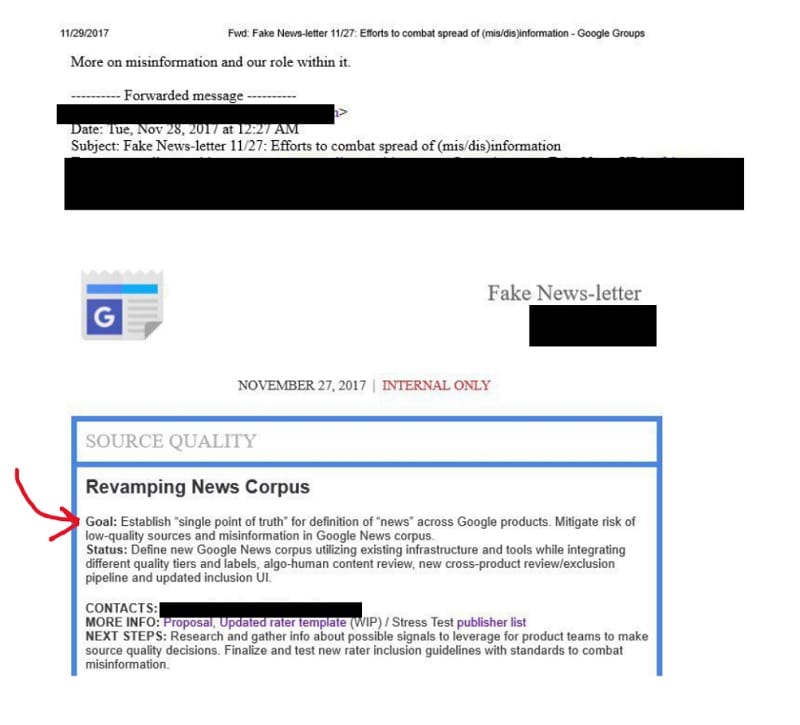 Another document received by Project Veritas explains the "News Ecosystem" which mentions "editorial guidelines" that appear to be determined and administered internally by Google. These guidelines control how content is distributed and displayed on their site.
Vimeo banned Project Veritas channel on the following day.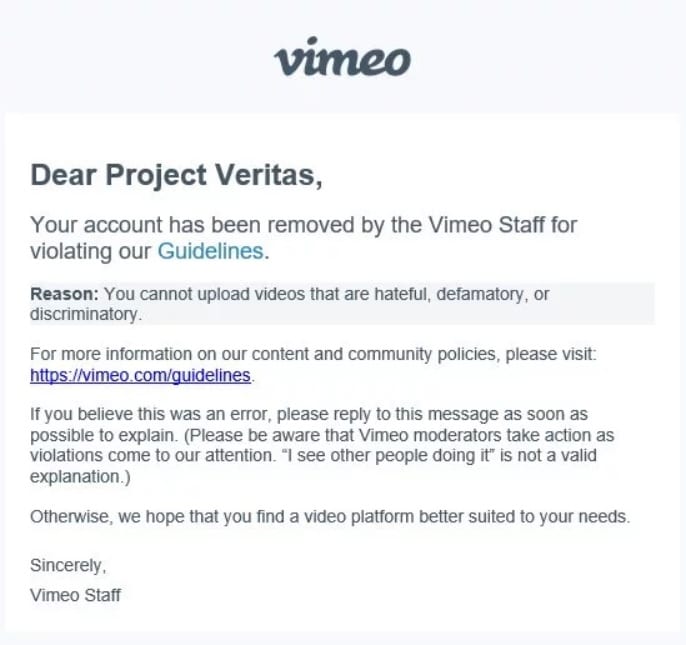 Though one has to ponder what can possibly be "hateful, defamatory, or discriminatory" about a person's own words being broadcast to the world, unless it's the subjects of the videos who are saying "hateful, defamatory, or discriminatory" things. Or maybe Carlos Maza cried about it and that's what influenced Vimeo's decision.
This comes on the heels of YouTube removing Project Veritas videos involving the Google election manipulation scandal and Twitter locking the Project Veritas account, as well as numerous other instances of big tech companies banning and removing conservative and pro-Trump content.1