Leaked documents including scanned passports of US, Saudi and UAE arms dealers and government officials expose for the first time an international weapons shipment network for arming militants in Yemen, including Islamic State terrorists in Yemen.
Recently I anonymously received explosive documents from the Serbian state-owned arms manufacturer Krusik, including e-mails, internal memos, contracts, photos, delivery schedules, and packing lists with lot numbers of weapons and their buyers. Among the leaked documents I also received scanned passports of arms dealers and government officials from the US, Saudi Arabia and UAE. They visited the Serbian arms factory to purchase weapons (mortar shells and rockets) on behalf of the US Government, Saudi Defence Ministry and UAE Army. Some of these weapons, however, have ended up with terrorists in Yemen.
Tracing Islamic State weapons in Yemen back to their suppliers
Serbian mortar shells manufactured by the Serbian state-owned arms factory Krusik can often be seen in the hands of Islamic State terrorists in their propaganda videos in Yemen.
The two letters KV mean that those mortar shells were manufactured by the Serbian arms factory Krusik (K stands for Krusik and V – for Valjevo, the town where the factory is located). The following digits 04/18 mean that the mortar shells are lot 04, produced in 2018.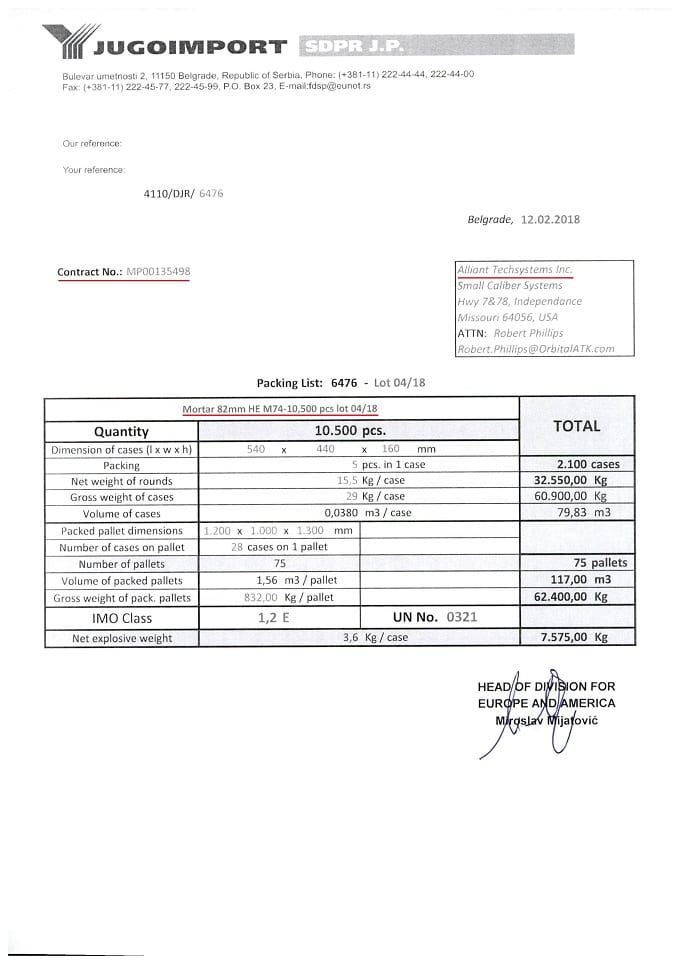 According to the documents, such 82 mm M74HE mortar shells KV lot 04/18 which appear in the Islamic State video in Yemen were purchased by the American company Alliant Techsystems LLC (a wholly owned subsidiary of ATK Orbital, USA) on behalf of the US Government. The end user indicated is the Afghan Army. However, weapons from this particular lot appear with Islamic State terrorists in Yemen.
These mortar shells 81 mm M72 HE KV Lot 01/18 were purchased by the Saudi Ministry of Defence, according to documents from the manufacturer Krusik. The exporter was the Serbian private company GIM, represented by the Serbian interior minister Nebojsa Stefanivic's father – Branko Stefanovic. Besides being interior minister, his son Nebojsa Stefanivic is also the vice prime minister of Serbia.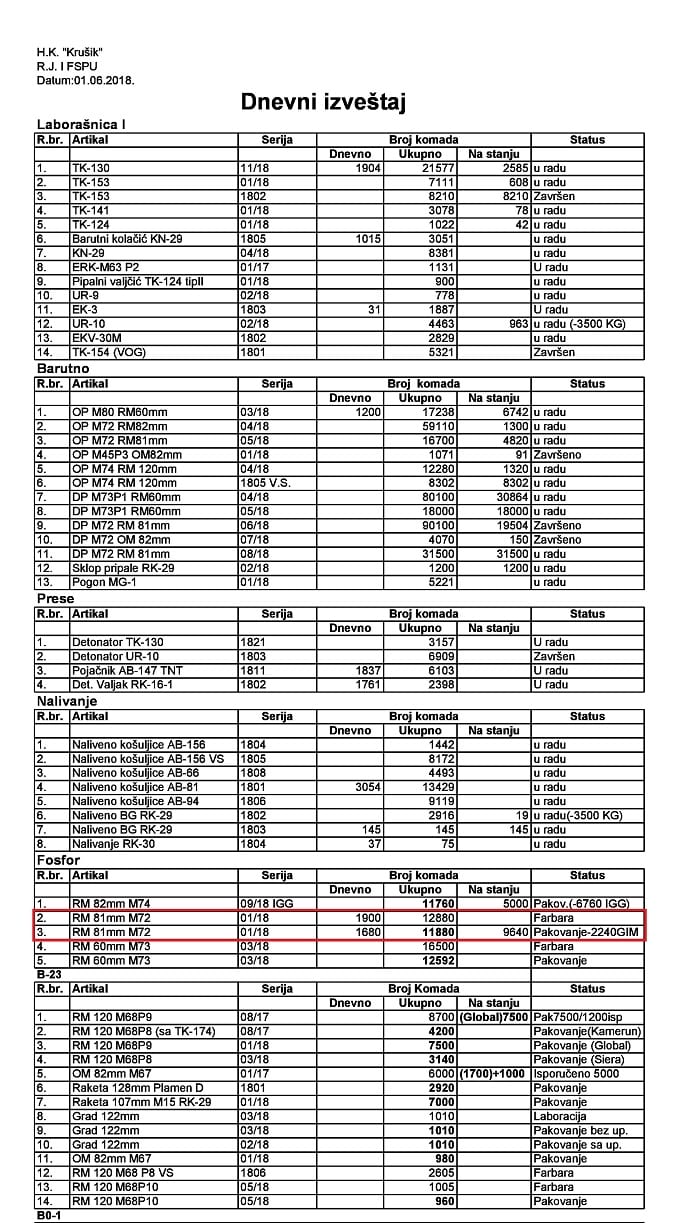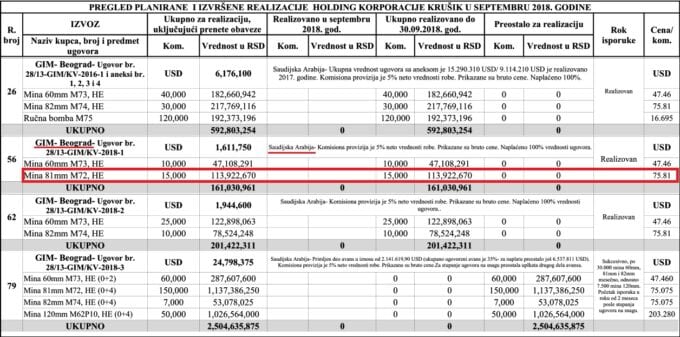 GIM signed four contracts with Saudi Arabia for the delivery of 517,000 pcs. of mortar shells from Krusik (one contract – in 2016, and three contracts – in 2018 respectively). The exporter from Serbia was GIM and the importers in Saudi Arabia were two private companies: Rinad Al Jazira, Saudi Arabia and Larkmont Holdings LTD, an offshore company registered in the British Virgin Islands. The end user was the Ministry of Defence of Saudi Arabia.
The Serbian vice prime minister's father Branko Stefanovic mediated the arms deals with Saudi Arabia.

A GIM letter dated 27 April 2017 to Krusik lists the names of three GIM representatives and three Raniad Al Jazira employees who visited the arms factory in order to inspect and accept the ordered weapons. Among the GIM representatives was Branko Stefanovic.