Fusion GPS co-founder Glenn Simpson revealed in a new book titled, "Crime in Progress" which was released in November 2019, that he was first hired to investigate Donald Trump "in the fall of 2015″. The deep state began their counter-imtelligence into the Trump campaign at least as early as December 2015 according to Strzok-Page texts. "Why? Because, as Newt Gingrich put it: "He didn't belong to the secret society".
The RussiaGate gambit to destroy Trump served a laundry list of purposes to cover it:
Undermine his legitimacy before he even takes office.
Accuse him of what Hillary actually did: collude with Russians and Ukrainians to effect the outcome of the election
Paralyze Trump on his foreign policy desires to scale back the Empire
Give aid and comfort to hurting progressives and radicalize them further undermining our political system
Polarize the electorate over the false choice of Trump's guilt.
Paralyze the Dept. of Justice and Congress so that they would not uncover the massive corruption in the intelligence agencies in the U.S. and the U.K.
Isolate Trump and take away every ally or potential ally he could have by turning them against him through prosecutor overreach.
Author Doug Wead went on Fox News
to discuss the international reaction to the
Democrat
Party's continued attacks on this president in December 2019. He claimed the international intelligence community immediately knew the
Russia
-collusion narrative was a hoax and didn't need two years to investigate this sham. That's because they were only interested in the truth, not involved in a deep state
coup
to remove a duly-elected president.
As far as Russian collusion, I have to tell you in my book there's a great story there. The kids, the Trump kids are traveling all over the world, heads of state are pulling them aside in 2017 and they're saying, "Please tell your father how sorry we are about this Russian collusion nonsense." So there you go. If you're the president of China or president of France you can't wait two years for the Mueller report. You have your own secret service, there's 120 intelligence services in the world. Everyone of them checked this out. They knew within 24 hours that this was a bogus story. The future of their country depended on knowing that. So this has kind of lingered on a little too long.
(GatewayPundit) Activist Alexei Navalny became one of the key figures in the fake Russiagate conspiracy theory when he released a video linking Trump ex-campaign manager Paul Manafort to Russian oligarch Oleg Deripaska, reported by the Telegraph in February 2018. At the same time, the Telegraph had to admit the video "does not specifically mention Donald Trump". In addition, Oleg Deripaska "denied receiving briefings from the Trump campaign, although he admitted hiring Mr. Manafort as a consultant in previous years", the Telegraph reported. Although it was a "big nothingburger", it was fit to print in the NYT.
In 2009, opposition blogger Alexei Navalny emerged as leader of the Russian opposition and was portrayed as a hero by Western media. In 2010, he graduated from a half-year Yale Greenberg World Fellowship, which was originally called White House Fellows under Bill Clinton's Presidency. The first program director of the Yale World Fellows was Dan Esty, energy and environmental policy adviser for the 2008 Obama campaign. Soon thereafter Navalny started an anti-corruption campaign in Russia that was supported early on by Secretary of State Hillary Clinton. Vladimir Putin accused Secretary Clinton of supporting Navalny in 2011, saying she sent "a signal" to "some actors in our country".
At the same time, Navalny allegedly went to work for the Open Society Foundations (OSF) methadone program, which aimed to "bring together actors, alliances from different spheres (i.e. Navalny)", as OSF documents leaked by DC Leaks showed 2015. George Soros supported a whole network of radical left-wing NGOs in Russia before being banned in 2015.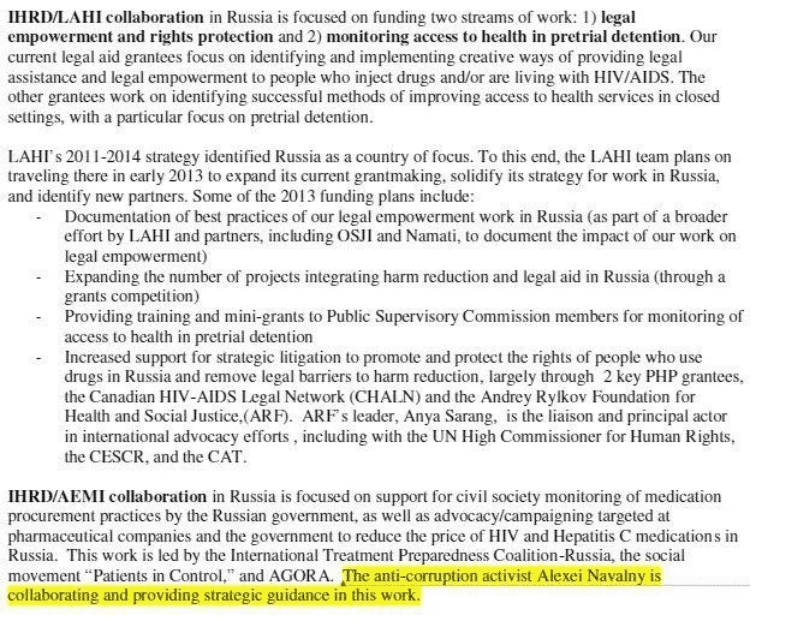 Navalny is still closely allied with exiled oligarch Mikhail Khodorkovsky, who modeled his "Open Russia Foundation" on Soros' network. Khodorkovsky's London-based investigative research unit Dossier, which has often shared hacked documents from unknown sources, was also behind NYT 2018 claims Russian lawyer Natalia Veselnitskaya was acting on behalf of the Russian government when she offered allegedly incriminating evidence to Donald Trump. Jr. in the infamous Trump Tower Meeting. It has since emerged Veselnitskaya met with Fusion GPS head Glenn Simpson before and after the June 9 2016 Trump Tower meeting, placing her closer to the Clinton opposition research campaign than the Kremlin.
Alexei Navalny and his brother Oleg were recently convicted of embezzling 26 million Rubles from French cosmetics firm Yves Rocher, with whom they had a Russian distribution deal 2008 to 2011, the Navalnys were represented in French court in Vannes, Brittany by attorneys William Bourdon and Amélie Lefebre of Association Sherpa, a whistleblower defense which also defended Edward Snowden and is supported by the Clinton Foundation's Humanity United, Freedom Fund and the Open Society Foundations. Although the plaintiff was French company Yves Rocher, who also sued for damages in France, Western media depicted it as some sort of sham trial instigated by Vladimir Putin. While Oleg was sent to prison for three years, Alexei Navalny was given a suspended sentence and remains free.
(LaRouche) Nothing of any truth about the assault on President Trump can be understood, unless one addresses the question of why all of this is occurring, along with the subsumed question of "cui bono?" This requires transcending the world of partisan politics and inside-the-beltway gossip, and the necessity for examining the strategic setting and implications surrounding the coup plot.
Everything that is now transpiring must be viewed within that truthful strategic context. During the eight years of the Obama presidency, and the prior Administration of George W. Bush, a profound shift in U.S. strategic policy took place. Obama, working closely with—and often under the direction of—the British, committed the United States to enforcing a global policy of Anglo-American hegemonism, what is sometimes referred to as a "uni-polar world." This took the form of escalating provocations against Russia, and more recently the targeting of China. Currently, this imperial Anglo-American faction is determined to thwart China's gigantic Belt and Road Initiative infrastructure development of Eurasia, Africa, Southwest