Paul Kagame took power in Rwanda after an alleged "Rwandan Genocide." This massacre of almost 1 million Rwandans now appears to have been a C.I.A.-fabricated eugenics program that also served as a false flag pretext. This pretext provided the cover to seize control of rare earth minerals in the resource-rich neighboring Congo. Those minerals are critical for the manufacturing of computers, military surveillance devices, aerospace, defense, nuclear, satellites, mobile technology and TVs by the rogue C.I.A. Deep State shadow government "Big Data" spy operation globally.
Kagame had been head of military intelligence in the Ugandan Armed Forces after being trained by the C.I.A. at the U.S. Army Command and Staff College (CGSC) in Leavenworth, Kansas.Tellingly, the official "Rwandan genocide" mainstream media and Congressional narrative MAKES NO MENTION of Kagame's extensive C.I.A. training, much less any U.S. complicity.[660].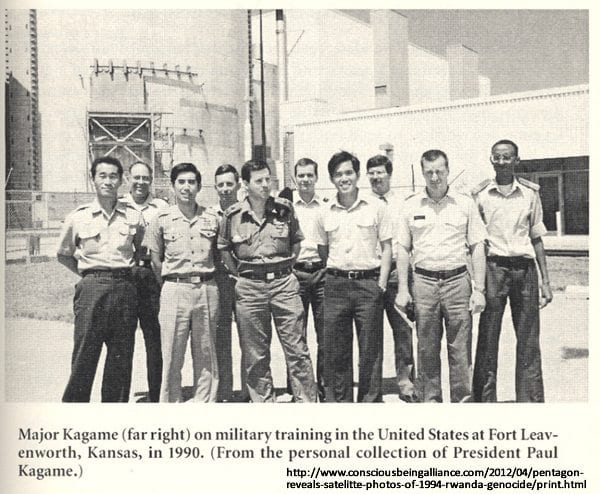 Also missing from the official MSM narrative is the sworn testimony before Congress (May 2001) and in France (2002) by NSA military intelligence analyst Wayne Madsen who testified: "A French military intelligence officer said he detected some 100 armed U.S. troops in the eastern Zaire conflict zone," Madsen's statement began: "Moreover, the DGSE [French secret service] reported the Americans had knowledge of the extermination of Hutu refugees by Tutsis in both Rwanda and eastern Zaire and were doing nothing about it. More ominously, there was reason to believe that some U.S. forces, either Special Forces or mercenaries, may have actually participated in the extermination of Hutu refugees." (pp. 9-10).[658]
H. Hrg. 107-16. (May 17, 2001). Testimony of Wayne Madsen. Genocide and Covert Operations in Africa 1993-1999. Subcommittee on International Operations and Human Rights, US 107th Congress, 1st Session. Serial No. 107-16. US House of Representatives.
Wayne Madsen. (1999). Genocide and Covert Operations in Africa, 1993-1999. Mellen Press.
Guillaume Kress. (Sep. 09, 2015). Who Is Behind the Rwandan Genocide? Debunking the "Hutu Extremist" Myth. Global Research.
Keith Harmon Snow. (Apr. 05, 2012). Pentagon Produces Satellite Photos Of 1994 Rwanda Genocide. Conscious Being.
The official UN-sanctioned and amazingly unquestioned "Hutu genocide rampage" narrative is not credible just on the numbers, as proven by Global Research and common sense.
Rwandans martyred by Bill & Hillary Clinton & the Globalists
The beneficiaries from the death and martyrdom of 1 million Rwandans were globalist technology companies who were securing their access to rare earth minerals needed in the manufacture of electronic devices. These minerals are plentiful in the mines of Central Africa. These natural resources should bring great wealth to the Central African economies, but do not because they are extracted under contracts with corrupt, globalist-backed New World Order dictators and strongmen. These companies are members of:
C.I.A.'s In-Q-Tel private venture capital company,
National Infrastructure Assurance/Advisory Council (NIAC),
the National Venture Capital Association (NCVA),
The IBM Eclipse Foundation,
Obama's Technology CEO's Council, and
Obama Silicon Valley outpost of the U.S. Digital Service funded with $1.5 billion in funds from Google's Eric Schmidt … among others.
President Bill Clinton did nothing to stop this 100-day so-called "Rwandan Genocide" that brought to power The Clinton Foundation protégé, Paul Kagame—a C.I.A.-trained member of the minority (8.4%) Tutsi tribe.
The beneficiaries were global technology players in electronic capacitors essential to aerospace weaponry, mobile phones, computers, TVs, disk drives and chips manufactured by Sony, Compaq, Microsoft, Dell, Ericsson, Hewlett-Packard, IBM, Nokia, Intel, Lucent, and Motorola.
The official narrative is suspect and appears to have been a C.I.A. false flag pretext. NSA analyst Wayne Madsen concurs in his book abstract for Genocide and Covert Operations in Africa, 1993-1999 (Mellen Press, 1999): "The USA was not merely an innocent bystander to the events that led to the systematic mass killing of humans. It also introduces the world of international mining and the dubious nature of the network of investors and agents of influence that support the mining industry. It considers how the unlikely confluence of African, American, Southeast Asian and even Arkansas politics had tremendous consequences for many disparate players, including the Clinton administration, the Habyarimana regime in Rwanda, Marshal Mobutu of Zaire, and the peoples of Sierra Leone, Congo, and Angola."
Hutus were 91.6% of the population. On Apr. 06, 1994, moderate Hutu President Juvénal Habyarimana's plane was shot down by two French-supplied Russian SAM-16 Gimlet missiles (captured in Iraq in Feb. 1991, Le Figaro) along with fellow Hutu passenger and Burundi President Cyprien Ntaryamira. Habyarimana's assassination is said to have ignited Hutu-Tutsi ethnic tensions in the region and a genocidal rampage against minority Tutsi. The facts support an opposite story.
On Apr. 07, 1994, the next day, a well-funded and well-armed C.I.A. agent and Tutsi named Paul Kagame, who commanded the Rwanda Patriotic Front (RPF) replete with Ugandan mercenaries, said he would resume the civil