The 65th Annual Grammy Awards held in Los Angeles Sunday night and broadcast on CBS featured the Grammy's usual tribute to the Prince of Darkness, this time apparently sponsored by pharmaceutical giant Pfizer.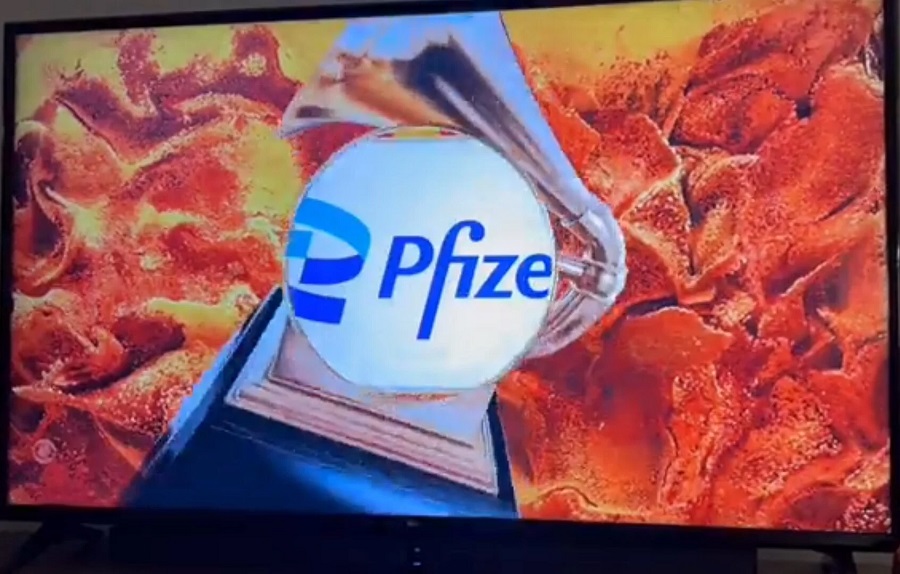 The Satanic performance of the 2022 hit song Unholy by Sam Smith and transgender singer Kim Petras ("Mummy don't know Daddy's getting hot, At the Body Shop, doing something unholy") was followed by a promo that said the Grammy Awards show was sponsored by Pfizer.
Jill Biden made a "surprise" appearance at the end of the show. TGP report here. (Unholy is definitely a Biden family values song.)
😈 Kim Petras and Sam Smith perform their Grammy-winning hit 'Unholy' at the #Grammys

More coverage: https://t.co/yA4ADQMtEl pic.twitter.com/95gmKUoigN

— Reuters Showbiz (@ReutersShowbiz) February 6, 2023
Video of the end of the performance and Pfizer sponsor message.
America, THE STATE OF THE DEMONIC LEFT IN 30 SECONDS.

Watch till the end. They do not even try to hide it. #GRAMMYs #Grammys2023 pic.twitter.com/uCjNMFrd9v

— Ada Lluch 🇪🇸 (@ada_lluch) February 6, 2023
Performance of Unholy:
— 📁 (@unholymedias) February 6, 2023
Smith and Petras were awarded a Grammy at the show for Unholy in the Best Pop Duo/Group Performance category.
'I want to thank all the incredible transgender legends before me who kicked these doors open' — Kim Petras and fellow 'Unholy' singer Sam Smith become the first-ever trans and nonbinary artists to win a Grammy in the Best Pop Duo/Group Performance category pic.twitter.com/SGSyUtbYHc

— NowThis (@nowthisnews) February 6, 2023
Lyric video:
This is indeed how indoctrination works:
Tonight's Unholy affair sponsored by Pfizer.
It's in plain sight. They don't care
This is how indoctrination looks pic.twitter.com/FAwS04XHID

— IamFrank (@IamStillFrank) February 6, 2023
Benny Johnson noticed a similarity between tonight's performance and one by Joe Biden a few months back. Same vibes, indeed.
Same vibes pic.twitter.com/qNwYCHHY2N

— Benny Johnson (@bennyjohnson) February 6, 2023
An apt prediction.
Not the Pfizer ad after the performance of "Unholy" 😂
The antivaxxers gonna come strong with the 'mark of the beast' propaganda

— Amancé (@AmanAdwin) February 6, 2023
Savanah Hernandez, "Logging into twitter and immediately seeing satanic transexuals everywhere. A sad cry for attention from subpar "musicians". Hollywood is dead and our culture has been conquered by the LGTBQ cult. Sad."
Logging into twitter and immediately seeing satanic transexuals everywhere.

A sad cry for attention from subpar "musicians". Hollywood is dead and our culture has been conquered by the LGTBQ cult.

Sad.

— Savanah Hernandez (@sav_says_) February 6, 2023
Montage video includes introduction of Unholy by Madonna:
'Beautifully Unholy' Transgender Satanic Grammy Performance Brought To You By Pfizer

Is it beginning to make sense yet? pic.twitter.com/Q4uLhOjmcb

— Red Voice Media (@redvoicenews) February 6, 2023
Before the Grammy show, CBS tweeted to Sam Smith, "We are ready to worship!"
….you can say that again. We are ready to worship!

— CBS (@CBS) February 5, 2023
Monday afternoon Newsweek confirmed Pfizer's sponsorship of the Grammys:
While Pfizer is not listed as an official partner of the 2023 Grammy Awards, it has confirmed in a statement to Newsweek that it was a paid sponsor at this year's event.

Responding to the reaction to Pfizer's placement next to Sam Smith's devil-themed performance, a Pfizer spokesperson told Newsweek, "We sponsored the overall Grammy's event, not any particular performance. Beyond that, we don't comment on our efforts to raise awareness."
Source: TheGatewayPundit
See Also: