On July 6, 1918, Allied troops readied themselves for a forgotten battle that turned the tide of World War I. Thousands of American servicemen marched through the night to position themselves for a surprise strike against the Germans.
A thunderstorm raged the third week of July 1918. Other than the occasional arcs of white-hot lightning, the night was so dark that the American Marines marched with each man holding one hand on the pack of the man in front of him to avoid getting lost. They hadn't eaten in more than a day, and the men were bone-weary. Still, they were moving as quickly as possible on the slippery footing in the Retz Forest (France). Screened by the trees and the weather, they were rushing to get into position for a morning attack, hopefully before the Germans noticed what was happening.
Some men fell asleep while marching or while riding their horses. Along the way, they passed the grisly remains of previous battles: horses sliced into pieces and left to rot where they lay. Many were cut clean in half, and one, blown off the ground by artillery shells, dangled from a tree like a gruesome piñata. The sights and smells spooked the living horses, and the cavalrymen and artillerymen found it difficult to get their mounts to proceed through the forest.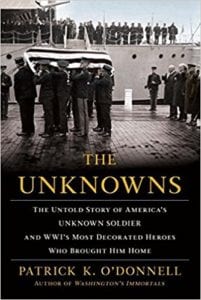 The story of that haunting night march and the deadly battle that followed is retold in my new best-selling book, The Unknowns: The Untold Story of America's Unknown Soldier and WWI's Most Decorated Heroes Who Brought Him Home. Recently released, The Unknowns follows eight American heroes who accomplished extraordinary feats in some of the