The British Empire's top "Empire Builders" formed The British Pilgrims Society at the Carlton Hotel, London. They were Privy Councilors, admirals, generals, spies, virologist (Sir Henry Wellcome), Guglielmo Marconi (wireless), bankers (Lord Rothschild), industrialists, lawyers, aristocrats, politicians, publishers and newspapermen.
BRITISH PIRATE DANDIES BOARDED AMERICA'S SHIP OF STATE 118 YEARS AGO HELPED BY COLUMBIA UNIVERSITY
King Edwards' "Empire Builders" were a notorious mob of over-funded British pirates: bejewelled war lords, war criminals, murderers, royalists, warlocks, blackmailers, seditionists, aristocrats, terrorists, traitors, mercenaries, rapists, devil-worshipers, sodomists, child molesters, luciferians, Satanists, pedophiles, bisexuals, rapists, liars, necromancers, homosexuals, propagandists, blasphemers, abusers, chauvinists, bullies, playboys, dandies, silver spooners, prevaricators, effete snobs, blowhards, addicts and power mongers determined to use the global power of the British Empire to seize control of the world for themselves and their depravities, permanently.
The British Pilgrims Society has used its agents to create laws in the U.S. that are controlled by conspirators, and not by We the People.
Since those demonic laws are followed, the Pilgrims have cajoled the American citizenry into a witless conformity to their evil—thus transforming too many aspects in American society into a lie guided by the Pilgrims' agents. Take ghastly abortion as just one example—the murder of innocents. Why haven't we stopped it?
To make this abortion demon-law worse, we do not stop the abortuary providers from trafficking in the dismembered baby parts for profit. Instead, we prosecute and fine whistleblowers who caught them red-handed selling murdered baby organs.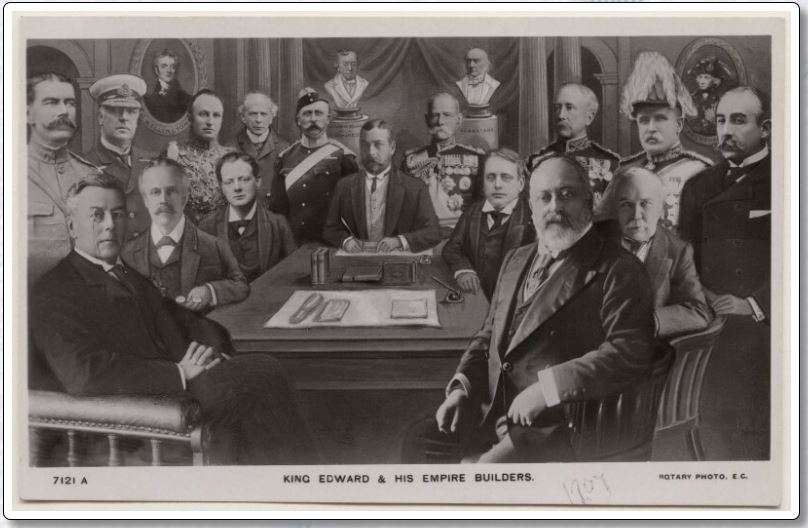 By 1902, the British Pilgrims had evidently already singled out selected American "Robber barons" that they would recruit to their "Empire Building," many of whom were in Britain for the delayed coronation of Edward VII following the deaths of Queen Victoria and Cecil John Rhodes—their empire building prime mover. We will discuss their names below.
Among those Americans was a groom-in-process: Columbia University lawyer named William J. Donovan who would attend Columbia as an undergrad and law student (1903-1907).
From the moment that Rhodes first wanted America back as a British colony, William J. Donovan's treasonous Pilgrims Society implemented Cecil Rhodes' imperative to make America British again. It was a central component of Rhodes' plan to build a new corporatist British federal empire that was shielded from liability for ALL their evil acts by the Monarch's Bank of England and the Crown Courts hiding in a one square mile named The City of London, also named The City of London Corporation (not to be mistaken for Greater London).
W.T. Stead, Cecil Rhodes' biographer, was an infamous necromancer spiritualist. He conjured up the dead, published Borderland quarterly, and even formed corporations on the instruction of dead spirits (e.g., "Julia's Bureau").
Oracle Larry Ellison's convicted pedophile baby daddy, First Church of Psycho Science Rev. Dr. Hugh "Sinclair" Moore was Stead's traveling secretary and seance assistant.
Note: the Oracle database is used by Google, Amazon, Facebook, Instagram, PayPal, NSA, GCHQ, British Companies House (securities), C.I.A. Naval and Admiralty intelligence, etc. to catalogue data on every human being on the planet to be exploited by the Pilgrims' spectral demons to enslave all humanity.
HYPOTHESIS: CECIL RHODES' EVIL SPECTER AND ITS DEMONS HAVE RUN THE "DEEP STATE" SINCE HIS DEATH ON MAR. 26, 1902
RHODES' PHANTOM WAS CONJURED UP BY W.T. STEAD, HIS NECROMANTIC BIOGRAPHER & PILGRIMS SOCIETY CHIEF "GOVERNMENT BY JOURNALISM" STRATEGIST
"FOR WE WRESTLE NOT AGAINST FLESH AND BLOOD, BUT AGAINST PRINCIPALITIES, AGAINST POWERS, AGAINST THE RULERS OF THE DARKNESS OF THIS WORLD, AGAINST SPIRITUAL WICKEDNESS IN HIGH PLACES. —EPHESIANS 6:12.
There is strong evidence that W.T. Stead's Victorian necromancy has driven the vision of the Pilgrims Society since its founding in 1902. Stead published this in 1902:
"The proposal to construct a bridge across the abyss will stagger most people by its audacity. Some will regard it as profane. But all those who have taken any intelligent interest in the progress of psychical research will admit that the time is at hand when such an enterprise ought to be taken in hand by serious investigators, and resolutely prosecuted to its final conclusion." (Emphasis ours). — W.T. STEAD, MAY 01, 1909 (JUST TWO MONTHS BEFORE THE FIRST IMPERIAL PRESS CONFERENCE, 1909, JUN. 05-28, 1909)
(This bears repeating: W.T. Stead's staff assistant when these words were spoken in 1909 was Oracle Larry Ellison's baby daddy convicted pedophile, Rev. Dr. Hugh "Sinclair" Moore, founder of the First Church of Psycho-Science, Oakland CA.)
A Parliament of the Press (248 pgs.) was printed within days of the end of the First Imperial Press Conference, 1909. It was distributed to the 650 participants. It was not the only book lavished upon the delegates.
The delegates were given two other books provided by the imperial warmonger pharmaceutical Burroughs Wellcome & Co., now GlaxoSmithKline (Read: biochemical warfare was in the planning for the new and improved British Imperial Empire):
The Evolution of Journalism Etcetera (371 pgs.) and Imperial Press Conference, Souvenir Guide to London (653 pgs.).
IMPORTANT HISTORICAL CONTEXT: LORD ROSEBERY HAD INHERITED THE N.M. ROTHSCHILD & SONS FORTUNE AT THE SUSPICIOUS DEATH OF HIS WIFE HANNAH ROTHSCHILD AT AGE 39 IN 1890—THE SAME YEAR THAT J.P. MORGAN'S FATHER DIED SUSPICIOUSLY IN A TRAFFIC ACCIDENT ON THE RIVIERA. REMARKABLY, LORD ROSEBERY WAS ELECTED BRITISH PRIME MINISTER JUST FOUR YEARS LATER ON MAR. 05, 1994.
RHODES' SPECTRAL DEMON (AND NOT A HUMAN PER SE) IS DIRECTING THE "DEEP STATE"
Put simply, it is highly likely the British-UN "new world order" is being directed by no human being, but rather by the evil specteral demons of Cecil Rhodes and his diabolical vision for a British one world order.
Indeed, the Pilgrims' 24-step written strategy was discovered and published by the scrappy suffragette journalist Lillian Scott Troy in 1912. This Rhodes' strategy is still being implemented today, unchanged.
1912 was the year the Pilgrims ordered J.P. Morgan to buy up editorial control in all major U.S. newspapers.
In 1913 the Federal Reserve was formed—all by members of the Pilgrims Society, including the British Pilgrims puppet President Woodrow Wilson.
The British Pilgrims and their American sychophants at Columbia University were preparing false flag propaganda (Germans were bayonetting Belgian babies and rendering soap and gun powder out of their little bodies—which was 100% fabricated by British newspapers to turn the British public toward supporting war) to start WWI and accuse Christian Czar Nicholas Romanov of disloyalty in not supporting his British cousins against Germany (Viscount Alfred Milner's specter).
This reliance on Rhodes' specter-driven inspiration only has power until we call it out. Remarkably, it appears that Rhodes' specter and its demons have dramatically influenced life on this earth for more than 120 years.
Thankfully, angelic forces have preserved humanity, despite these specters, and fight with us in love.
Arguably, since president Woodrow Wilson (1913-21) ceded control of American monetary policy to the Federal Reserve (Rothschild-controlled foreign banks) in 1913, American policy has been dictated by the British Empire via the Pilgrims Society.
Donald Trump was a bump in the road. Now that they have climbed back in the saddle under Pretender Biden and Vice Pretender Kamala D. Harris, they will continue their diabolical plan to choke out the lives of God-fearing Americans. They are trying to replace love with a psychotic, demonic, hate-filled cancel culture.
***
A few months after the British Pilgrims organized, the British founders chose Henry Codman Potter, the Bishop of New York, to organize the first meeting of the American Pilgrims at the Waldorf Astoria in New York on Feb. 04, 1903. They asked Potter to become the first president of their American "branch" (from 1903-07).