Public concerns began when a 9 November 2022 CoinDesk article stated that FTX's partner firm Alameda Research had a significant portion of its assets in FTX's native token FTT. Following this revelation, rival exchange Binance's CEO Changpeng Zhao announced that Binance would sell its holdings of the token, which was quickly followed by a bank run, collapsing the value of the token. This left FTX in a liquidity crisis in which depositors could not withdraw their funds, and Binance signed a letter of intent to acquire the firm with due diligence to follow, but Binance withdrew its offer the next day. FTX filed for Chapter 11 bankruptcy protection on 11 November 2022.1
The CEO of now-bankrupt FTX admitted that FTX was nothing more than a laundromat for the Ukrainian government. TGP reported that the now-bankrupt FTX was transferring money to Ukraine and then laundering money back from Ukraine to the Democrat party. FTX CEO Sam Bankman-Fried donated $38 million to Democrats this year. Mitch McConnell took funding from FTX for his Senate Leadership Fund.
Bankman-Fried also gave over $1 million to the LGBTQ victory fund that boosted a transgender lawmaker into office.
TGP reported that FTX lent out billions of dollars in customer funds to Bankman-Fried's hedge fund, Alameda Research. Then Alameda gave a $1 billion loan to Bankman-Fried himself and a $543 million loan made to FTX cofounder Nishad Singh. That was just before the company went bankrupt, so Bankman-Fried nor cofounder Singh will not be hitting the soup line anytime soon.
It was also revealed that FTX had partnered with Ukraine to process donations to their war efforts within days of Joe Biden pledging billions of American taxpayer dollars to the country. Ukraine invested into FTX as the Biden administration funneled funds to the invaded nation, and FTX then made massive donations to Democrats in the US.
An article from the cryptocurrency news website Coindesk from March 15, 2022 reported that Ukraine partnered with FTX, and that "FTX is converting crypto contributions to Ukraine's war effort into fiat for deposit at the National Bank of Ukraine." Fiat is the legal tender or paper money of a particular country.


There is a lot more to this story, and it intersects with all of the usual Cult players, from BlackRock to the CIA to the WEF and various "nonprofit" slush funds, et al.
Separately, CoinTelegraph adds that in addition to SBF, the low profile FTX co-founder Gary Wang and director of engineering Nishad Singh are also said to be in the Bahamas and are "under supervision" by the local authorities. A source familiar with the matter told Cointelegraph that the three former FTX executives, as well as Alameda Research CEO Caroline Ellison, are looking for ways to flee to Dubai. While the plan was made assuming that the United States "doesn't have any extradition treaties" with the UAE, the nations signed a mutual legal assistance treaty (MLAT) back on Feb. 24, 2022, to work against criminals.1
Amid the Covid pandemic, the FTX Foundation bankrolled a clinical trial study group known as Together.
Together ran trials that purportedly aimed "to identify effective repurposed therapies to prevent the disease progression of COVID-19."
"Can we use existing medications to treat people with early diagnosed COVID-19?" the Together group was supposedly tasked with figuring out.
Together investigated several medications which were being touted as possible low-cost Covid remedies, among them anti-parasitic drug ivermectin and Hydroxychloroquine.
One such large-scale multi-author study published by Together in the New England Journal of Medicine looked at whether ivermectin could be effective at preventing Covid-19 hospitalization.
The study's conclusion claimed: "Treatment with ivermectin did not result in a lower incidence of medical admission to a hospital due to progression of Covid-19 or of prolonged emergency department observation among outpatients with an early diagnosis of Covid-19."
The results of Together's ivermectin study were cited earlier this year by mainstream media outlets, such as the New York Times, as one more nail in the coffin proving the drug "does not reduce risk of Covid hospitalization."
Discussing the study's results in an interview with the Times, researcher Dr. David Boulware knocked the drug, saying, "There's really no sign of any benefit."
"Now that people can dive into the details and the data, hopefully that will steer the majority of doctors away from ivermectin towards other therapies," Dr. Boulware told the Times.
The article also quoted Brigham and Women's Hospital clinical director Dr. Paul Sax, saying, "At some point it will become a waste of resources to continue studying an unpromising approach."
The Cato Institute pushed back against Together's clinical trial, noting the study should be scrutinized to see if researchers were biased, in addition to a host of other possible study errors.
Together researchers also ran the same hit job on hydroxychloroquine, ultimately coming to the conclusion that: "In this randomized clinical trial, neither hydroxychloroquine nor lopinavir-ritonavir showed any significant benefit for decreasing COVID-19–associated hospitalization or other secondary clinical outcomes."
A chart of investigated interventions provided by Together shows studies into the possible efficacy of hydroxychloroquine and ivermectin were "Stopped early for futility."
Both hydroxychloroquine and ivermectin were promoted as inexpensive but effective alternative therapeutics that successfully treated Covid-19 infections for many physicians (and quietly many politicians) during early treatment protocols.
The FTX Foundation has also noted they invested in "next-generation coronavirus vaccines."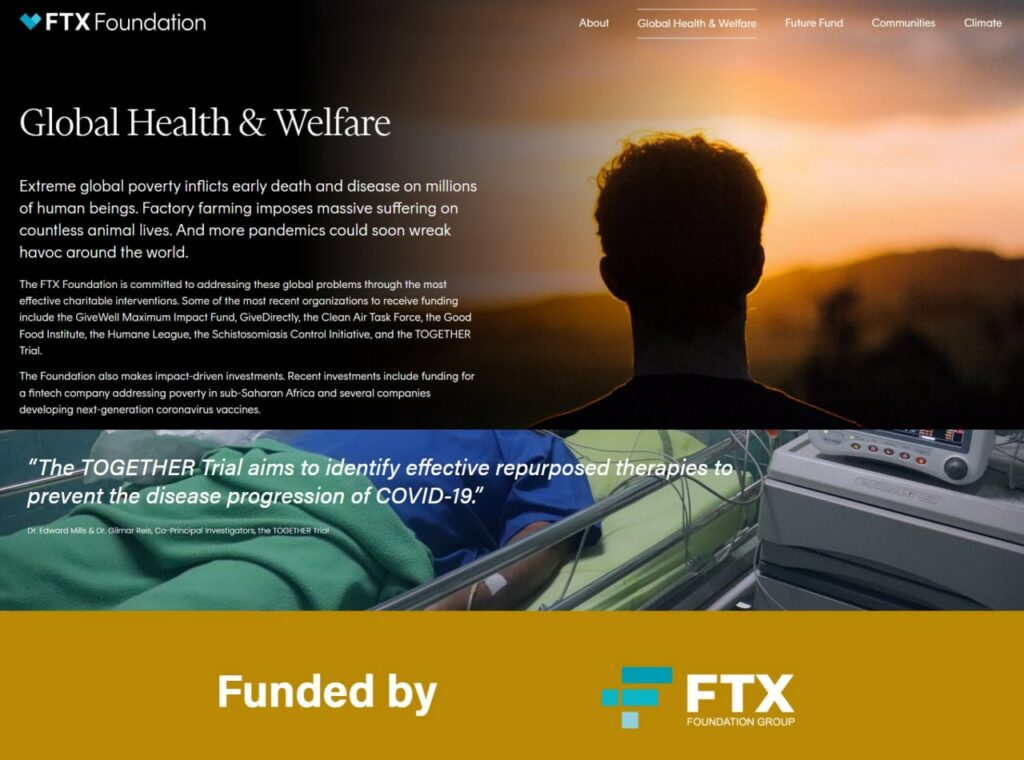 As the collapse of FTX continues to unfold, a wider picture is beginning to emerge of it not just being a Democrat slush fund, but of it being a well-funded tool to stomp out competition and pave the way for Big Pharma treatments like experimental Covid vaccines.
TRUMPLOSE
The Financial Times obtained a balance sheet of FTX which revealed FTX had only "$900mn of assets it could easily sell, despite having $9bn of liabilities." One of the most shocking revelations is that the balance sheet listed a $7 million dollar asset called "TRUMPLOSE". The Financial Times report called the TRUMPLOSE holding "obscure" and also noticed FTX had no bitcoin assets despite having Bitcoin liabilities of $1.4bn.3
The corporate media is ignoring these details but are instead commenting on Sam Bankman-Fried's sleep schedule:
Word count NYT's puff piece on SBF:

"Fraud": 0
"Enron": 0
"Crime": 0
"Illiquid": 0
"Stolen": 0
"Hidden": 0
"Criminal": 0
"Back door": 0
"He's getting sleep": 1 pic.twitter.com/htbte8IyPI

— Trung Phan (@TrungTPhan) November 15, 2022
Here's the CEO of FTX:
CEO of FTX – 🤡🌏 pic.twitter.com/vR0G79sRnE

— Tyler (@ApeDurden) November 11, 2022
The developing scandal has resulted in some brilliant memes circulating on social media explaining and ridiculing the FTX meltdown.
Fake Financials and Creditors
In the US there are requirements for companies to prepare timely and accurate financial statements. Auditors confirm these results and issue reports describing their work and what is being confirmed. It is important for the financials to be accurate and timely. FTX apparently didn't do this. In addition to all the issues with the financials, in a filing today, the debtors of FTX have requested that the names and lists of all the creditors of FTX be kept secret.
Dark money warlord Maxine Waters, somehow the Chair of the House Financial Services Committee at the time, did not plan to subpoena Sam Bankman-Fried to compel testimony from the apparent leader of one of the most corrupt money laundering schemes in history. Waters has only lofted praise to the disgraced FTX owner who is responsible for millions of people losing their crypto investments overnight. In one tweet, Waters was quoted saying "SBF we appreciate that you've been candid in your discussions about what happened at #FTX. Your willingness to talk to the public will help the company's customers, investors, and others." She would continue "We would welcome your participation in our hearing on the 13th." Previously The Gateway Pundit reported Maxine Waters blew a kiss toward SBF after a cryptocurrency exchange hearing in 2021.