The Michigian State Senate Committee on Oversight hold a hearing featuring testimony regarding absentee ballot counting at the TCF Center in Detroit.
The Michigan Senate Oversight Committee on Tuesday held a hearing in Lansing on election fraud and irregularities. President Trump was ahead of Joe Biden in Michigan on election night when all of a sudden they stopped counting votes. At around 4:30 AM AFTER Election Day, a massive ballot dump of more than 130,000 votes appeared for Joe Biden in Michigan.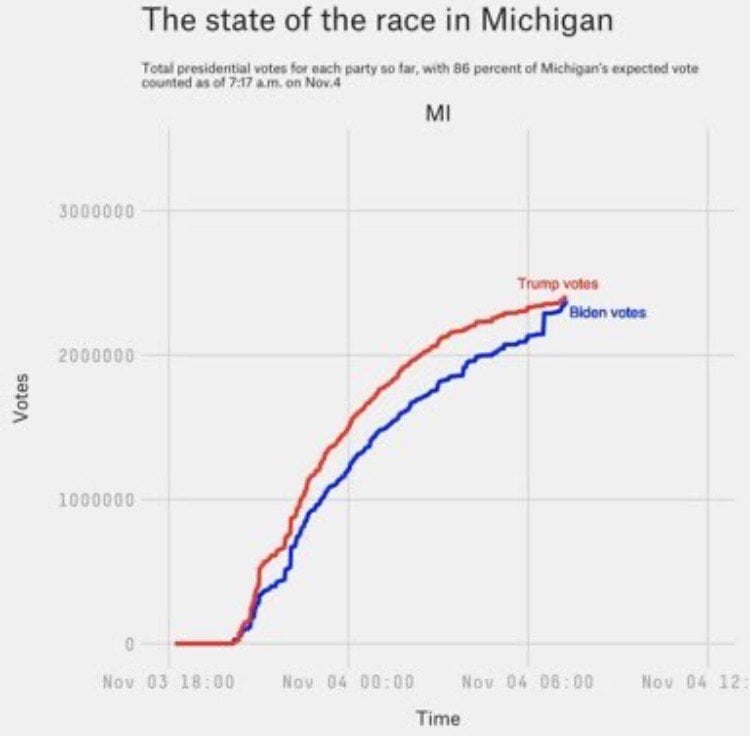 One witness testified at the hearings that all of the military ballots she saw looked like "Xerox copies" of each other – none were registered Michigan voters and 100% went for Joe Biden. The witness, Patty, described how elections officials overrode the system to enter non-registered voters – all for Joe Biden.
"Not one of the military ballots was a registered voter and the ballots looked like they were all exactly the same Xerox copies of the ballot – they were all for Biden across the board, there wasn't a single Trump vote and none of the voters were registered, "witness Patty said. "They had to manually enter the names, addresses, enter birthdate of 1/1/2020 which would override the system and allow them to enter non-registered voters of which I saw several that day, throughout the day, that's how they would override voters that were neither in the electronic poll book or in the supplemental updated poll book."
https://twitter.com/TeamTrump/status/1333816290708951041?ref_src=twsrc%5Etfw%7Ctwcamp%5Etweetembed%7Ctwterm%5E1333816290708951041%7Ctwgr%5E%7Ctwcon%5Es1_&ref_url=https%3A%2F%2Fwww.thegatewaypundit.com%2F2020%2F12%2Fmichigan-witness-says-military-ballots-saw-looked-like-xerox-copies-100-joe-biden-video%2F
Source: The Gateway Pundit
---
Melissa Carone was one of those who testified. She is a Dominion-trained IT contractor who blew the whistle on Dominion workers and revealed ballots were being tabulated in the Department of Elections which is completely illegal. Ms. Carone stunned the Michigan state lawmakers when she revealed there were tabulation machines at the Department of Elections. Carone also revealed that batches of ballots were being scanned 8-10 ten times. Melissa Carone also said one of the Dominion workers disappeared to a "warehouse" for several hours right before a big data dump for Joe Biden.
---
A poll watcher came forward and said he witnessed the shady 4 AM Biden ballot dump in Michigan after Election Day.2
https://twitter.com/realDonaldTrump/status/1333846469007335426?ref_src=twsrc%5Etfw%7Ctwcamp%5Etweetembed%7Ctwterm%5E1333846469007335426%7Ctwgr%5E%7Ctwcon%5Es1_&ref_url=https%3A%2F%2Fwww.thegatewaypundit.com%2F%3Fp%3D559071
---
You have to Love this woman!!!
(via TGP) Dr Linda Lee Tarver is a former Michigan Civil rights commissioner, Community affairs Director and Election Integrity Liason. Dr. Tarver documented the history of rampant voter fraud in Michigan for AT LEAST 25 YEARS!
The former Republican activist gave a detailed explanation of what a valid election should look like. She gave one of the most compelling testimonies of the day. She called for a forensic audit of the entire election here in Michigan. Dr. Tarver called the election process in Michigan a "hot mess" that has been going on for decades.
Tarver told the committee today that she has seen ballot harvesters come in to deliver a stack of 75 ballots at a time to the elections office and set them on the counter. She said that 71% of the ballots in Detroit cannot be recounted because corrupt Sec. of State Jocelyn Benson alleges these 71% have clerical errors and are boxed to not be opened.
Democrat Senator Jeff Irwin (D-Ann Arbor) attempted to harass Dr. Tarver but she would have none of it!
https://twitter.com/Herbert_L_Reed/status/1333892270869909510?ref_src=twsrc%5Etfw%7Ctwcamp%5Etweetembed%7Ctwterm%5E1333892270869909510%7Ctwgr%5E%7Ctwcon%5Es1_&ref_url=https%3A%2F%2Fwww.thegatewaypundit.com%2F2020%2F12%2Fmust-see-dr-linda-lee-tarver-absolutely-flames-hot-mess-voter-fraud-michigan-lansing-hearing-video%2F
Can you even imagine if a Republican representative went after a black female Democrat with that same ton as Senator Irwin?
Dr. Linda Lee Tarver was an exceptional witness.
---
Day 2
President Trump's personal lawyer Rudy Giuliani along with Jenna Ellis appeared before the Michigan House Oversight Committee on day 2. Rudy was back at it fighting for President Trump and the American people in Michigan's House hearing which started at 6 PM ET. Giuliani had to smack around one of the dumb-a democrats which was awesome. Watch HERE.
Jessy Jacob and her husband, immigrants from India gave a testimony in front of the MI House Oversight Committee as a head engineer of the city of Detroit since 1986. She testified that during the election she, and all 40-60 employees on her floor of the election department were told to back-date ballot packages to a false date each day for a month (starting on October 5th) by up to 3 different supervisors. One of the democrats on the committee tried to discredit her, but had no idea what he was talking about.
Jacob was on the verge of tears as she testified during the hearing about the intimidation and harassment she experienced while working as a ballot processor for Wayne County in the November election. "They treated me like a criminal, humiliated me, harassed me," Jacob said in her witness statement as she appeared alongside Trump campaign lawyers Rudy Giuliani and Jenna Ellis. "It was so bad."
---
Melissa Carone gave her testimony again (around 1:43:00 mark) following Jessy. Se explained how the tabulators were fed the same stack of ballots mutiple times.
Melissa was asked why more witnesses have not stepped forward. That's when she went off, "I'll tell you why. My life has been destroyed. My life has been completely destroyed because of this!… I can't even get a job anymore because Democrats like to ruin your life."
---
After her testimony (beginning at 2:15:00 in the video above), Hima Kolanagireddy, another immigrant from India and IT specialist, gave a spectacular testimony tonight in front of the MI House Oversight Committee about the events she witnessed as a GOP and Independent poll challenger at the TCF Center.
Hima told the committee the fraud was heartbreaking. Hima came from India and is now a US citizen. She said she was shocked that Americans are not required to present an ID when they place their vote. She told the committee, "I knew what was at stake from what I witnessed at the TCF and my heart broke."1
Hima also claimed that she saw votes being counted in Detroit that had sequential ballot numbers, similar signatures, addresses all in one location with no date on the absentee envelopes:
https://twitter.com/joehoft/status/1334312307963404289?ref_src=twsrc%5Etfw%7Ctwcamp%5Etweetembed%7Ctwterm%5E1334312307963404289%7Ctwgr%5E%7Ctwcon%5Es1_&ref_url=https%3A%2F%2Fwww.thegatewaypundit.com%2F2020%2F12%2Fgoing-truck-loads-ballots-coming-new-york-reported-last-night-tonight-michigan-poll-worker-reports-ballots-received-sequential-order%2F
When Democrat State Rep. Cynthia Johnson had the opportunity to ask Hima a question about her very credible testimony, she used her time to call her and the witness sitting next to her "liars."
'Do you have a point of order?" Chairman Hall asked Rep. Johnson? She responded by demanding that Hima and Andrew Sitto (sitting next to her who testifies at 2:24:40) be placed under oath.
"May I say something please?" Hima asked. Chairman Hall agreed to let her respond to the vile accusation by the Democrat lawmaker from Detroit. "If that is something you want me to do, I will do it. Can I just say one thing though? If it is a lie, it may change, because a liar has to have a lot of memory power. If it is truth, you can ask me in the middle of the night and it will still be the same thing," she said looking directly at the horrible lawmaker. The room erupted in cheers!
The day after she worked as an Independent poll challenger, Hima gave a sworn affidavit outlining her experiences to the Election Integrity group. Andrew Sitto, the other witness, who Rep. Johnson called a liar, has also provided a sworn affidavit to the MI Republican Party.
Yesterday afternoon, Hima testified in front of the MI Senate Committee where she provided valuable information about alleged voter fraud she witnessed at the TCF Center. During her testimony, Hima explained how upsetting it was to see the paid election workers and Democrats who cheered when a GOP poll worker was removed from the facility.
In the video below, Hima talks about Democrat agitators who called Republicans M-f'ers!
---
(~2:55:30) Colonel Phil Waldron spoke at a Michigan hearing following his explosive testimony in Arizona two days earlier on the voting machines used in US elections. The Dominion systems were connected to the Internet as well, despite Dominion's claims to the contrary.
On Wednesday night Col. Waldron told the committee that they have witnesses now who delivered truckloads of ballots for Joe Biden from New York to Pennsylvania. Waldron said they likely did the same thing in Wisconsin.
Waldron explained that Democrats inserted truckloads of fraudulent ballots into the fraudulent 2020 election. (TGP)
https://twitter.com/joehoft/status/1334325603672207362?ref_src=twsrc%5Etfw%7Ctwcamp%5Etweetembed%7Ctwterm%5E1334325603672207362%7Ctwgr%5E%7Ctwcon%5Es1_&ref_url=https%3A%2F%2Fwww.thegatewaypundit.com%2F2020%2F12%2Fgoing-truck-loads-ballots-coming-new-york-reported-last-night-tonight-michigan-poll-worker-reports-ballots-received-sequential-order%2F
---
Monica Palmer (3:35:00 mark) was the final testimony as the Chair of the Wayne County Board of Canvasers.
Here's a compilation of some of the highlights from the hearing:
Source: The Gateway Pundit