The Weather Channel aired its doom-mongering special: "2020: Race to Save the Planet" on November 7 giving each Democratic presidential candidate the opportunity to virtue-signal their most terrifying vision for what will happen (in just a few years) if we do nothing… and what their 'solutions' are.
The intro is terrifying… "…because without 'it', the world could look like this…"
Here's how some of the candidates responded (via OneGreenPlanet.org)…
Bernie Sanders said climate change will hit low income communities the hardest:
"I have seven grandchildren and I don't want to be in a position 20 years from now or have anybody in that position, to have our grandchildren say to us 'you knew what was going on, the scientists told you, and you did nothing. and you allowed all of this to happen."
Pete Buttigieg talked about how climate change seems far away from us, stressing the need for increased infrastructure:
"I think our imagination around climate change is confined to the North and the South Pole. But I see it happening right here in the middle of America." When asked "What keeps you up at night?" Buttigieg said, "that we will sleep through the critical moments on dealing with this issue."
Elizabeth Warren talked about manufacturing and how climate is "intertwined around the world," and our infrastructure needed to be "more resilient."
"As people lose access to water, they will become climate refugees… and it's true all around the world." Warren is "worried that we're running out of time, every time the scientists re-analyze the data it's worse than they thought." And on economic justice, " 40% of this money needs to go to communities that are hardest hit."
Cory Booker said we need to stop giving subsidies to oil companies, paid for by taxpayers.
"incentivizing what is right, not only renewable energy, but incentivizing farmers to do cover crops and things that pull carbon from the air." He talked about the health challenges that cost "millions of dollars," related to climate change.
Kamala Harris said climate change will, "affect all of us equally."
"The UN has told us that in 12 years if we do nothing it will be irreversible, the chance of the harm, so we cannot afford the cost of doing nothing." Harris said that instead of "studying" communities that are impacted, she would "have them at the table creating the plan."
All of which fits perfectly with a recent essay by Cynthia Chung, via The Strategic Culture Foundation, who questions the so-called "Greta Effect" and asks, rhetorically, "are we really this time, for certain certain, heading for the end times?"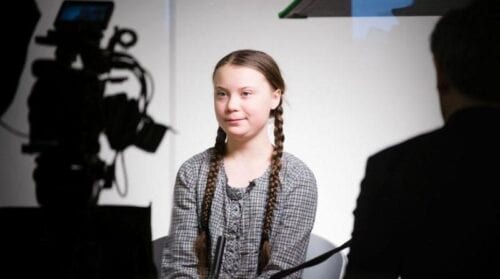 In a little less than a year and a half, Ms. Thunberg has garnered a great deal of media attention for her passionate pleas that the world finally take heed to the very real crisis of climate change affirming that if we fail to meet the requirements laid out for us by the IPCC we will most assuredly have no planet to live on 11 years from now. Ms. Thunberg has confidently and frequently stated this in almost every interview or speech she has made since her media blitz began.
This is of course very disturbing news indeed.
What is just as disturbing is that it is seemingly all up to the children around the world to take matters into their own hands, since all adults have apparently become the equivalent to the walking dead, with children being the supposed organisers behind these immense marches across Europe, Canada and the US, to save the planet from total annihilation. This regard for the adults in the west and their seeming encouragement of this regard of themselves is very disappointing, but hardly surprising when you realise that many of them are from the 'Make Love Not