The majority of Twitter content coming out of the United States, 92% of it, is created by just 10% of Twitter users, and 69% of those users are Democrat or Democratic-leaning independents, according to new research by Pew.
Most U.S. adults on Twitter post only rarely. But a small share of highly active users, most of whom are Democrats, produce the vast majority of tweets. The Center's analysis finds that just 10% of users produced 92% of all tweets from U.S. adults since last November, and that 69% of these highly prolific users identify as Democrats or Democratic-leaning independents. –Pew Research
Several factors contribute to this phenomenon, says Pew, including that more Democrats use Twitter than Republicans, and the 10% most active Democrats produce roughly twice as many tweets per month (157) than the 10% of most active Republicans (79). [If it were the other way around, Russian bots would surely be to blame.]
Those who use Twitter on both sides of the aisle tend to be younger and more highly educated than those who don't use the platform – with some 37% of adult Democrats on Twitter falling between the ages of 18 and 29, compared to just 22% of Republican users in the same age bracket.
Twitter users of each party contain more college graduates, and are more likely than non-users to say they use multiple online social media platforms.
Although nearly identical shares of Republican Twitter users (60%) and non-users (62%) describe themselves as very or somewhat conservative, Democrats who use Twitter tend to be more liberal than non-users. Some 60% of Democrats on Twitter describe their political leanings as liberal (with 24% saying they are "very" liberal), compared with 43% among those who are not Twitter users (only 12% of whom say they are very liberal).

Beyond posting volume, Democrats and Republicans also differ from each other in their actual behaviors on the platform. For instance, the two accounts followed by the largest share of U.S. adults are much more likely to be followed by users from one party than the other. Former President Barack Obama (@BarackObama) is followed by 42% of Democrats but just 12% of Republicans, while President Donald Trump (@realDonaldTrump) is followed by 35% of Republicans and just 13% of Democrats. –Pew Research
Another interesting takeaway is that most Twitter users rarely tweet – with the media US adult on the platform tweeting just once per month during the time period covered by the study. The median Democrat has 32 followers, vs. 21 for Republicans.
Democrats also appear to be more active when it comes to other aspects of their Twitter behavior, such as average number of accounts followed (126 vs. 71).
When it comes to who's following who, Presidents and other major political figures are the most followed by US adults.
U.S. adults on Twitter follow a wide range of other users on the site. The 3,518 Twitter users in this analysis follow a total of almost 750,000 unique accounts. For the most part, there is very little overlap in the accounts that different users follow. Only 10,151 of these 750,000 accounts are followed by more than 10 users in this sample. But some high-profile accounts – typically public figures from entertainment and politics – are followed by substantial shares of U.S. adults on the site.

Certain popular accounts are followed by comparable shares of Democrats and Republicans. Late-night host Jimmy Fallon (@jimmyfallon), for instance, is followed by 16% of Democrats on the site and 11% of Republicans. But it is more common for these popular accounts to be followed by a larger share of members from one party than the other. –Pew Research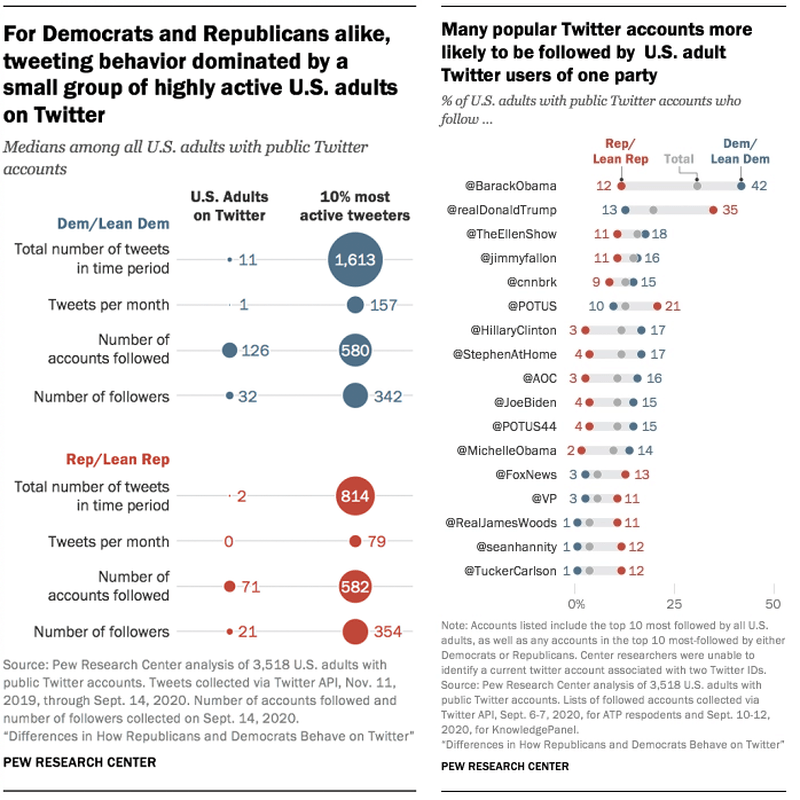 Also interesting – among Democrats, Vice President Joe Biden and Sen. Kamala Harris have around an equal following, however far more Republicans follow Trump than Pence.
Read the rest of the report here.