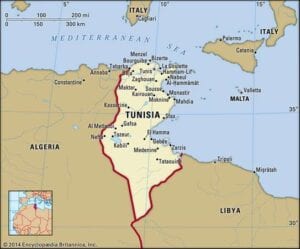 Tunisia, country of North Africa. Tunisia's accessible Mediterranean Sea coastline and strategic location have attracted conquerors and visitors throughout the ages, and its ready access to the Sahara has brought its people into contact with the inhabitants of the African interior.
According to Greek legend, Dido, a princess of Tyre, was the first outsider to settle among the native tribes of what is now Tunisia when she founded the city of Carthage in the 9th century bce. Although the story is certainly apocryphal, Carthage nonetheless grew into one of the great cities and preeminent powers of antiquity, and its colonies and entrepôts were scattered throughout the western Mediterranean region. Carthage fought a series of wars with its rival, Rome. Rome prevailed in the mid-2nd century bce, razed Carthage, and ruled the region for the following 500 years. In the 7th century Arab conquerors converted the native Berber (Amazigh) population of North Africa to Islam. The area was ruled by a succession of Islamic dynasties and empires until coming under French colonial rule in the late 19th century. After achieving independence in 1956, Tunisia pursued a progressive social agenda and sought to modernize its economy under two long-serving presidents, Habib Bourguiba and Zine al-Abidine Ben Ali. However, Tunisia remained an authoritarian state with an all-powerful ruling party and no significant institutions of representative government. (For a discussion of political changes in Tunisia in 2011, see Jasmine Revolution.)
The
Democrat
-controlled House of Representatives has voted to fund efforts to "enhance the border security" of Jordan, Lebanon, Egypt and Tunisia while moving to deny all funding to build walls, fencing or any other structures to enhance the border security of the
United States
. Speaker
Nancy Pelosi
and her lieutenants have their priorities. To them, borders on the other side of the world are more important ...
Read More
Last year, Christians were persecuted more than ever before in the modern era — and this year is expected to be worse: "4,136 Christians were killed for faith-related reasons," according to Open Doors
USA
in its recently published World Watch List 2019 (WWL) of the top 50 nations where Christians are persecuted. "On average, that's 11 Christians killed every day for their faith." Additionally, "2,625 Christians ...
Read More