Welcome to socialism, the promised dark winter, and the Great Reset, Texas! Less than a month into the Biden regime, Texas began Venezuela-style rolling blackouts just like democrat-socialist-run California saw in August 2020. The Golden State's ambitious renewable portfolio standard came under fire as the state's energy grid buckled under the strain of an oppressive heatwave, prompting rolling blackouts that left millions without power as the state moved to replace nuclear and natural gas as energy sources with solar and wind.
With temperatures reaching single digits, many frustrated customers woke up to freezing homes and zero electricity Monday morning due to planned blackouts ordered by the Electric Reliability Council of Texas (ERCOT). "The planned blackouts did not go as planned. Instead of being rolling blackouts, the outages have lasted hours," reported KXAN. ERCOT (on Monday) shut one of two reactors at their nuclear power plant down because it was not winterized to withstand cold weather, halving its 2,700 megawatts of generating capacity.
Infowars was sent a Department of Energy document, confirmed to be authentic, showing Texas begging for federal authorization to increase power, but the DoE blocked Texas from increasing power output before and during the deadly storm.
Almost three months after the fact, officials at the Electric Reliability Council of Texas (ERCOT) admitted that the manager of the Texas power grid did indeed cut off power to many key natural gas infrastructure segments during February's arctic freeze event that blacked out power to millions of Texas homes and businesses.
But this admission by ERCOT comes two week after analysts at Enverus issued a report that found that 65% of the natural gas-related outages during the February freeze event were related to the fact that their supply of electricity was cut off to them. Thus, while it may be accurate to say that ERCOT shut off power to a "small portion" of the state's thousands of natural gas infrastructure facilities, the facilities that lost power were obviously crucial to keeping electricity flowing to Texans' homes.1
Regardless of how the media tries to cover for ERCOT, this is a stunning admission by the entity that is charged with ensuring that the Texas power grid remains "reliable."
On his first day in office, Joe Biden signed a number of EOs made possible by Bill Barr's DOJ, as Barr was fast-tracking Biden's EOs while he was slow-walking President Trump's. Barr enabled Biden to be able to sign his EO on climate his first day in office. Hidden towards the bottom of the EO, is a clause about China. It turns out that the same day Biden shut down the Keystone Pipeline, he also lifted the security on our power grid for 90 days (Trump's EO the year prior secured our power grid by giving China no access.)
This was just a small little paragraph tucked away in one of Biden's EO's the first day he was in office under the umbrella of "restoring science to tackle the climate crisis". Of course, science and climate crisis are polar opposites. Looking over the EO, there appears to be nothing that benefits the United States of America which begs the question, who wrote and approved this mess?
Biden allowing the CCP into our power grid is the real impeachable offense.

— John Cardillo (@johncardillo) January 22, 2021
White House Press Secretary Jen Psaki said reports suggesting renewables caused the power grid failure in Texas are inaccurate, rather it was renewables that came in to save the day. "Numerous reports show that it was failure in coal and natural gas that contributed to the state's power shortages," Psaki said.
https://twitter.com/Breaking911/status/1362116606776778755?ref_src=twsrc%5Etfw%7Ctwcamp%5Etweetembed%7Ctwterm%5E1362116606776778755%7Ctwgr%5E%7Ctwcon%5Es1_&ref_url=https%3A%2F%2Fwww.thegatewaypundit.com%2F2021%2F02%2Fpsaki-says-coal-natural-gas-not-frozen-wind-turbines-caused-power-grid-failure-texas-cold-snap-video%2F
However, Zero Hedge reported:
Cascend Strategy writes that "in case there was any doubt why the Texas grid collapsed, the data is clear"
Wind failed as "Ice storms knocked out nearly half the wind-power generating capacity of Texas on Sunday as a massive deep freeze across the state locked up wind turbine generators, creating an electricity generation crisis."
Natural gas made up the difference for a while
But then everything else followed down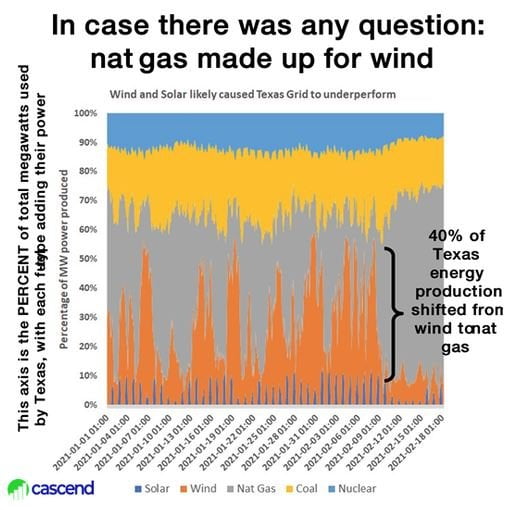 ZeroHedge reported that the reactor's shutdown only represented 1,280 megawatts of the 30,000 megawatts of outages on Monday. Nuclear power provides about 11% of ERCOT's power. Much of the power generation loss was due to freezing wellheads that impeded the flow of natgas to power stations, triggering electric shortages as demand overwhelmed the grid. The high concentration of natgas generation on ERCOT's grid makes it vulnerable to power disruptions if fuel flow is disrupted.
What's worse is that ERCOT is a separate grid than the rest of the country. This means ERCOT had limited ability to pull power from other grids, which was much of why blackouts occurred.
The massive blackout in Texas also shined a spotlight on a little-known policy: ERCOT officers and directors are not required to live in Texas, and Chairwoman Sally Talberg, a democrat, lives in Michigan. She was elected as chair of the board only days before the power outage.
The USA Today reported three days after the blackouts started that across the U.S, more than 1 million people still had no electricity: Louisiana, Alabama, Mississippi, Kentucky and Oregon experienced widespread outages. On Thursday, President Joe Biden declared states of emergency in both Texas and Oklahoma, and authorized the Federal Emergency Management Agency to provide generators and supplies to states impacted by the severe winter weather. "Jill and I are keeping Texas, Oklahoma, and other impacted states in our prayers," he virtue signalled on Twitter.
Dozens of people died due to the extreme weather. Traffic accidents claimed the most lives, but some died as a result of fire or carbon monoxide poisoning while struggling to find warmth inside their homes. Dozens of unprepared Texans lined up outside of stores to get food and other needed supplies.
Alex Jones who lives in Texs covered the apocalyptic conditions on Infowars:
Texas residents would have the temperature in their homes raised on their web-connected smart thermostats without their permission during a heat wave the same summer. Prior to their home temperatures being raised to 78 degrees, the state's electricity operators had warned of another round of power shortages due to people running their air conditioners too much.