In spite of no polio in the Philippines since 1993 or Syria since 1999, UNICEF purchases millions of dollars in oral polio vaccines from western pharmaceutical companies for an aggressive WHO mass polio vaccination campaign targeted for 500,000 typhoon victims in the Philippines and 20 million children in Syria all under age 5. The oral polio vaccine has a well-documented history of actually causing polio and non-polio acute flaccid paralysis. In the aftermath of one of the strongest storms to ever strike land, the most dangerous place for children in the Philippines to be right now could very well be the evacuation centers, or living near one.
This past week, the World Health Organization (WHO) and UNICEF began an aggressive program to vaccinate more than 500,000 children with the measles and polio vaccines in the typhoon affected areas of the Philippines. They have already vaccinated more than 30,000 children in Tacolban, one of the worst hit areas.
"It is virtually unprecedented that within two and a half weeks of a disaster of this scale, with this level of devastation and these logistical challenges, that a mass vaccination campaign is already rolling out," reported Dr. Julie Hall, WHO representative in the Philippines.
The children are being vaccinated for measles and polio, in spite of the fact that measles rates are very low and declining in the Philippines, and that there has not been a single case of polio in the Philippines since 1993.
In this video, Heather Papowitz, a senior adviser for UNICEF, states that they are vaccinating children for measles even though they have already been vaccinated for the disease, because previous vaccine campaigns were, "not enough to protect them, so we need to get them vaccinated as soon as possible."
Is this a statement to the ineffectiveness of measles vaccines that they need to be vaccinated repeatedly, or that somehow typhoon disasters like this require higher doses of the vaccine? By either reasoning, it allows pharmaceutical companies a larger market for their products.
Regarding their goal to vaccinate 500,000 children with the very dangerous oral polio vaccine, she states, "As far as polio, it was already eradicated in the Philippines, so we just want to make sure it doesn't come back."
According to statistics supplied by the WHO, measles is rare and declining in the Philippines. In a nation of over 90 million people, there were 6,554 confirmed cases of measles in 2011, 1,536 confirmed cases in 2012, and through November 11, 2013 this year, only 951 confirmed cases. (
If you are the parent of a Filipino child being told by western aid workers that you need to vaccinate your child for measles (regardless if your child was already vaccinated), you need to ask yourself why you should allow your child to be exposed to dangerous western vaccines when the disease has already been declining and affects so very few people in your country.
As for the oral polio vaccine, this particular vaccine contains the live polio virus, and is notorious for causing vaccine-induced polio and paralysis. It is no longer given in the United States, only in poorer countries like India, Pakistan (where many people are now rising up and resisting it), and now the Philippines. Many have called for a halt on the oral live attenuated vaccine, due to the fact that it can actually cause polio and non-polio acute flaccid paralysis.
In India, for example, the "polio eradication campaign" using the live oral polio vaccine caused 47,500 cases of non-polio acute flaccid paralysis in just one year! (Source.) Will we now start seeing cases of polio and paralysis arise in the Philippines, where currently there are none, as a result of this dangerous and outdated polio vaccine that is targeted for 500,000 children? We most assuredly will, as this is exactly what is happening in other places like India and Pakistan. (See: Paralysis Haunts 'Polio Free' India and Confirmed: India's Polio Eradication Campaign in 2011 Caused 47,500 Cases of Vaccine-Induced Polio Paralysis)
The measles vaccine is hardly without risk either. Dr. Viera Scheibner points out in this excellent article looking at the history of the measles vaccine, that atypical measles outbreaks have occurred as a result of the vaccine, and that natural immunity is wiped out when the vaccine is introduced, which can lead to more incidents of measles, rather than less. As I pointed out above, measles is already on the decline in the Philippines and affects a minuscule portion of the population.
I am not sure if there is a single measles vaccine currently available in the market, as by far the majority of the vaccines for measles today are a 3-vaccine combo of mumps, measles, and rubella (MMR). Here is Merck's MMR vaccine package insert for the MMR vaccine. Be sure to read the ingredients, as well as the sections: CONTRAINDICATIONS, WARNINGS, PRECAUTIONS, and ADVERSE REACTIONS before you agree to have your children vaccinated. These sections are seldom communicated or explained to parents prior to vaccination, and injuries and deaths do occur, as is evidenced by settlements in the U.S. vaccine court, and also by a court in Italy. (See: MMR Vaccine Caused Autism in Two Children According to Federal Vaccine Court and Italian Court Rules MMR Vaccine Caused Autism: Why is this story blacked out of the US Media?)
I know that Health Impact News has a popular readership in Manila, and I encourage people to contact President Aquino and Dr. Enrique Ona (Secretary of Health) to carefully research this topic so they can be fully informed about these issues. The dangers of the live oral polio vaccine and the terrible side effects resulting in paralysis are very well documented in the scientific literature. We have also published articles from medical doctors and PhD scientists that summarize the peer-reviewed scientific studies and history of vaccines that is not popularly covered in the U.S. mainstream media, which is for the most part pro-pharmaceutical. See for example: The REAL History Behind the Polio Vaccine by Dr. Viera Scheibner (PhD), and Did Vaccines Really Eradicate Polio? by Suzanne Humphries, MD. (Source)
---
Recommended Books: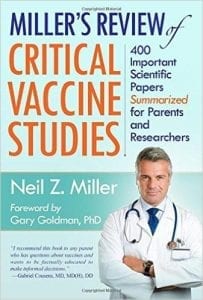 Many people sincerely believe that all vaccines are safe, adverse reactions are rare, and no peer-reviewed scientific studies exist showing that vaccines can cause harm. This book ― Miller's Review of Critical Vaccine Studies ― provides the other side of the story that is not commonly told. It contains summaries of 400 important scientific papers to help parents and researchers enhance their understanding of vaccinations.
"This book should be required reading for every doctor, medical student and parent. Reading this book will allow you to make better choices when considering vaccination." ―David Brownstein, MD
"This book is so precise and exciting in addressing the vaccine controversy that I read it in one evening. I recommend this book to any parent who has questions about vaccines and wants to be factually educated to make informed decisions." ―Gabriel Cousens, MD
"Neil Miller's book is a tour de force and a clarion voice championing the cautionary principle: 'When in doubt, minimize risk.' Let's talk science. Read this book. The truth will keep you and your children protected." ―Bradford S. Weeks, MD
"Nowhere else can one find such an organized and concise compilation of research on vaccines. Not only does Miller have a deep understanding of science and the issues at hand, he has made this book easy to reference and cite. Truly, there is no other guide out there quite like it. For everyone who contacts me in the future seeking scientific evidence about vaccines, I will recommend Miller's Review of Critical Vaccine Studies." ―Toni Bark, MD, MHEM, LEED AP, previous Director of the pediatric ER at Michael Reese Hospital
"Miller's Review of Critical Vaccine Studies is the most comprehensive and coherent accumulation of peer-reviewed research on vaccine issues and natural immunity I have ever come across. A must read for parents, teachers, doctors and other healthcare providers." ―Dr. Tyson Perez, pediatric chiropractor
---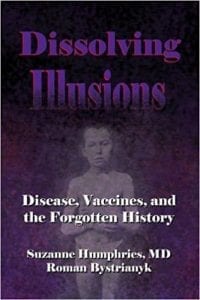 Not too long ago, lethal infections were feared in the Western world. Since that time, many countries have undergone a transformation from disease cesspools to much safer, healthier habitats. Starting in the mid-1800s, there was a steady drop in deaths from all infectious diseases, decreasing to relatively minor levels by the early 1900s. The history of that transformation involves famine, poverty, filth, lost cures, eugenicist doctrine, individual freedoms versus state might, protests and arrests over vaccine refusal, and much more. Today, we are told that medical interventions increased our lifespan and single-handedly prevented masses of deaths. But is this really true? Dissolving Illusions details facts and figures from long-overlooked medical journals, books, newspapers, and other sources. Using myth-shattering graphs, this book shows that vaccines, antibiotics, and other medical interventions are not responsible for the increase in lifespan and the decline in mortality from infectious diseases. If the medical profession could systematically misinterpret and ignore key historical information, the question must be asked, "What else is ignored and misinterpreted today?" Perhaps the best reason to know our history is so that the worst parts are never repeated.